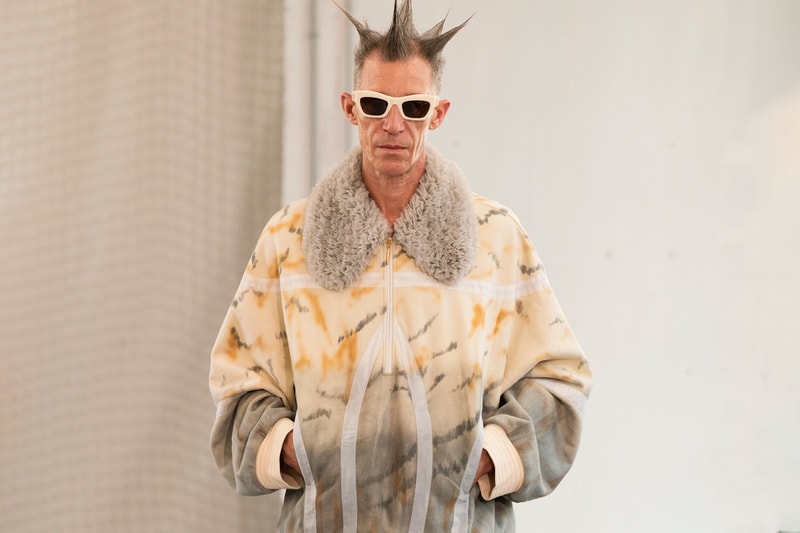 NAMESAKE returns for Spring/Summer 2023 in Paris with an emphasis on family. While the consistent theme of sports -- and the struggles and adversities one must overcome to compete at the highest level -- is present, the family has come first for this collection. Rewinding the clocks ten years prior, "LIFEGUARD" details the struggles the Hsieh brothers had to overcome as a trio. Facing aggrandized anxiety and self-doubt created by the mind due to debilitating acne, Michael's life took a turn for the worse and he was eventually hospitalized.
For it not been for his brother Steve, and his commitment to his brotherly bond, flying across the globe to spend the next six months nursing Michael back to health, this collection could not exist. While one may think that the allusion to water in "Lifeguard" is referencing the proverb "blood is thicker than water," to Michael, it is actually split into two words "life" and "guard" which hold a deeper, personal meaning -- his bothers whom he knows are there to protect and guard his life, and the guard position in basketball, a sport which has also saved him from the darkest times.
In this collection, Y2K aesthetic was mixed in with the brother's nostalgic memories of 2000-era NYC, combined with the flair from the basketball legends of Rucker Park during the '90s, and then sprinkled in with the zealous works of Spike Lee and Andy Warhol. Panel work and elongated cuts play with form and shape to create optical illusions. Textures are also emphasized with details like intricate knitting, weave patterns, and hidden beads. The beads were specifically used as a light reminder of the pockmarked appearance of acne-afflicted skin. Fabrics from the sporting world can also be seen in the form of mesh shorts and tearaway construction in the pants. Each piece has also been developed with sustainability in mind, employing recycled fabrics and pineapple yarn.
"By fighting against adversity, we found that team effort is where we can find the strength to not give up," Steve recalls. "Though I wasn't able to enjoy the joy of graduation like a normal 18-year-old, I believe that it is in every saving moment that we feel most alive. Fashion not only brought passion and confidence to my brother. It saved him, and for that, I'm forever thankful."
In other fashion news, Kiko Kostadinov presents his vision of menswear for SS23.
Click here to view full gallery at HYPEBEAST