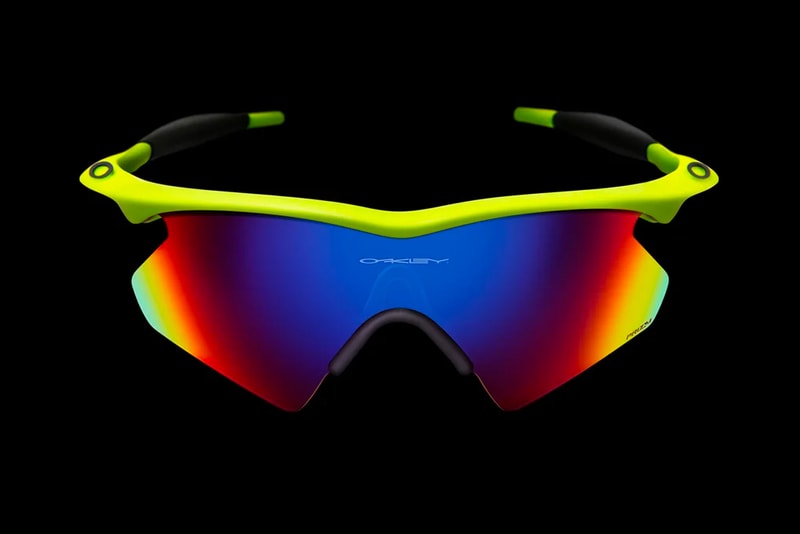 As part of its "MUZM" collection, a carefully curated selection of re-released styles with new interpretations infused with today's innovative technology, Oakley is now set to bring back its iconic '90s surf eyewear, the Mumbo and Pro M Frame. Originally released more than 25 years ago, the styles will be re-introduced as a bundle in a limited edition release.
Sported by the biggest names in sports and lifestyle when they were launched, the shades served as the epitome of beach culture in the '90s. Not to mention they were crafted with leading-edge technology such as High Definition Optics® and a 3-point fit system.
"Oakley's roots in Californian surf culture are embedded in everything we do. This is no more evident than in the return of Mumbo and Pro M Frame. Each of these frames brought revolutionary design features to beaches and beyond, featuring unique styles that were unmistakably Oakley," said Brian Takumi, Oakley VP, Brand Soul and Creative. "With this re-release, both Mumbo and Pro M Frame celebrate the brand's heritage in surf culture while featuring updated designs to classic silhouettes for a look that combines style and function on the waves and off."
Team Oakley athlete and global surf icon Sage Erickson stars in the campaign for the re-release. "I have always looked up to the legends of '90s surf," said Erickson. "From back when I was a kid, those icons and the culture of the sport shaped who I am today. These are the sunnies worn by those icons, and I couldn't be more stoked to stand alongside this re-release as a member of Team Oakley."
Both the Mumbo and Pro M Frame have been readied with technological enhancements like the Mumbo Hybrid® lenses and Pro M Frame Heater® lenses both with PrizmTM technology for enhanced color and contrast. Along with Unobtainium® nosepads and earsocks that provide a no-slip grip and lightweight O MatterTM frame material.
The Mumbo and Pro M Frame MUZM bundle in Neon Yellow with Prizm Road lenses will be available at select Oakley locations June 2 with an online release and a wider store release set for June 6.
In case you missed it, Razer recently launched its "Genesis" and "Unleashed" apparel collections.
Click here to view full gallery at HYPEBEAST