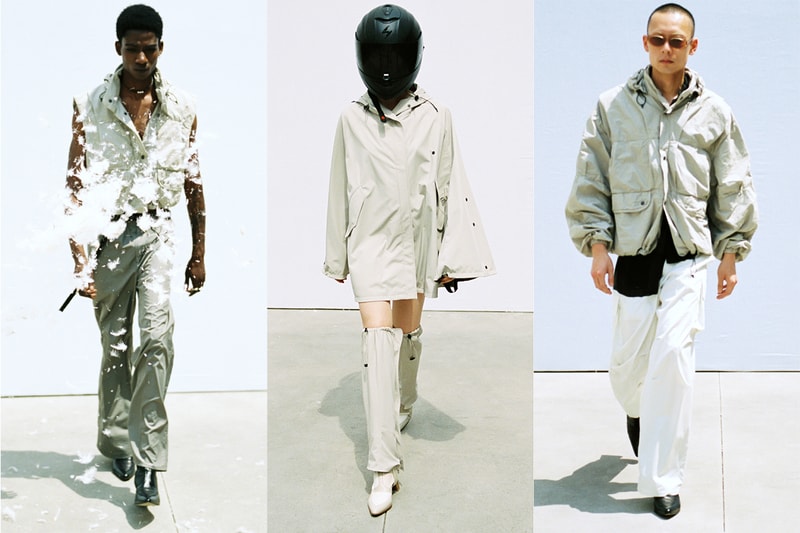 Our Legacy presented its Spring 2023 collection in the midst of Milan Fashion Week, offering the city's fashion crowd a close-up experience with the latest and greatest ready-to-wear from the Swedish stalwart. Now, Our Legacy shares the collection with us all, promising a season packed with textures, shapes, and technical know-how that's sure to elevate any fit.
Dubbed "Luft," which is the Swedish word for "air," the collection draws inspiration from the elements of air and the characteristics it brings. Garments such as the leather and tech fabric jackets are puckered, looking like they're in the middle of a windy storm, while boots come with detachable calf-covering sheaths that bundle up and buckle, again looking like they're tangled in the wind.
Air also brings climates, and climates also play into the kind of fabrics we decide to wear. But not for Our Legacy, which has worked with traditionally cold-weather materials in warm-climate manners, and vice versa. For example, heavy knits are crafted from silk, a lumberjack check has been applied to light and breathable fabrics and across denim, while the label's signature leather jacket has been recrafted in super-chinzed cotton.
This is continued across Our Legacy's line of iconic denim, seeing jeans supposedly knitted with a metallic thread woven into the fine mesh-like cotton to create what might be the coziest pair of jeans known to man. As for accessories, we find upcycled scraps turned into swing shoulder bags, styled alongside this season's must-have piece, the bike helmet. Belts are in abundance, as are sunglasses.
Speaking on "Luft," Cristopher Nying, Creative Director of Our Legacy, said, "This collection is an illusional outdoor world in a more realistic sense. Classic outdoor garments have been reversed and deconstructed whilst still leaving the essential aspects, limiting the amount of trims, and allowing the fabric to be the leading role. Our Legacy has ever since the start in 2005 been creating hybrid garments by applying custom-developed fabrics on signature shapes. This aspect is coming through more than ever with this collection."
Take a look at the Our Legacy Spring 2023 "Luft" collection above, and find more Milan Fashion Week coverage on HYPEBEAST.
In case you missed it, take a look at the JORDANLUCA runway.
Click here to view full gallery at HYPEBEAST