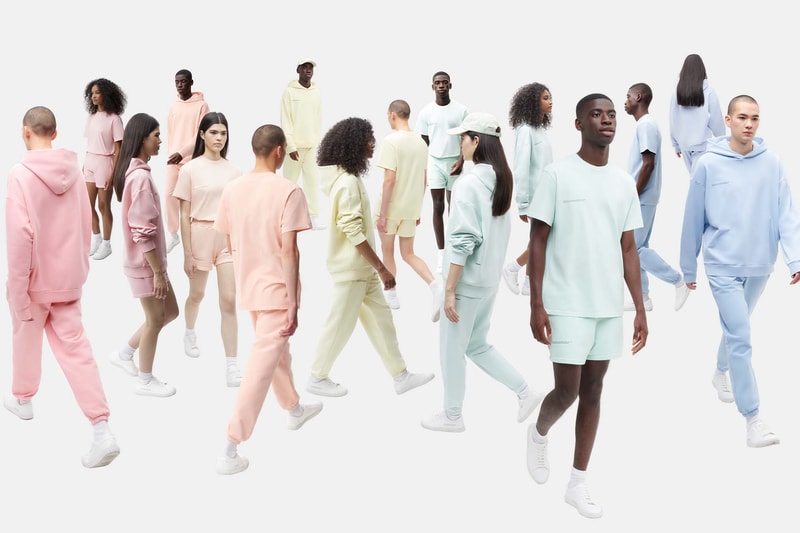 PANGAIA, a materials science brand that aims to save the environment, has revealed a capsule that is made from its newest innovation, RecycromTM. Invented by Officina+39, a Italian textile chemical company, this revolutionary technology is a new technique that turns recycled textile fibers into a full range of colored powders used for pigment dye that can be applied to fabrics like cotton, wool, nylon and any natural blends. In contrast to other dyes, Recycrom is applied as a suspension and not as part of a chemical solution, therefore easily filtered from the water – cutting both costs and environmental impact. 
The capsule features PANGAIA's signature pieces like the Re-color Hoodie ($175 USD), Re-color Track Pant ($140 USD), Re-color t-shirt ($75 USD), and Re-color shorts ($95 USD) in aloe green, sky blue, apricot, coral pink, and banana. Each color representing an aspect of the environment; aloe green was inspired by the healing properties of aloe vera; sky blue pays homage to the refraction of light in the atmosphere; apricot, part of the rose family, exudes a delicate and mellow feel; coral pink is a nod to coral spawning season; and banana yellow to replicate the fruit. All products part of the collection have a digital passport, which allows wearers to scan its QR code to learn more about the product lifecycle, environmental impact savings, care tips and more. 
The capsule is available only on pangaia.com starting August 4.
For related fashion news, Dover Street Market and Cherry Los Angeles collide for an exclusive collection. 
Click here to view full gallery at HYPEBEAST