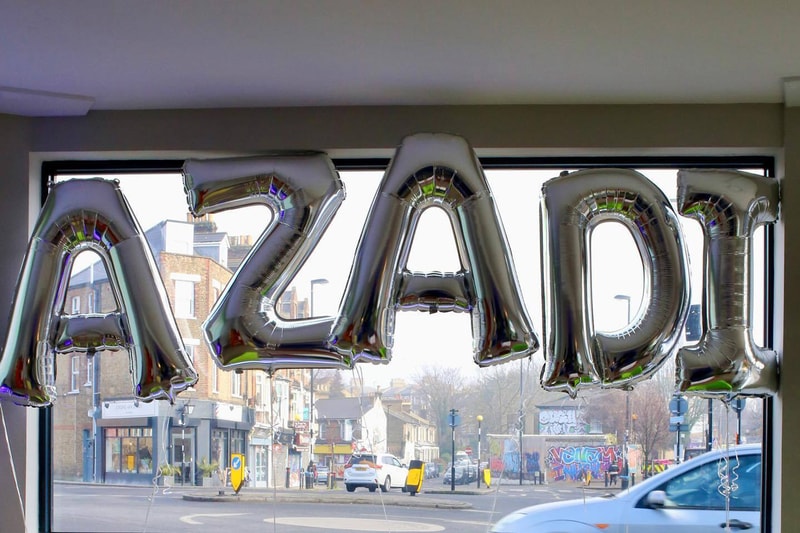 London-based designer paria /FARZANEH has just announced Blind Foresight, a new collection that serves as a contemporary response to today's need for "essentials". 
As one of the most exciting designers out of the UK, Farzaneh has continued to develop her creative universe through independent exploration of her Iranian heritage and challenging the western perception of Middle Eastern culture.
The collection seeks to be all-inclusive, providing accessible price points without any compromise on quality, craftsmanship or design. Celebrating the opening with some balloons that spell out 'AZADI' – meaning freedom or liberty in Persian – Blind Foresight is presented in a conceptual space where the LVMH Prize-nominated designer is seeking to break free from traditional industry calendars and timelines, fuelled with a desire to bridge the gap between price and quality in the present.
Speaking about her new collection, Farzaneh commented: "The idea of Blind Foresight is to create a fun and humorous approach to clothing and attitudes, in what seems to be a very dark, dystopian world. Fashion can make you feel isolated in some ways.
View this post on Instagram
Blind Foresight features a host of bespoke items complete with customary FARZANEH attention to detail; from furry paisley gilets and hand sewn denim skirts through to accessories such as fuzzy hats, hot water bottles, socks all signed off with the designer's striking motifs and idents. Farzaneh also connected with local contemporaries in south London to produce the good for the new range. "The Jean" is a collaboration with London artist Lucas Dupuy. Limited to 20 pairs, each Jean features a unique paisley motif, hand-sprayed in the designer's south London studio.
With Brexit having such an important impact on material sourcing outside of the UK, local British suppliers have become important long-standing partners of paria /FARZANEH. The brand worked with mills in Yorkshire and deadstock mesh factories from the Midlands, while The Japan Free Trade deal has also provided Farzaneh the opportunity to source top tier stock denim from Osaka, Japan, complete with the highest woven and dyeing quality to ensure fabric longevity.
"We normalise values which not all people believe in, but with hope, some identities bind us together," Farzaneh says, on the collection's spirit, "Whilst foresight gives us the ability to predict what will happen, or what will be needed in the future, being blind to it is detrimental. To know of it and be part of it, means we are always two steps ahead."
Speaking exclusively ahead of the launch of Blind Foresight, HYPEBEAST caught up with Farzaneh to discuss her fresh outlook on the fashion industry, making her clothing more accessible and her to desire to create more reflexively, and positively, in uncertain times.
What was your original motivation for creating the Blind Foresight concept?
Paria Farzaneh: As I've gone through my career in like the industry, the more I realised that I'm not really a game player. I don't really want to be doing what I'm doing for a high-brow audience or a certain crowd of influencers, because even though people who work in the industry can seem aspirational, it's actually a very niche amount of people who can afford a certain lifestyle, who can buy certain things.
People have been able to build up a market based on these kinds of audiences – and that isn't really realistic. That's especially true for any kind of emerging brand, or anyone who wants to engage with their audience in a meaningful, accessible way. The main problem that I've had, like with all of our customers, like now around the world and internationally, is that people always wanted to buy things, but the majority of people don't have an expendable amount to use on clothing.
When I look at people and how they are consuming things, they're going to car boots or charity shops for attainable clothing or investing in pieces and brands that they'll keep forever as they've heard about the heritage of the product. 
Blind Foresight is trying to bridge the gap between this existential want and the need; having something that can last a lifetime, but also not having to spend 400 to 500 pounds to be able to have that item. These pieces were created much more spontaneously, and are much more accessible.
When you're showing at Fashion Week, you've been working for that moment for six, or seven months. So when you're finally at that point, and you're finally showcasing those items to the world or whatever, it's kind of a bit flat, I want to move on to the next thing already… it's less reflexive.
Sort of like a musician sitting on a song that has been on their phone files for a while – once they've heard it a million times over there's not the same feeling of freshness as to when it's actually released…
Exactly. For me, it's being able to release things I'm passionate about right now, and really trying to like find a place in the market to close that gap for everyone. I don't see so much difference in the spending habits of somebody who is 17, or somebody who's 45. People still want to spend, but they want to find value, more importantly. I want things like this pop-up to exist to help add value to people, rather than people having to turn to the high street – which, is the biggest surrender of buying clothes, in my opinion.
View this post on Instagram
Globally, it's a very tricky environment to release clothing into right now. Do you think the way in which clothing is bought and sold at the moment isn't sustainable – or realistic – right now?
It definitely doesn't feel real. I don't want to build an idea of what the industry is for the younger generation where they feel like "I need to earn a certain amount to buy a certain jacket." People have got other things to prioritise right now; energy bills, food shops, and rent… so when they buy clothing, they need it to be an investment. 
Blind Foresight is having this space to kind of create the essentials for the environment we're in, for people that are a fan of the brand. You wanted a pair of jeans, and you'll have a pair of jeans that you'll just keep using for a minimum… say two to three years. It's about buying less, but buying the quality and buying the aesthetic that you really like.
The notes on the show comment on the struggles of post-Brexit Britain, and you've shown solidarity with the devastating outcome of recent protests in Iran. Did you want 'Blind Foresight' to provide an antidote to the realities people around the world are experiencing right now?
You switch on the news and you see the world falling apart. I've been trying to create something out of sadness and trying to use creation as the medium to cope and create something positive in the times we're living in. 
I guess that could be seen as selfish, but having the outlet of artistic expression provides a reprieve from reality at the moment. We're just here in our little echo chamber, London, and not really, living the existence of people's harsher realities around the globe.  
We're a dormant society, especially in the West. As somebody who is from the Middle East, with family that suffered from all of these repercussions, I feel like I'm responsible for adding these cues to my culture in a compacted, processable way rather than shouting and screaming about it in a way that somebody who has never felt that way can relate with.
So with Blind Foresight, you're aiming to be something that feels more in touch with reality.
Yeah, definitely. I watched a really interesting clip of Nasir Mazhar the other day – an amazing, inspirational designer. In this clip, he was saying something that really resonated with me: "I don't want to be a millionaire. The only thing I'm aspiring to do is just be real and have the freedom to have aspiration and creativity." I want to have that mindset with my brand. Of course, you need money to do things and be to be able to create things. But I always want to be free. 
View this post on Instagram
What does the collection feature? How did you decide the ways in which it was put together? 
This collection was just coming back to things that we like, and that we really need for this time. The seasons change, and the practical needs change and having things that can kind of cope with the environmental surroundings it's in is important with this collection. We did the jeans for this pop-up with a friend and artist Lucas Dupuy, who is living around the corner in Catford.  I enjoyed working with him as it's two grassroots, independent designers coming together in a space that is not funded or constrained by a corporate body. 
We also made some mesh bags that we found the mesh was from a factory in North London, made from rejects from other people or mass producers and suppliers. It's super practical, useful… 
I feel that sums up all your collections so far – they're technically minded, intricately put together, and always contain that familial, personal connection, but everything you produce is super-wearable and practical for the environment it was made in. London, specifically… 
Exactly – I want to make essentials useable in the here and now. One day, we'll want to make ballgowns and we'll do that as well, but these products are products of their time. 
But as well as being inspired by family and paisley and Iranian fabric, I've been looking back to different periods of time, like the mediaeval era. I'm really obsessed with the fact that at one point in our lives, we were all living in this kind of realm. 
It was a rough, dark and really, really brutal reality. People wore chainmail as a first skin of protection to stop swords from killing you. That's really practical clothing. 
View this post on Instagram
What can we expect from paria/Farzaneh in the future?
I think it will be maybe a little bit unexpected from what the majority will think is coming –  but at the same time, I'm always gonna do things that make sense. I can't say too much right now, but it's been a product that I have in myself very involved with. But I'm really excited to share it with everyone soon!
If you're in London, you can head down to Blind Foresight by paria /FARZANEH Pop Up from February 7th - February 19th 2023, between 10am-6pm.
paria /FARZANEH 'Blind Foresight' Pop-Up
16-18 Brockley Cross
SE4 2AA London
Click here to view full gallery at Hypebeast