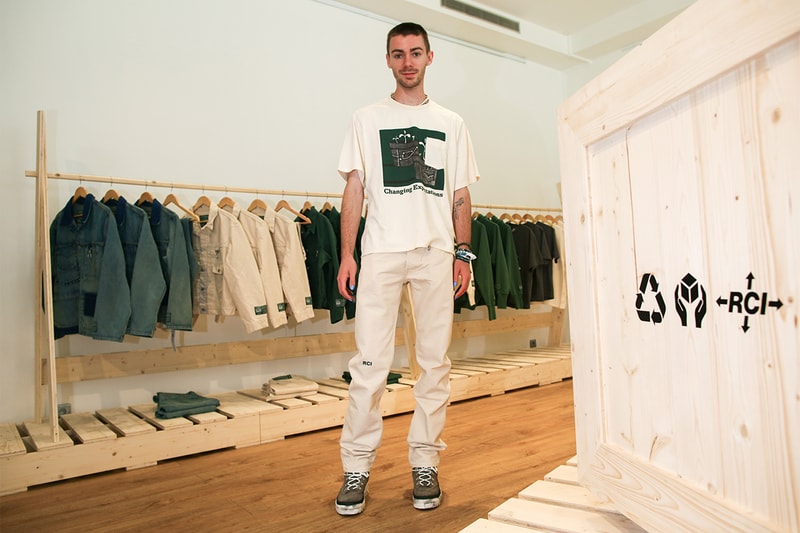 It's easy to forget that Reese Cooper is only 24. Already in his young career the designer has launched his eponymous label, made his Paris Fashion Week debut and finished as a runner up in the 2019 CFDA/Vogue Fashion Fund. Cooper recently passed another major milestone, returning to Paris to show his Spring/Summer 2023 collection and launch a collaboration alongside Levi's.
"This is the first collaboration I've ever said yes to," Cooper tells HYPEBEAST after his show. "I've been pitched my fair share, but this is the first one that felt like it was coming from the right place and it would be an actual collaborative effort, instead of just getting the young kid and ticking the marketing box. For lack of a better word, it's just been lovely to work with these people. It felt like working with my own team."
Working with Levi's is something of a full circle moment for Cooper, who counts the brand as amongst the chief influences on his career. "Early Levi's stuff has always been a pretty strong reference point for me," he says, pointing to vintage jeans and the 1950s cropped hoodies. "A lot of my stuff, especially in the early days, was directly influenced by that. So being able to work with this brand properly, instead of just referencing, is a very surreal feeling."
"Being able to work with this brand properly, instead of just referencing it, is a very surreal feeling."
The collaboration began in 2020, before the beginning of the global COVID pandemic forced a new approach to the process. "We had a lot of time on our hands," Cooper continues. "Instead of the normal process, we would just FaceTime for a few hours each day for a few weeks. I was immediately comfortable with them." Working closely with the Levi's team, albeit in this new manner, allowed Cooper extensive access to the brand's archive.
"I was digging through the archives with the Levi's team and was able to properly learn the history first hand rather than trying to research," Cooper adds. "I feel like I've learnt so much about one of my favorite companies. As fun as it's been to work on this stuff, it's also just been really fun to learn. Being able to directly use the very early heritage as the main influence. I feel like I'm right at the beginning of my company, so I wanted it to feel like the beginning of theirs was the inspiration."
The archival references are seen through the cuts of items – including the Type II trucker jacket and straight fit pant – as well as the use of duck canvas, labels from the 1800s and graphics taken from internal company catalogs. While this influence runs throughout the collection, it was also central to the process of constructing the collaboration.
"We have an entire archive and foundation of utilitarian workwear at our roots and at the center of our DNA," adds Karyn Hillman, Levi's SVP and Chief Product Officer, who worked with Cooper on the collection. "It was those elements that he gravitated towards: heritage, workwear, utilitarian roots from 150 years ago. We had them in our archive, and could talk about graphic elements or a function or what the purpose was. I think that really helped tell a story and clicked for him. It was really just a shared respect and passion for some elements of our DNa, as well as how he was going to put his modern spin on that type of utilitarian workwear."
The collection – which had been teased by Cooper in the run-up – made its debut at Paris Fashion Week, as the first model in the show walked in an entire duck canvas look. Much of the rest of the show and SS23 collection incorporated outdoors-inspired elements, including its outdoor location and technical designs. This theme contrasted against the workwear roots of the Levi's collaboration, although both looked at "exploration" as a central theme.
"It's a mentality of the right thing in the wrong place or the wrong thing in the right place," Cooper says of the show. "On paper, doing a runway show in the middle of a park where everything is going to get dirty and the sprinklers are going is not something you should do. But it worked. Taking things that are normally found in proper workwear environments and showing them in a runway show is the same idea. Put the wrong thing in the right place. If you show them together, they're going to be treated together."
"I'm right at the beginning of my company, so I wanted it to feel like the beginning of theirs was the inspiration."
Immediately after the SS23 show, Cooper and Levi's opened a pop-up in Paris, as well as launching the collection through their own individual channels. This see-now-buy-now approach was important to both designer and brand. "One of the things that's important to both Reese and Levi's is accessibility," says Levi's Chief Marketing Officer Karen Riley-Grant. "It's also at a price point that isn't out of reach. We're able to be a democratic, inclusive brand with access for all. The see-now-buy-now idea is in service to that."
Alongside the collection, the pop-up also hosted a specially-created zine that showed influences and origins of this collaboration. As well as the archival imagery and graphics that informed the designs, Cooper also added a special nod to the process. "It's got the first email and the final campaign image side-by-side," Cooper says, pointing to the first page. "It shows the full journey."
Cooper's own journey has followed a rapid trajectory, and the designer is now keen to deliver on the promise of his ascent. "My goal for this year is to get the foundation together," he says. "The momentum from our first show at the Palais de Tokyo was optimistic. We weren't ready to be producing that much stuff or do projects on this scale with such a small team. Covid gave us a break to get our fitting together. Now the team has grown, and I'm hoping to bring in a couple more people. As much as it's important to get ideas off the ground and create these special moments, it's more important to make sure that you can do it again next time."
Click here to view full gallery at HYPEBEAST