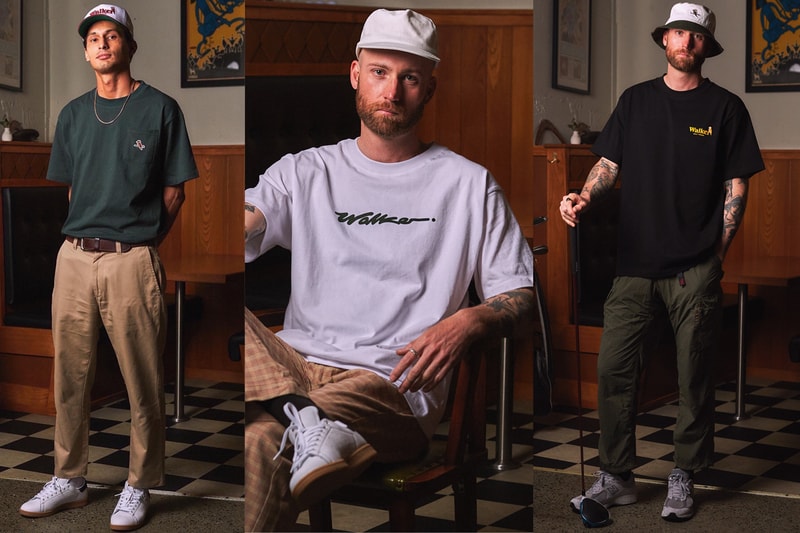 What happens when you take Australian skate culture and infuse it with golf? You get Walker Golf Things. 
The new brand, which released its debut collection on July 9, is the brainchild of professional skateboarder and amateur dew sweeper Jack Fardell. Originally from the Gold Coast of Queensland, Australia, Fardell now lives in New York City and spends his time touring the country competing in pro events and filming content like the popular Away Days series with adidas, who he's been with for eight years now. Although you may know Fardell from competing in the X Games at age 11, his love of golf dates back just as far. With a father who was passionate about the game and named him after the great Jack Nicklaus, Fardell says "I didn't really have a choice but to play golf."
Over the years, Fardell became part of a circle of peers in the skate industry who shared a passion for golf and travel. When they weren't tearing it up at the skate park, it was a good bet to find them on the course. Later, when Fardell found himself living in Southern California, he began establishing important connections within the golf industry.
It was through conversations with his buddies in skate and connections to the golf and fashion world that the idea for Walker Golf Things came about. Although there are a number of rising, trend-forward brands already in existence like Malbon, Manors, Puttwell, Beams Golf, and others, Fardell saw a place for a uniquely Australian golf brand to represent the rich history and culture of the sport down under.
"Golf is not so much an elitist game in Australia. It's not million dollar memberships, and you can go down to your local club and it's a great community. It's easy to sign up and become a member and not crazy expensive. So you can get into the game of golf in a really positive way down there."
To help bring the brand to life and demonstrate "the Australian way of playing golf," Fardell enlisted the help of Will Watt, Editor in Chief at Caddie Magazine and a longtime freelance photographer. "He shoots at Barnbougle, Royal Melbourne and Kingston Heath, amazing top 10 in the world courses," says Fardell. "But he also does trips out to the Northern Territory and shoots red dirt greens, tin shed clubhouses and locals hitting golf shots and drinking beers."
For Walker Golf Things, the intention is to represent both sides of this duality. "It's more of a skate vibe that you can play golf in and still go to a country club or your public course. It's a good mix between skate and golf."
As for the name of the brand, that comes from one of the other founders, Glenn Walker. "We were playing around with names and we kind of suggested Walker because most of the time we're playing golf and walking anyway," says Fardell.
Overall, his hope for the brand is that people interact with the products in their own way, whether that's for golf, skate, or anything in between. Just recently, Fardell spotted Thrasher's 2021 Skater of the Year repping the brand in a pro tournament. "Mark Suciu skated in one of our shirts that's coming out for delivery in Street League two weekends ago. I just turned the TV on to support him and he's wearing my shirt. And I thought 'Wow that's rad, all the way from Aus to Street League.'"
Looking at the brand's offerings, the first drop featured a defining symbol of the country (as well as Fardell's family emblem), the Kookaburra, perched atop a golf club. The logo is seen on every item from the drop, including the Kooka Polo in black, white and forest, the Kooka Bucket Hat, the graphic Perched T-Shirt in white and black, and the rope-style Perched Classic Cap in black and white/red. The second drop, meanwhile, which is tentatively scheduled for August 13, will feature a script Walker logo on graphic tees and a bowling style shirt among other items.
You can find all Kooka items, priced from $42 to $69 USD, right now though by visiting Walker Golf Things online store.
In other golf news, new images have emerged of the Air Jordan 12 Low Golf "French Blue."
Click here to view full gallery at HYPEBEAST