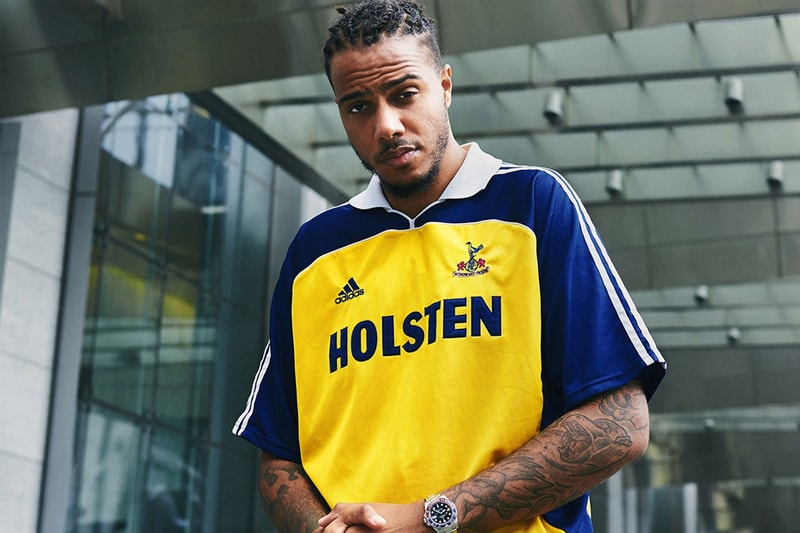 British rapper AJ Tracey recently joined the English football club, Tottenham Hotspur, on their trip to Seoul for a preseason match against South Korea's K-League All-Stars. Catching wind that Tracey was in town, HYPEBEAST Korea took the opportunity to catch up with the west London rapper for a special installment of Streetsnaps.
The visit marks Tracey's second time in the city, having traveled to the metropolis a decade ago while he was still an up-and-coming artist. Coincidentally, Tracey dropped his highly-requested track "Seoul" prior to the trip — a song that was initially delivered via an "On The Radar" freestyle session.
While dressed in his game-day stadium attire, Tracey talked about his time in the South Korean capital, where he's at in his career, and how he chooses beats and more.
How did you end up in Seoul?
It's an interesting question. So I've been here before. I came here almost six years ago I think. I'm 28 now so I came when I was younger when I did an Asia tour. It was a smaller tour and I wasn't as big as an artist yet but it was really eye-opening. When I came here I did it at a venue called Cakeshop and it was really fun. Everyone showed me a lot of love and the energy was really good so I had a really good first experience in South Korea and felt like this was something I'd love to come back to. I like the culture, the food is great, and everyone's really polite.
After I did that tour, I went back home wanting to come back at some point. Now obviously, I make more money, I'm older, I'm a bigger profile artist and I can travel when I want to travel. Now because of lockdown, any opportunity I have to travel, I'll take it. If I have a chance, I'm going to go because I didn't like being in my house. Hopefully, it doesn't happen again. I don't want to be missing out on experiences. Tottenham came to do their pre-season here and I'm good friends with the team. Obviously, Son is a legend here and I decided to travel with them to come and watch them. I also thought if I could come here and meet with you guys, and do some interviews and some talks that would be nice.
We remember when you were doing the performance at Cakeshop you rhymed with Son Heung-min more than 50 times (laughs).
I found it interesting that in London, a large portion of the crowd at the Tottenham games are Koreans because they travel all the way to watch Son, which is amazing. It's interesting because I already knew everyone loves him here but for me to come here and see it with my own eyes it's different. Last night when I came out the lift, Sonny was getting into the lift with about 20 bodyguards and no one could get near him. I understand it, but it's crazy to see it. Even despite that, he's a really nice person. Genuinely really humble, he hasn't let anything get to his ego. Really well raised I would say. It's interesting because some British people of similar level of fame are often rude.
Did you collaborate with anyone while you were here?
I hung out with a few of them. There was a guy called NSW Yoon and a few of his friends, also Chillin Homie. They took me to the club last night. It was cool. They performed at the club, they're lit, I'm not gonna lie. I've got songs with some of them so I've heard a few other songs. Actually, before I came to Korea I saw them on TikTok so I just hit them up. When I land, let's link bro. Why not?
Could you talk us through the rise of drill music?
This is a good question I'm glad that you brought it up. Some people are confused about where drill comes from. It started in Chicago. They invented drill. Chief Keef, you know, and then the U.K. became obsessed with it. Like me, I grew up on him even though Chief Keef is one year younger than me. London was obsessed with Chief Keef. We took drill and we made it our own. We changed it and it sounds like London now.
Then, New York took it back off us and made it their own in Brooklyn. But then London took it back again and changed it a bit more. It got a faster tempo, a bit darker, and a bit more aggressive. Then the Bronx took it back and they're currently the most innovative. Have you heard of Kay Flock? But it's like we trade. It's like a back and forth trade and now drill scene is really big.
What does challenge mean to you at this point in your career?
So for me to be honest at this moment in time my challenge is focusing on making more vulnerable music. So more music that you can feel my pain, what I've gone through, talking more about my personal life — this is a challenge for me because usually I have a guard up and I don't talk about stuff that upsets me. I think people want to hear that so that's what I want to work towards.
In an instrumental way, how would you like to change your productions?
So obviously I love anime. I'm heavily inspired by anime so I like music that sounds like it. When I say that I mean like very whimsical, very dreamy, very cloud-sounding. I want the base and the drums to sound very aggressive, like violent, but I want the instruments to sound soft and cute and beautiful. I want the juxtaposition, I need the opposite. I like those beats. So it sounds very aggressive from the base but the top is very light and cute. I need that. That's what I like.
When you chose your beats is it always spontaneous?
Yes, always spontaneous. I'll be listening to beats and then just whichever one kind of lightbulbs, I'll pick it. I usually name my songs not something that I say in my lyrics but just what I feel and what the song sounds like. So for my song "Seoul," I don't say Seoul in the lyrics once but it sounds like from when I came there and how it felt like when I was walking around.
We see you often freestyling on the radio. Are you heavily inspired by freestyle and where does it fall in your process?
Most of my music is inspired by freestyle. I feel like freestyling is the purest form of hip-hop and I say that because there's no limit or cage to what you're rapping about. You rap on the spot about how you feel, and maybe later on you go home and you're like I like this as a song, but at the moment you just say what you feel like, so I like that.
Can you run us through what you're wearing?
This is an old Tottenham shirt. It's like from '95 or '96, I'm not sure but this is old. I'm actually sponsored by Nike, so I don't wear it that much because of it, but I'm allowed to wear this because it's football jersey so it's alright. I don't really wear adidas ever. But yeah, this is an old-school jersey. The shorts are A-COLD-WALL*. I love that brand, it's really nice. Some Nike Flyknits as well, these aren't for fashion, these are just really comfortable. Walking around, my feet aren't going to get tired and won't hurt. I got a little Rolex on. I picked it because red and blue, obviously, South Korea's colors, make sense.
Click here to view full gallery at HYPEBEAST