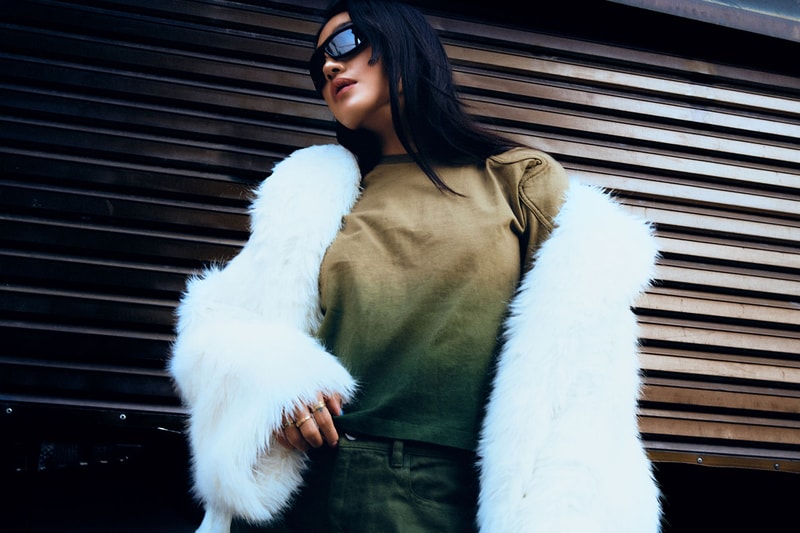 Peggy Gou is widely regarded as an electronic music god, drawing in massive crowds at festivals globally. At the same time, she juggles a number of titles – as a producer with 1.8 million monthly listeners on Spotify, the director behind the label Gudu Records and an icon within the fashion industry and wider world.
During a visit to South Korea last February, Gou graced two different historic techno venues. Now, the DJ is preparing several projects for 2023, including her first full-length album.
How was the experience of DJing in Korea for the first time?
It was more than I expected. In order to resonate with the audience in Korea, I had to play music differently than I would in foreign countries. As I watched the audience's reaction, I was excitedly thinking about how Korean House and techno are getting a little bigger. I was also performing with my favorite artists, so I was feeling a lot of emotions.
In terms of fashion, what do you want to show the audience at your live shows?
I think my performance includes costumes. I want to deliver energy at the same time, so I wear a lot of colored clothes. A lot of people think that my clothes are chosen by a stylist, but I wear whatever I want. It all depends on the country, the timing, the festival. I'll choose the energy that I think suits the city and the situation.
As the day goes on, my suitcase gets bigger and bigger, and it's hard. People who like techno sometimes only wear black, but I think you can wear colorful colors while playing techno.
The word "colorful" is something of a defining term throughout your music and stage presence.
Sometimes people ask me to define my style. Every time I say no. I pretty much wear all styles of clothing. It's the same when you're making music. I draw from everything – I'm talking about K-House, indie, techno with my music, and all kinds of genre elements.
Can you speak about launching Gudu Records? What is the label working on currently?
Labels are labeled techno, house, etc., but I don't intend to label it myself. The music released on Gudu spans a variety of genres.
A compilation album will come out eventually. One song on the project by Korean artist Salamanda. In fact, Salamanda and I wanted to play music together in Korea this trip, but we didn't get together due to scheduling conflicts.
Gudu Records have a unique style of artwork, with covers featuring illustrated paintings in pastel tones.
Since [my 2019 song] "Starry Night," I've always used album covers drawn by an artist. Each record has the visual artist's own characteristics. Sometimes artists have specific needs, and sometimes artists listen to songs and draw whatever they want. It's a fun process. Me.
I'm a tremendous control freak. For instance, I have to listen to all of the songs and their arrangements. With visual covers, I need to leave it to someone else and I know that.
Let's circle back to your personal music. What are you working on right now?
So far, I've only released the [Moment] EP that contains about three songs. It's time to put out a regular album. I've been making one since before 2019, but it's my first album, so I'm being careful.
It took a long time to create a few of the collaborative songs on it. I'm almost done. If we finish the collaboration in March or April, we'll be able to release it in summer 2023. The album will come from XL Recordings, not Gudu Records, so we need to discuss the schedule together.
What types of songs are included on the project?
There are dance songs with my voice in them, of course. There will be a variety of BPM across songs. There's one song with a Spanish rapper. There are collaborations with artists that I really admire. And I'm ready to work with my favorite writer, Olafur Eliasson. I'll tell you this much.
Consistent sounds in your music include the piano, acid elements, percussion produced via drum machine and retro influences. Where does this come from?
I'm inspired by songs that were made before I was born. Mainly songs made in the 1980s and 1990s. You listen to a lot of songs before you make music. And then you're like, 'Let's do this part of the baseline a little differently, or let's try this part similarly?' With that, you have a starting point.
I don't like digital sound very much. That's why I use a lot of analog synthesizers and drum machines, like the Roland TR-606 or Jupiter synthesizer. My songs have to have an analog sound.
How would you describe your signature sound?
For me, it lies in the vocals and the bassline. My old dream was to be a singer. And then, after some time, I thought 'maybe I shouldn't sing,' but by then I knew that I was going to make music, it takes a little courage. The sound I make is dance music, basically, and I still use my own voice in my songs.
What are you wearing today?
Outerwear is a Korean brand called S/E/O. The top and bottom are made by Australian designer, Dion Lee. Shoes are Chanel and bags are Loewe. Sunglasses are Maison Margiela x Gentle Monster.
This article has been lightly edited and condensed during the translation process.
Click here to view full gallery at Hypebeast