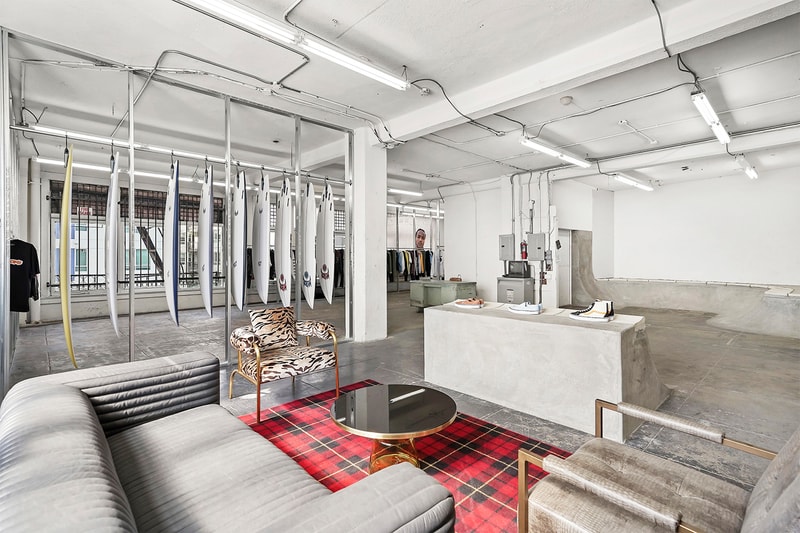 Inspired by California surf, skate, and punk, Noon Goons has carved out its own place through its releases built around subversion and unwavering attitude. The label has now opened its first brick-and-mortar locations to offer a new physical experience.
Located in downtown Los Angeles, the "Noon Goons Factory Store" is a 2,500-square-foot located on the fourth floor of the historic B. Black & Sons building. The building has served as a premier destination to purchase quality wool and suiting fabrics for Hollywood's top fashion and costume designers for over 100 years.
"I am especially stoked not only to open my first store but also to have it in the very same building where I launched my brand," says Noon Goons' founder, Kurt Narmore.
To get to the Noon Goons Factory Store, customers pass street vendors to find a nondescript door that leads to the only remaining full-time operated elevator in DTLA. Upon entering the flagship, customers are greeted by a custom-built, miniature indoor skate park, fully built to replicate the empty swimming pools of Narmore's youth engaged in Southern California skateboarding culture. The open open-concept floor plan is outfitted with 20-gauge steel studs built as walls, creating displays for current Noon Goons collections without impeding natural light from the oversized windows.
The Noon Goons Factory Store will be multi-brand, featuring products and categories from brands Naramore is friends with or shops from. "It was important to me to build something that includes other people who are trying to make it out here," says Narmore, "The fashion industry can be so exclusive and quick to shut people out - I see this as a way to bring people together and support our local community. We all have the same interests and want to see each other succeed."
Aside from Noon Goons' latest Vans collaboration and clothing from up-and-coming designers, makeshift hangers offer custom surfboards from ...Lost and rotating artworks will be available for purchase. Finally, a garage band set-up, complete with bass and guitar speakers, amps, microphone, and monitor offers a representation of the punk and hip-hop that soundtrack the space.
Take a look inside the Noon Goons Factory Store above.
Noon Goons Factory Store
546 South Los Angeles Street, 4/F
Los Angeles, California 90013
United States
Monday - Saturday
10 a.m. - 7 p.m.
View this post on Instagram
In case you missed it, Playboi Carti recently dropped the Narcissist Cut & Sew collection.
Click here to view full gallery at HYPEBEAST