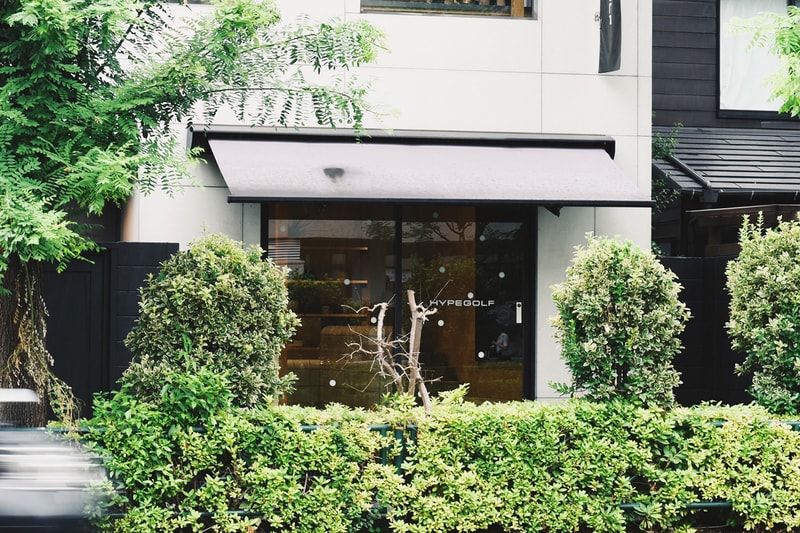 Established as a community of creatives and athletes united under the umbrella of golf enthusiasts, Hypegolf, the golf division of Hypebeast, is set to continue its exploration of the "modern-day golfer" with the opening of the first-ever Hypegolf store in Japan. Partnering with Jun Co., Ltd, an apparel and lifestyle creation company that brings new cultural visions, the retail expression opening in Japan, serves to define Hypegolf's intersection between streetwear and youth culture with sporting and social elements.
Situated at the heart of Daikanyama, Tokyo's fashion-forward and trendsetting district, the flagship serves to complement the existed Hypegolf e-commerce platform and accompanying online community. The 85-square meter space spans two floors and carries the unisex Hypegolf mainline collection, along with a diverse assortment of coveted golf-focused apparel, accessories and lifestyle offerings. Presenting a platform for curated established and emerging golf brands, like Hookedgolf, CAVY, No.33, The Original Tee Pick and more, the Hypegolf store aims to showcase all facets of golf.
Additionally, the Hypegolf Japan store will serve as the home for the first Hypebeans café in Japan. Hypebeans exists as the result of Hypebeast Founder and CEO Kevin Ma's friendship with world-renowned barista Hiroshi Sawada. Not only marking their shared interest in fashion and the culinary arts, but the international café name also stands as a place for like-minded individuals to come together.
To celebrate the opening of the Hypegolf Japan store, Hiroshi Sawada has crafted an exclusive coffee drink, dubbed the "Bunker Shot Latte." The espresso-based drink carries hints of vanilla and chocolate for a uniquely sweet and tart finish, accented by kinako, Japanese roasted soybean powder.
"JUN Co., Ltd has close to 50 years of experience in the field of golf, and I am excited to partner with them to launch our first-ever Hypegolf store in Japan. Complementing our well-established Hypegolf online community and e-commerce platform, we want to bridge our online cultural hub with an immersive offline experience to discover the joy of golf at our newest Hypegolf and Hypebeans location in Japan," said Kevin Ma.
"We are very pleased to partner with Hypebeast to expand its Hypegolf business in Japan. Since the launch of Hypegolf's Instagram, we have been fascinated by the brand's innovative perspective and its cutting-edge ability to communicate a sense of respect for classic golf, rather than just street-style golf. We are committed to working with Hypebeast to create a new golf culture by utilizing JUN's brand management and retail development skills," said Susumu Sasaki, Founder and Chairman of Jun Co., Ltd.
Take a look inside the first-ever Hypegolf store in Japan above. And look out for the Hypegolf Invitational to return to Japan this August.
Hypegolf Japan
27-3 Sarugaku-chō,
Shibuya-Ku, Tokyo 150-0033,
Japan
Monday to Sunday, 11:00 a.m. - 7:00 p.m. JST
Also, take a closer look at Hypegolf's official apparel collection.
Click here to view full gallery at HYPEBEAST