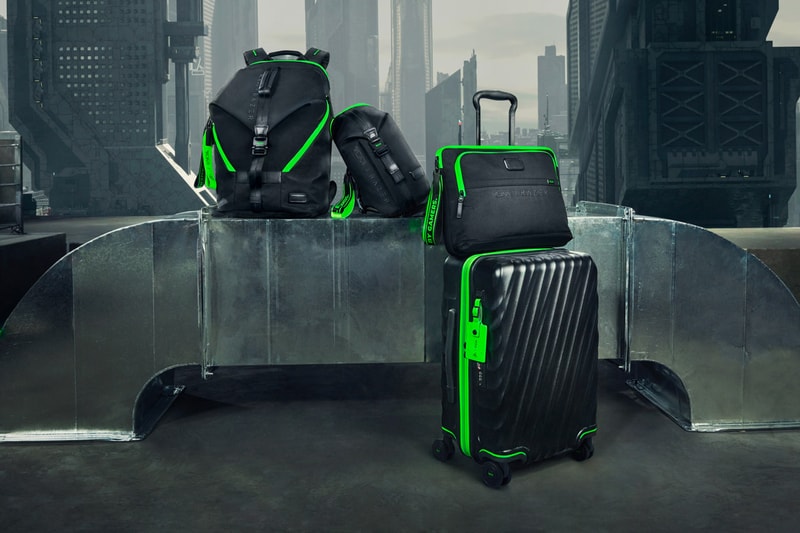 Following the launch of its new "ATLAS" fragrance for men last month, TUMI has tapped gaming lifestyle label Razer for a limited-edition capsule of esports-inspired accessories.
Razer's triple-headed snake logo and signature green accents command the range, with TUMI's DNA at the core of each piece. For utility, the collaborative Laptop Cover 15" provides secure support for standard gaming devices, and the Bozeman Sling offers the perfect pouch for storing cords and portable gaming gear. Elsewhere, the Finch Backpack is designed to carry larger, heavy-duty gear, and the Internation Expandable 4 Wheel Carry-On Luggage, which is made with recyclable materials and features a USB-C port, is naturally designed for players on the go.
"We have fully embraced our esports category with the Razer partnership. We are looking to deliver new and exciting products that are truly in line with the attitude and passion of their gaming community," said TUMI Creative Director Victor Sanz in a statement. "Their lifestyle is something that runs parallel to how we generate our products and how we are truly focused on all aspects of our customers' lives, looking to ensure that only the best is in their hands for them to achieve their goals."
"We are thrilled to partner with TUMI to bring this exclusive collection to our gaming community," says Addie Tan, Associate Director of Business Development at Razer. "We know that our fans lead active lifestyles and sometimes have to carry their valuable battle stations with them while they are on the go. So, we wanted to arm them with high quality travel gear, offering them a balance of versatility and functionality so that they can keep winning, even on the go."
There will only be 1,337 units of each style available at launch. "1337," or "LEET," which is short for "elite" in the esports domain, was specifically chosen as the code is commonly used to identify the highest-performing players.
The collection will be available to shop on TUMI and Razer's websites, as well as in select TUMI stores across the globe, beginning June 3 at 11 a.m. ET.
In more fashion news, HUF and Thrasher have united for a ballpark-themed collection.
Click here to view full gallery at HYPEBEAST