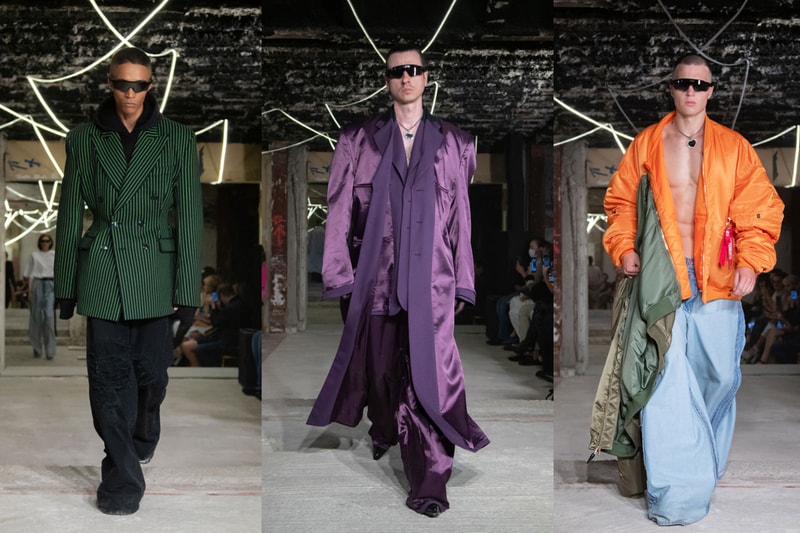 For Guram Gvasalia, the achievement of putting forward his designs has been a lifelong journey. When Vetements and its signature anti-fashion aesthetic was born, Guram Gvasalia managed business operations as the brand's CEO, while his brother Demna helmed the creative vision. But since Gvasalia's appointment to creative director in late 2021, the designer has been crafting his newfound identity of design under Vetements and VTMNTS.
For Vetements Spring/Summer 2023 collection, the Georgia-born designer looks into his life's experience to generate a collection that is emotionally poignant as much as it is design-savvy. Therefore, Gvasalia's vision for the new season comes to life in its exhibition of multifaceted designs, while still savoring central house codes.
"This collection is very personal to me. It's my first physical VETEMENTS show as a Creative Director," said Gvasalia. "It's a summary of my childhood memories, war trauma, hidden desires and twisted imagination."
As always, tailoring played a huge role in the collection through structural double-breasted blazers, floor-length overcoats and trench coats. What takes the pieces to the next level are visceral multicolored yet subtle pinstripes, metallic fabrics, structured shoulders and more. The new offering also offers a commentary on volume showcased by relaxed floor-kissing pants with wide constructions, oversized knitwear and layered detailing that make overcoats glide through the air.
No style is off-limits for Gvasalia and that is what makes the collection unequivocally cosmopolitan. Whether it be poshly contemporary tailoring, heavy streetwear or punk-infused styles, the offering touches several identities. Are the pieces slightly fantastical? Indeed. But there still exists a great deal of wearability.
"Prior to coming out as the Creative Director of VETEMENTS, I showed my first collection for the brand last year, all masked looks; masks as a protection, of what's inside, masks as a protection of the world that sometimes can be very brutal, especially being LGBTQ and growing up in a super homophobic environment," said Gvasalia. "Everyone expected me to continue this season with this signature move of covering all faces, but once I fitted the casting, I removed all the masks that were in the show, I wanted to show their faces, tell their stories through my clothes."
Check out Vetements' SS23 collection in the gallery above.
In other fashion news, Olivier Rousteing's Jean Paul Gaultier Couture show was an ode to JPG-isms.
Click here to view full gallery at HYPEBEAST