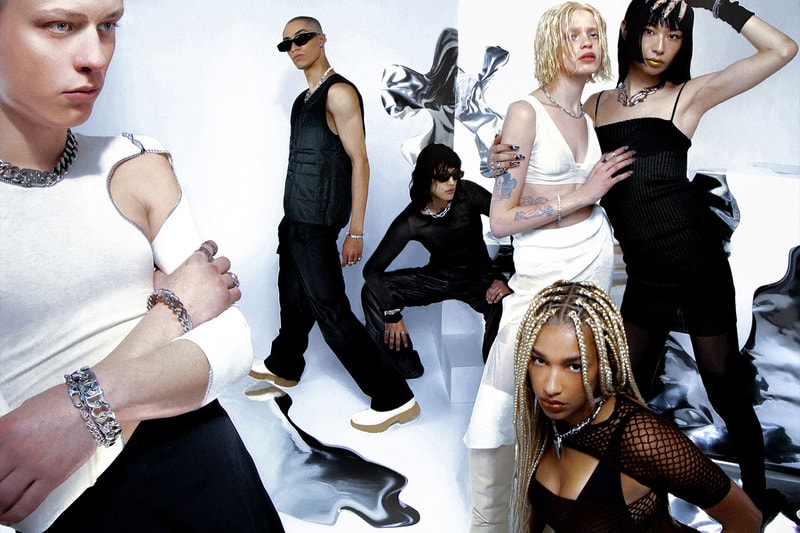 The Toronto-based jewelry label Vitaly has just delivered accessories from its Spring 2022 "GLYPH" collection on HBX. A brand with the future in mind, its designs are crafted with 100% recycled stainless steel taken from remnants of car parts, machines, and skyscrapers.
The HBX release serves up a versatile range of twelve rings, eight bracelets, and eight necklaces. Leading the lineup is the popular oversized Riot necklace updated with the signature GLYPH buckle clasp. Catering to those who prefer a minimal look, the clasp is reversible so that the opposite side is made to look precisely like the original non-branded version. More classic Cuban-link chain styles include the mid-size Transit Necklace and the Miami Chain with more delicate links.
Taking more unique design approaches are the Origin chain juxtaposed with iridescent pearls, the Subset Necklace that similarly dons two contrasting chains, and the layered Kabel Necklace with two connected chains. The symmetrical Proxy Ring, which hinges at the knuckle to allow free movements of the finger, the signet-style Bond Ring adorned with a translucent synthetic pearl, and the Strain Bracelet interweaving a big and small chain are other standout pieces.
Vitaly's latest jewelry pieces from the GLYPH collection are now available on HBX, ranging from $45 to $140 USD.
View this post on Instagram
In case you missed it, Rick Owens "SWAMPGOD" collection praises nonconformity.
Click here to view full gallery at HYPEBEAST