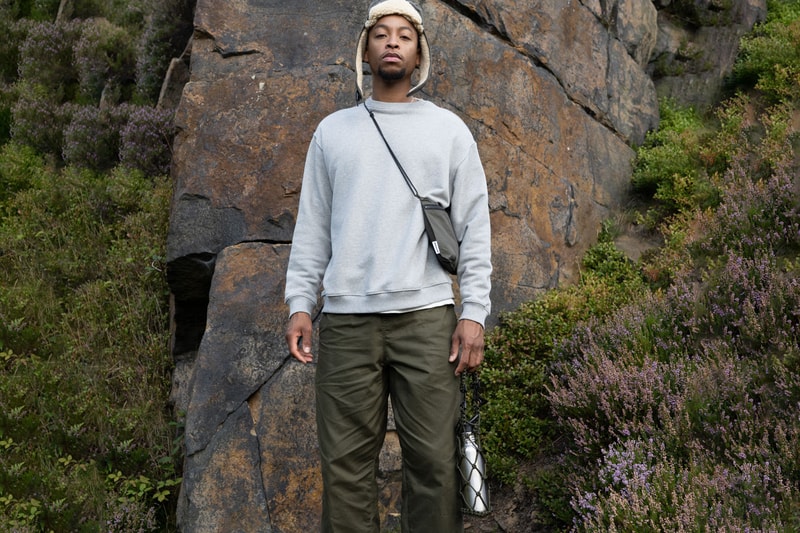 The U.K. is home to a wide variety of outerwear brands that are making outdoor excursions stylish. For example, we have the likes of Finisterre which create its garments on the Cornish coastline from an abundance of high-quality recycled fabrics. Elsewhere in Britain, Carrier Goods is consistently emphasizing the importance of pockets through lightweight and waterproof garments that are designed with cozy linings and adjustable pull cords for tighter or baggier fits. Another brand that is flying a flag in support of the great outdoors is WAWWA Clothing and the Manchester-based label has just presented two new styles that aim to combine waterproof textiles with dry wax and soft aero tumbling. 
This latest drop from WAWWA introduces the new Hydrid/Aero™ Zama Pants and Pullover Smock and both are made from organic fabrics that are sourced from Dundee-based Halley Stevensons. The designs for the pants and pullover are both lightweight and breathable and are both 100% water-repellent. WAWWA has also made it possible to extend the life of its garments with its reproofing spray that revitalizes the wax used on the outer fabrics to withstand heavy rain and wind. 
For the overall designs, the Hydrid/Aero™ Zama Pants come in "Olive" and "Charcoal" colorways and both feature minimal branding on the back pocket. The trousers are also practical for exploration and come in an oversized silhouette that maximizes leg room and airflow. The Pullover Smock comes in matching colorways to the corresponding trousers and features two large pockets across the chest. Rounding off the design, the Smock also comes with a sharp collar and is once again designed to be baggy, comfortable, and practical.
You can take a closer look at the latest drop from WAWWA Clothing above and the collection is available on the brand's official website now.
In other news, take a look at the new Solomon XT-6 GORE-TEX.
Click here to view full gallery at HYPEBEAST