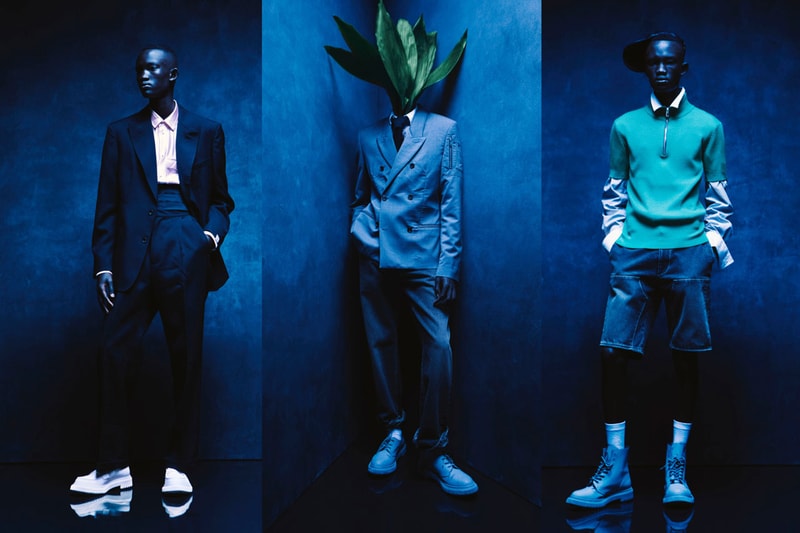 On the heels of his recent win of this year's Karl Lagerfeld Prize, Idris Balogun of WINNIE New York has unveiled his new Spring/Summer 2023 collection. Making its debut during Paris Fashion Week, Balogun's latest work further showcases that evolving timeless silhouettes does not have to be a complicated process.
Titled "Cold Feet," the new collection is inspired by the work of Angolan artist Alida Rodrigues. Fusing botanical illustrations and 19th-century postcards, Rodrigues' work analyzes issues of memory, identity, the sterilization of history and its subsequent erasure of culture. In channeling her work, WINNIE New York's new collection contributes to the discussion of perception and cultural interaction.
Comprising the collection are classic pieces like sweaters, suits, button-down shirts, jackets, shorts and more that are infused with subtle elevated design details. For example, button-down shirts are met with slightly oversized French cuffs while streamlined constructions and broad shoulders touch hand-tailored garments. What takes the pieces to the next level is its use of elevated fabrics like Italian linen, light cashmere, virgin wool, mohair and silk. Doused in shades of jade, powder pink, sunset orange, lavender and more, the palette presents a versatile, yet inviting pulse.
Additional subtle details in the collection include interior sleeve pocket bomber jackets, relaxed denim shorts and ombre short-sleeve shirts. Entirely made of natural fibers, the new collection prioritizes genuine craftsmanship and longevity.
Check out WINNIE New York's "Cold Feet" collection in the gallery and video above.
In other fashion news, XIMONLEE SS23 bridges innovation and sculptural seduction.
Click here to view full gallery at HYPEBEAST