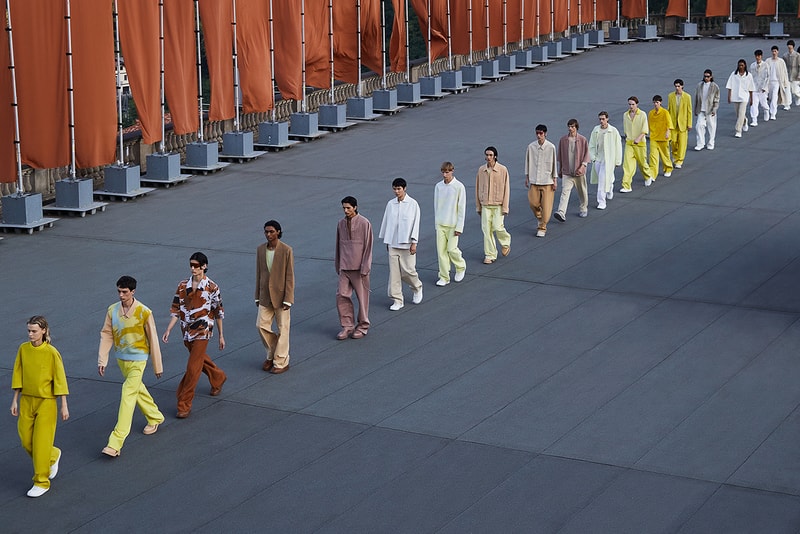 Alessandro Sartori's vision for ZEGNA is permeated with technicality, transforming the 112 year old brand into a sartorial menswear giant that is aiming to capture the attention of a new generation. Yesterday, ZEGNA showed its Spring/Summer 2023 collection titled "BORN IN OASI ZEGNA," and as the name suggests, Milan Fashion Week's crowd was shuttle bussed to the North Italian countryside to sit atop Casa Zegna's rooftop for a dramatic end to the week's fashionable antics. With this in mind, ZEGNA is ready to not just take on, but dominate the increasingly blurred line between luxury tailoring and casualwear, and it did so with loose silhouettes, technical materials, pops of color, and a collaboration to boot.
ZEGNA is no stranger to collaborating. It worked with Jerry Lorenzo's Fear of God back in 2020, but unlike other fashion houses the brand has not gone on to churn out headline-grabbing collaborations since. Now, it returns with a focus on footwear, tapping Mr. Bailey to rework the brand's Triple Stitch sneaker. The sneaker is a traditional silhouette for the brand, perfect for dressing up or down, and Mr. Bailey has only enhanced that with his digitalized aesthetic and technical know-how.
To transform the shoe, Dan Bailey redefined the stacked leather sole unit that is a "single piece of leather that's been triple wrapped around the silhouette like a belt," per the designer's own words on Instagram. He continues to note how "[It's] almost like a luxury version of vulcanization, giving the Triple Stitch a chunkier proportion and sleek toe shape."
But before we get into the shoe, there's much more to digest from ZEGNA's SS23 runway show. As onlookers sat lined along the rooftop, smoke plumed from a chimney and Moderat boomed from speakers. Models soon ascended onto the runway, showcasing a collection that spanned tailoring, casualwear, sportswear and technical garments.
Notable looks include a semi-translucent, burnt orange mac coat made from a satin-like material, the variety of textured knitted jumpers and sweater vests that blended strokes of colors in an earth map manner, and the glossy yellow deep-necked, double-pocketed top. It was a welcomed shift from ZENGA's past, often known for muted and earthy-hued tailoring, and while that did appear infrequently everything felt current and for today.
In the press release, Sartori says, "My work stems from a question: what's next for tailoring? And for the needs of the lives of today? The idea is to use our craftmanship as a progressive tool, keeping the finesse, the attention to detail, the respect of materials while experimenting with shapes that are light and materials, solutions and finishes that give these shapes a new technicality, to mostly building up a new silhouette where effortless and innovation create a new style for men. In doing so, we keep expanding and solidifying a distinctive language, the one of ZEGNA."
There was a sense of freedom throughout the collection, with Bermuda shorts showing leg (a big hit this season) and shirts doubling up as outerwear thanks to their versatile choice of fabric and construction methods. Ironed pleats in trousers allowed them to sit casually and balloon where needed, while terry cloth echoed the sense of a chilled aesthetic, it too served up in a variety of easy-to-wear colors.
Engineered knitwear, technical silk, meshes, rubberized nylons, wools, terry, rubberized leather, and lacquered Nappa were used across the collection, constructing pieces in powder white, buttercup, dusty rose, honey, vicuña, mocha, hickory, charcoal, sulfur and black. It was pure, and this is something that has gone on to inspire Mr. Bailey's redesigned ZEGNA Triple Stitch sneaker.
Before the show, HYPEBEAST caught up with Alessandro Sartori and Mr. Bailey to discuss their collaboration. Read on to find out more about the ZEGNA Triple Stitch by Mr. Bailey.
HYPEBEAST: How did the collaboration come about?
Alessandro Sartori: It was very natural. [We share] a similar attitude and approach towards fashion, we have an interesting common language that's a combination of trust and creativity. The idea of a handmade product and process is important.
"Doing collaboration after collaboration after collaboration... becomes a marketing tool, not a vision to explore new territory."
Mr. Bailey: I learned about ZEGNA a few years ago when a buddy of mine was in a campaign and I remember being in New York and not being able to pronounce "Ermenegildo" correctly. That was my first interaction with the brand, and of course, ZEGNA then worked with Jerry [Lorenzo]. From there, it's been a massive deep dive into ZEGNA, and the more I find out the more we align on working together.
The monochromatic theme, the details, silhouettes, proportions, drapes, it's all a similar approach to how I design footwear. I didn't have to bring up the [fine] details when talking to the brand, these are already a part of ZEGNA's DNA.
How did you approach the reworking of ZEGNA's Triple Stitch sneaker?
MB: This is a sneaker that is iconic for the brand and it continues to be used in a multitude of different ways – dressed up or down. Alessandro wanted a shoe that still embodied the DNA of the Triple Stitch, with the same last and sole to achieve the same feel, but to also bring the Mr. Bailey [touch]. It was the first time I went into a factory where the brand owns every element. I could take advantage of being there for every step of the process, it allowed us to get really technical. Only a brand that owns all of its own facilities can apply the amount of detail and quality to what we worked on. You can't do that if you don't have those facilities and have 24/7 access.
We had to align on what made sense for ZEGNA and Mr. Bailey. I think about being exploratory and conceptual, utilizing various methods of construction. Where we came together was on ZEGNA's craft, which is so well done and precise, that it almost looks like it was made by a machine. It is minimal, luxury, clean, and high quality, but it's also technical.
How does it feel to have your signature sneaker reworked?
AS: We're big believers of icons and that they should last for a long time, being updated accordingly. This is a good example of this journey. Daniel was the name we had in mind immediately.
I always think that the design is not only an expression of my own feelings, but also specific products or ideas are the work of a community sharing the same vision. 
Many luxury houses have worked with the streetwear world in recent years. Why is now the time for ZEGNA to explore this more than ever before?
AS: We get a lot of collaboration requests and we have lots of possibilities. But we do very few of them – Jerry [Lorenzo] was two and a half years ago. We want to find the right theme, idea and vision, instead of doing collaboration after collaboration after collaboration. It becomes a marketing tool, not a vision to explore new territory. To me, that's for business, not for the brand. We need to be selective.
This shoe is the perfect tool to get to a new environment and dimension. It keeps the original idea of a ZEGNA icon but it brings it to a new generation.
What have you learned from working with a luxury fashion house?
MB: I come from an independent background and it's a fight to realize your vision on the development side of things. You're always trying to push. I remember the first meeting we had and I was showing my designs, and considering ZEGNA is a luxury house, its attitude was completely embracing. Normally, I get "how are we going to make that?" For this, it was about going to the factory and working directly with the people making it. We worked on fixing issues, and the best thing was sitting back and letting the people who have been doing this for 30 years find minimally aesthetic but technical solutions to these problems. This attitude [makes it] exciting to create products.
It has allowed me to express a very different part of myself. I've had other collaborations where it's wild, but this shows a different understanding: you can be creative and forward-thinking, but you can do it in a way that's palatable and wearable. It's a different approach, and by no means easier it's still a challenge, but it's about creating a beautiful object but, when broken down, is technically made.
How does the collaboration expand ZEGNA's vision?
AS: We have one dimension, one vision, one story, so I can go deeper in what I believe in. It's an interesting moment to have effortless menswear with incredible design but you don't know that until you touch the products. Some of the garments [in the runway show] are so special that, from [far away] they look simple and at ease, and that's what I like, and the shoe is the center of this new menswear dimension. It's pure. I don't love the word "minimal," pure is much better to me because we are treading the peak of extremely interesting design. But behind it is a technicality, and this is the essence of a new ZEGNA.
Take a look at ZEGNA's SS23 collection above, and find more Milan Fashion Week and soon-coming Paris Fashion Week coverage on HYPEBEAST.
In other news, Harry Styles and Alessandro Michele have come together on the Gucci "HA HA HA" collection.
Click here to view full gallery at HYPEBEAST