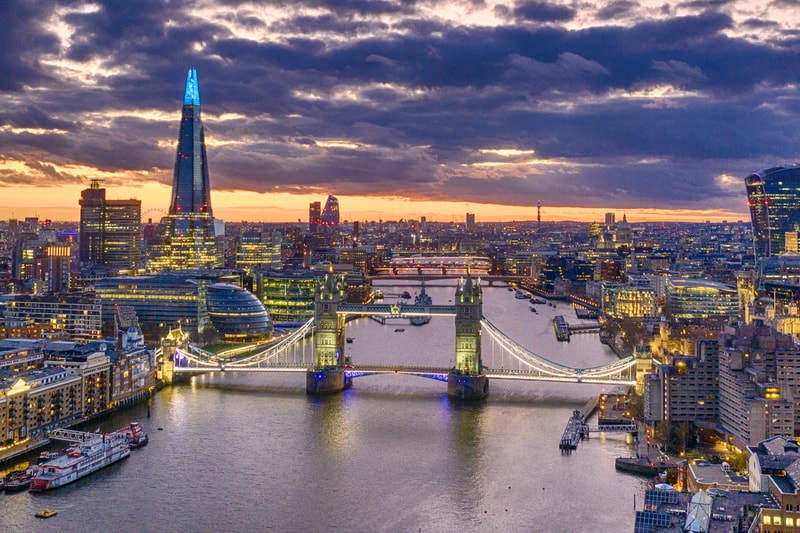 Earlier this month, international travelers and city locals alike celebrated Queen Elizabeth II's Platinum Jubilee, honoring the 70th anniversary of Her Majesty's accession to the throne over a special four-day holiday weekend. Millions of viewers in the United Kingdom and beyond tuned in to a night of musical tributes on June 4 from some of the biggest names in music, including Alicia Keys, Duran Duran, Diana Ross and George Ezra. The next day was marked by a grandiose Jubilee parade, culminating in a sing-along led by Ed Sheeran, as well as thousands of street parties across the city.
In the aftermath of the action-packed event, London continues to stand out as a vibrant and culture-packed travel destination with a variety of great restaurants, attractions and entertainment. HYPEBEAST tagged along with Visit London to experience some of the city's best offerings for a weekend — or week-long — trip to London.
What: Situated alongside the South Bank of the River Thames, this unique hotel is inspired by the make of a 1920s-era transatlantic cruise ship. Sea Containers has over 300 rooms and suites and also houses an experimental cocktail bar on its ground floor and a rooftop bar that provides a panoramic view of London. From its riverside location, guests have the city at their fingertips and can begin their day with a stroll on Queen's Walk, a promenade between Lambeth Bridge and Tower Bridge.
Where: 20 Upper Ground London, London SE1 9PD
View this post on Instagram
What: British chef Marcus Wareing serves up contemporary European cuisine at his eponymous Michelin-starred restaurant in Belgravia. The elegant eatery is made up of the main dining room and two private spaces, where guests can enjoy fine-tuned dishes from one of Marcus' tasting menus, such as Gigha halibut and risotto with wild nettle.
Where: The Berkeley, Wilton Place, London SW1X 7RL
View this post on Instagram
What: Selections from the Royal Collection, the largest private art collection in the world, are currently on display at The Queen's Gallery at Buckingham Palace. Art aficionados can enjoy its current exhibition, Japan: Courts and Culture, which explores the storied relationship between the royal courts of Britain and Japan through Samurai armor, porcelain and screen prints.
Where: Buckingham Palace Road, London SW1A 1AA
View this post on Instagram
What: Located off of Carnaby Street in the city's popular shopping district, Imad Alarnab launched his restaurant only a few years after fleeing Damascus and settling in London. Imad's Syrian Kitchen offers updated versions of Middle Eastern classics with an emphasis on patrons sharing dishes and a range of vegetarian and vegan options.
Where: 2.14 Top Floor Kingly Court, Carnaby Street, London W1B 5PW
View this post on Instagram
What: At the heart of late-night entertainment is London's West End. Famous for its renowned theater productions, travelers can block out an evening to witness one of the unmissable musicals and plays currently in rotation. For a dose of British history, SIX, live at the Vaudeville Theatre, offers a retelling of the six wives of Henry VIII in the style of a pop music concert.
Where: 404 Strand, London WC2R 0NH
View this post on Instagram
What: With an average of over three million visitors each year, the London Eye has cemented itself as the most popular tourist attraction in the UK. Standing 443 feet (135 meters) tall, the observation wheel provides a sky-high view of the city with sights of Big Ben and the Palace of Westminster.
Where: County Hall Riverside Building Westminster Bridge Road, London SE1 7PB
View this post on Instagram
What: Dating back to 1840, afternoon tea has been a part of the country's tradition for nearly 200 years. While most locals don't indulge on a daily basis, afternoon tea is a quintessentially British dining custom. A standard tea consists of three courses, starting with sandwiches, followed by scones with clotted cream and jam and made complete with a tier of cakes and small desserts.
Where: 53 Park Lane, London W1K 1QA
View this post on Instagram
What: This castle has stood as a defining landmark since being built in the 1070s, previously having served as an armory, a treasury and a zoo for wild animals, among other uses. Today, visitors can tour the Tower to learn more about the role of the fortress in the city's history and take a glimpse at its collection of Crown Jewels.
Where: London EC3N 4AB
View this post on Instagram
What: Finish the night with a drink or snack at Seed Library, situated in the basement of the newly-opened hotel One Hundred Shoreditch. The bar features a sleek lo-fi design with dim lighting and a jazz club-style ambiance. On the weekends, patrons can catch sets from DJs spinning late into the night.
Where: 100 Shoreditch High Street, Shoreditch, London E1 6JQ
View this post on Instagram
Click here to view full gallery at HYPEBEAST