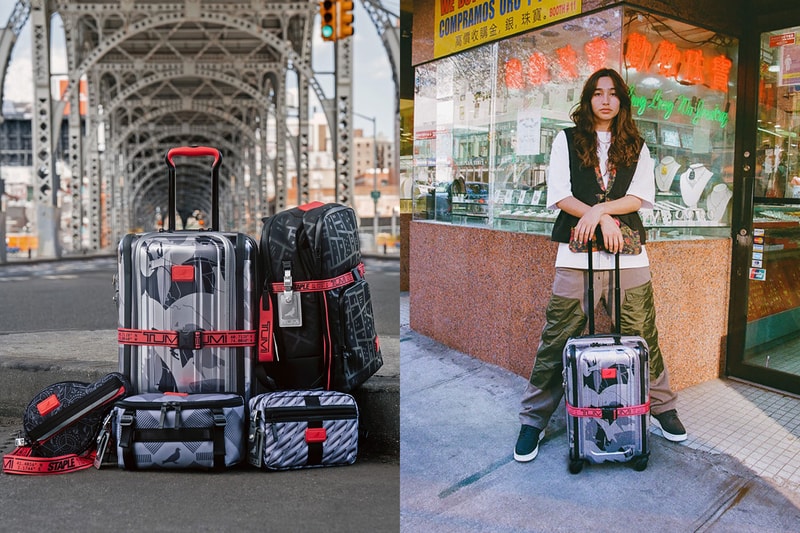 Internationally-recognized travel brand TUMI keeps jet-setters equipped with sturdy, reliable luggage, but now the brand is providing travelers the opportunity to move in effortless style with its latest collaboration in partnership with notable streetwear label STAPLE.
Jeff Staple, the creative powerhouse behind the world of STAPLE, and TUMI are both inspired conceptually and aesthetically by the different cultures and influences the world has to offer, and this theme carries over into the exclusive collaboration. In celebration of STAPLE's origins in New York City, as well as TUMI's international connections, the new range draws inspiration from many different cities across the world, from Tokyo to Barcelona.
Five new styles are introduced within the collection, all marked with STAPLE's signature Pigeon, a symbol reminiscent of the label's roots and ambitious ethos. The versatile designs were each conceptualized with the modern traveler in mind, showing off versatile, utilitarian features. The collection includes a Backpack inspired by São Paulo, a dynamic Sling that nods to Tokyo, a Ping Pong Crossbody with a print that transports wearers to Barcelona, the Kit crossbody which alludes to Los Angeles' architecture, and the International Expandable 4 Wheeled Carry-On for longer trips.
The collection's pieces each have multiple uses and can be mixed and matched for maximum efficiency. Whether you are traveling to New York City or to another country entirely, the TUMI x STAPLE collaborative collection ensures safe, easy and organized packing and transportation. "There is a strong commonality in both of our brands between travel and performance, and how the experience affects your everyday life. I've come to really appreciate the value of well-designed travel accessories, especially when you are in a new city and constantly on the go," says Jeff Staple.
The TUMI x STAPLE collection ranges from $250 USD to $1,195 USD and will be available internationally on TUMI.com, at select TUMI retail locations and at StaplePigeon.com starting July 7 for EU and U.S. customers, and in the Asia-Pacific region July 20.