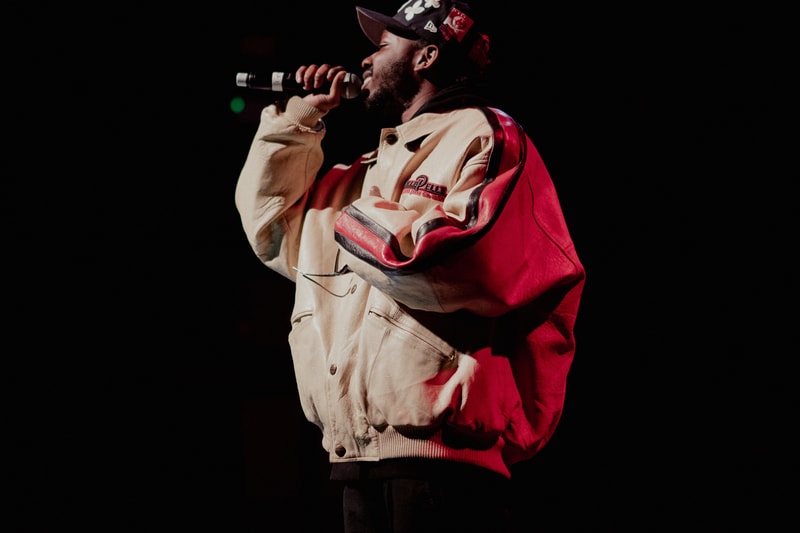 The UK has been birthing top-quality rap talent for some time now. While the UK first welcomed British rap to its shores from the London Posse in the '80s, it wasn't until London's pirate radio stations and tower blocks curated grime music, rap crews, jungle and garage raves, dancehall, and the sound system traditions of DJ and MC.
But since grime music's resurgence in 2016, there's a whole other collection of underground musicians carving their own lane to become the new hot-on-the-block sub-genre in UK rap culture. Little Simz, Knucks and Dave have proven that there's a space for conscious and complex rap on the same level as its other drill, grime, and road rap counterparts. Stories on love, Black excellence, and personal tales about family can be articulated in a way that is now deserving of some of the biggest stages in the world.
With this being said, UK hip-hop is here to stay, its raw and underground nature (along with the help of Soundcloud and the popularity of Instagram) is carving a lane for boom-bap and lo-fi hip-hop stars to take over the map and we're here for it.
HYPEBEAST has listed seven UK hip-hop stars you need to keep on your radar. See the full list below.
Lord Apex
West London rapper Lord Apex is standing as one of the leaders of UK hip-hop right now. The artist has modestly labeled himself as "The Underground General" in most recent times and following his trilogy of Smoke Sessions projects, Apex is hard to argue against following the success of the latter. Best known for rapping over a collection of Wu-Tang-inspired productions, his hazy approach to the microphone has led to a solid, cult-like following across the UK's capital that consists of heavy smokers and baggy-jean enthusiasts. Lord Apex is making music for the outsiders, introverts, and those who celebrate the multi-cultural brilliance of the United Kingdom. 
Joe James
As one of the UK's best-kept secrets, West London rapper Joe James has been on the rise for a while now. Diving into genres that stretch across rap and grime (best heard on KwolleM's mellow-grime effort c2c ), James kicked off his 2022 with his Joetry project before returning with his collaborative effort with AirBorn Gas for Get Money, Go Missing. Bursting with a fresh perspective on inner-city London, his mellow productions throw things back to life as a youngster, accompanied by a refreshing slice of consciousness that reflects maturity way ahead of his years. 
Black Josh
Manchester-born rapper Black Josh has been tipped as a one-to-watch hip-hop artist from the rainy city. After he originally launched his debut rap crew APE CULT at age 17, the northerner has continued to impress on his solo journey which has seen headline shows and a stand-out mixtape aptly dubbed Mannyfornia that attracted inquests from A&Rs and execs alike. Black Josh's latest Lee Scott-produced project Swegasus (in collaboration with Milkavelli) sees a more mature and sonically-aware Black Josh touch the mic, showing us all that he knows where he's at and where he wants to be. 
Kofi Stone
Arguably one of the most under-appreciated artists in the UK right now, East London-born, Birmingham-raised rapper Kofi Stone deserves his flowers. His debut project Nobody Cares Till Everybody Does opened the doors for a new generation of rap fans to indulge in mature sonics that master the balance of classical and new school. The former busker can be enjoyed through his clarity, though his lyrical complexity and awareness of issues that go on within the male psyche make for easy listening along with a deep dive into your own personal wellbeing. With the numbers adding up on the streaming sites, it's only a matter of time until the commercial success breaks through the dam. 
Sainté
Leicester-born Sainté can't stop winning. After a hugely successful year in 2021 that consisted of two projects in Local MVP and Out The Blue, Sainté's chill rap style takes you on a journey from lo-fi productions through to summer-ready anthems that are destined for the barbecue motives. Recently collaborating with artists such as Miraa May, Joony, and Knucks (whose latest album recently went no.3 in the UK charts), the co-signs have been impressive. But collaborations aside, Sainté is happy to rap on his own: take in his hit record "Champagne Shots" - the soundtrack for Louis Vuitton's Fall/Winter 2021 campaign - to hear his silky rhymes.
Finn Foxell
You may have heard of Finn Foxell from his close relationship with fellow 'Elevation Meditation' member Lord Apex. While Foxell likes to keep things on the chill side of the spectrum, his discography sees him integrate everything from UK garage, house, and cloud-rap as he uses his deep tone to his advantage. Lyrically, Finn Foxell talks about everyday life: high-grade smoke, standing up for those closest to him, and the common struggles of life in central London. His latest project Talk Is Cheap is well-rounded and taps into the influences that have inspired his new-gen gatekeeping. Look as far as the referenced Devlin, Chip, and Ruff Squad in his hit single "Ericsson" to understand his nods to UK legends.  
Oscar #Worldpeace
Known for his future-facing beat selection, Oscar #Worldpeace tends to keep things on the lo-fi side. Though his production can sometimes sound grime-tinged, it's only down to his inspiration from the legends that came before him. The Tottenham-born rapper has been around for a minute now, with his 2014 debut Cult leading us to his latest project Sporadic which dropped in 2020. But with a new single coming this Wednesday, fans are waiting for a selection of new head-nodders for the late-night cruises. However, amongst the 808s and finger-tapping high hats, the lyrical content can often steer far away from the feel-good energies you digest when listening casually. With stories of loss and struggle and an admirable account of a big heart on his sleeve, Oscar #Worldpeace needs to be taken in.
In other music news, Post Malone's Twelve Carat Toothache album is on track to earn the top spot on Billboard 200.
Click here to view full gallery at HYPEBEAST