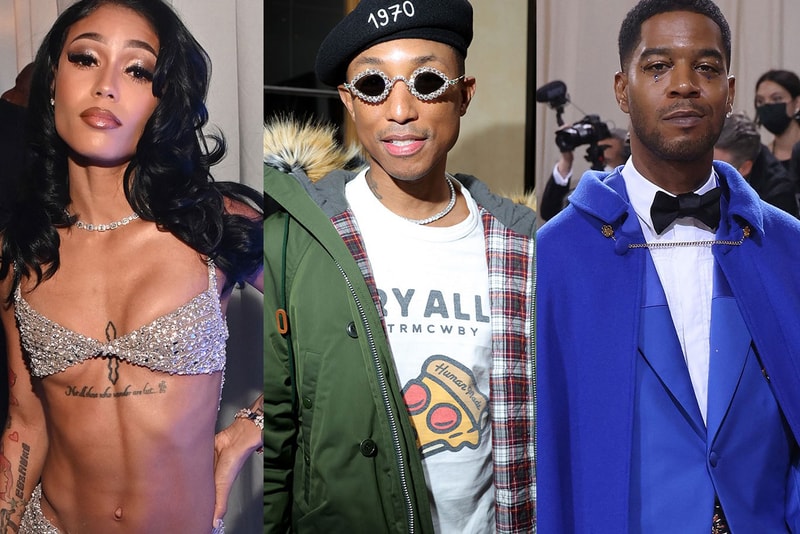 As the week in music comes to a close, HYPEBEAST has rounded up the best projects for the latest installment of Best New Tracks.
This week's list is led by Coi Leray's visual for "The One," which released as part of Sprite's new global music program, Sprite Limelight. Pharrell, 21 Savage and Tyler, the Creator's "Cash In Cash Out," Kid Cudi's "Do What I Want" and the deluxe version of SZA's Ctrl also join this selection, alongside new projects from Jacob Collier x Lizzy McAlpine x John Mayer, FKJ, DJ Charlie B, Blxst, Princess Nokia and Greentea Peng.
Coi Leray - "The One"
Sprite Limelight officially kicks off in the United States with Coi Leray's latest video, "The One." The global music program connects music lovers from different cultures and influences, debuting a new method of making music that celebrates the unique creativity of the individual. GRAMMY-winning producer and artist James Blake has created the central hook and lyric narrative for each original artist track being released this year.
Sprite Limelight content will be available on Sprite's official YouTube channel and on Spotify at from early June.
Pharrell x 21 Savage x Tyler, the Creator - "Cash In Cash Out"
Pharell enlists the talented 21 Savage and Tyler, the Creator for the brand new collab, "Cash In Cash Out." The infectious cut hears 21 and Tyler open up about enjoying the luxuries life has to offer, naming everything from cars, watches, houses, money, jewelry, women and even giving their parents a home and proper ride. "I knew the track was aggressive, and it doesn't let up," Skateboard P told Apple Music's Zane Lowe. "So it's like those are the two. It's like letting two pit bulls loose. Ravenous. Two ravenous wolves….Tyler went crazy. He had done that verse before he put his last album out."
Listen: Spotify | Apple Music
Kid Cudi - "Do What I Want"
Shortly after debuting the teaser for his Kenya Barris-produced Netflix series Entergalactic, Kid Cudi also shares the cut "Do What I Want." Produced by Take A Daytrip, Russ Chell, Roy Lenzo and Jared Levius, this marks the first single from the accompanying Entergalactic music album. Fans can expect a star-studded Entergalactic voice cast comprised of the artist himself, Jessica Williams, Timothée Chalamet, Ty Dolla $ign, Laura Harrier, Vanessa Hudgens, Christopher Abbott, 070 Shake, Jaden Smith, Keith David, Teyana Taylor, Arturo Castro and Macaulay Culkin, with both the show and the album dropping this fall.
Listen: Spotify | Apple Music
SZA - Ctrl (Deluxe)
SZA celebrates the fifth anniversary of her GRAMMY-nominated debut album Ctrl with a deluxe version that features seven additional tracks. The updated tracklist includes an alternative version of the Travis Scott-assisted cut "Love Galore," "2 AM" — which hears the TDE star sample Drake and PARTYNEXTDOOR's "Come and See Me" — "Miles," "Percolator," "Tread Carefully," "Awkward" and "Jodie" — all of which were recorded from 2014-2017.
Listen: Spotify | Apple Music
Blxst - "Be Forreal"
Shortly after teaming up with Kendrick Lamar, Blxst delivers an accompanying music video for his Before You Go cut "Be Forreal." Billed as the followup to the visual storyline established by predecessors "Every Good Girl" and "Never Was Wrong," the video further reinforces the R&B powerhouse's lover-boy persona with his lady and her lifestyle that includes mansions, private jets and shopping sprees.
Watch: YouTube
Jacob Collier x Lizzy McAlpine x John Mayer - "Never Gonna Be Alone"
Jacob Collier releases his first single of 2022 entitled "Never Gonna Be Alone." Joined by Lizzy McAlpine as a guest vocalist and co-writer, and John Mayer on guitar, the track was aptly written during the lockdown in 2021. "I wanted to explore the deep, vivid emotional world of isolation, loss and memory, blurring the lines between reality and imagination, by piecing together a tapestry of soft orchestral sounds," Collier said in a statement. "It speaks to my experience of the world as a hugely beautiful and fragile place, and has helped me process some of the grief I think we're all feeling for our pasts and futures, in a myriad of different ways."
Listen: Spotify | Apple Music
Princess Nokia - "Diva"
Princess Nokia celebrates the women who came before her and her indigenous Puerto Rico Taíno culture in the new single, "Diva." The artist highlights icons like Britney Spears and Aaliyah, while its visual — directed by Robot MoonJuice — was shot in Puerto Rico.
Listen: Spotify | Apple Music
FKJ - V I N C E N T
FKJ redefines his sound in his latest studio album V I N C E N T, which changes his brand of relaxing music with explosive late-night jazz sax and piano, partnered with his wood-cabin whispery vocals and flashy "Santana-styled" guitar riffs. "This was a challenging record," he said in a statement. "I'm a perfectionist and it's hard to shake that off. But once I did, and I let the music take over, I felt totally free."
Listen: Spotify | Apple Music
Greentea Peng - "Stuck in the Middle"
Greentea Peng delivers the smooth cut "Stuck In The Middle." Produced by MJ Cole and long-time collaborator Swindle, the cut fuses her R&B lyricism with minimalistic boom-bap beats and delicate piano tones, and follows her latest single "Your Mind."
Listen: Spotify | Apple Music
DJ Charlie B - Across The Board 
DJ and music producer DJ Charlie B returns with his latest studio effort, Across The Board. The 16-track record features a selection of Toronto heavy-hitters such as OVO's Smiley, Roy Woods, Pressa, Haviah Mighty, NorthsideBenji and other names rising in the city. "...I remember taking my entire paycheck from McDonalds as a teen and going downtown to buy records at Play De Record just so I could make my own mixes and DJ at my friends' house parties. Going from that to being recognized as one of the most prominent DJs in the country really shows what my vision has been since I was young. This album is just the first step to the next level of the vision," he said in a statement. "Having travelled all over the world, experiencing all different types of sounds, people and cultures, I've developed an ear for good music which I've used to help elevate the sounds of each artist on this album. You can't buy the ear."
Listen: Spotify | Apple Music
Click here to view full gallery at HYPEBEAST