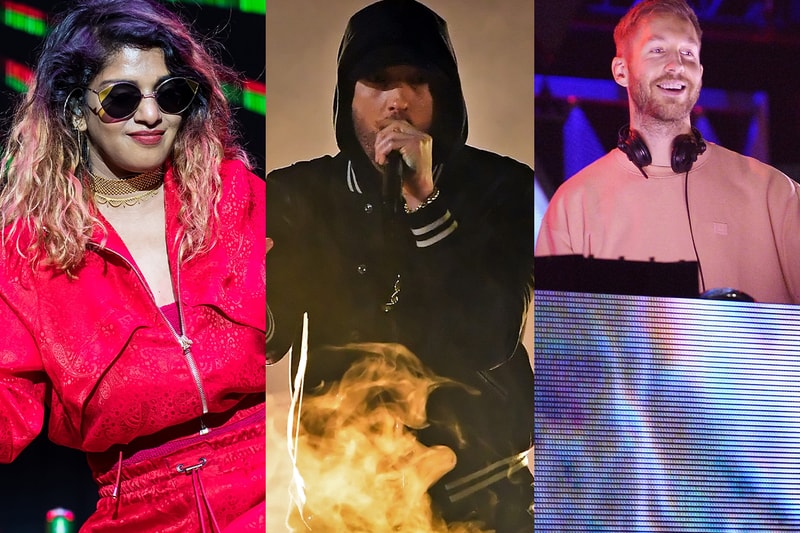 As the week in music comes to a close, HYPEBEAST has rounded up the best projects for the latest installment of Best New Tracks.
This week's list is led by releases from Eminem, M.I.A. and Calvin Harris with Dua Lipa and Young Thug, who released the 20th anniversary expanded edition of The Eminem Show, "The One" and "Potion," respectively. Also joining this selection are offerings from Alex G, Chance the Rapper, Wallice, Fireboy DML, Kehlani, Rick Hyde and Sky Ferreira.
Eminem - The Eminem Show 20th Anniversary Expanded Edition
Eminem celebrates 20 years of The Eminem Show with a special expanded edition, which features 18 tracks previously unavailable to stream or download. The deluxe reissue includes B-sides, live performance and an unreleased new cut entitled "Jimmy, Brian and Mike." Fans can also look forward to the release of physical editions of the expanded edition later this year, which will include a four-LP vinyl set, CD and cassette versions.
Listen: Spotify
M.I.A. - "The One"
M.I.A. finally returns with the announcement of her upcoming album MATA, and a brand new single entitled "The One." Her new record will mark her first full-length studio effort since 2016's AIM, telling Zane Lowe on Apple Music 1, "I think there's a bit of a battle on the record. That there is a bit of a clash, but the clash is like your ego and spirituality. Those are the clashes." She added, "Because as a musician, you need some ego, otherwise you can't do it. Also the genre of music that, genres I should say, is all very much like egocentric. It's not like I'm an artist that came through gospel or something. For me, it was like to have that journey, and also, it was a significant time to discuss like Islamophobia...talking about wars in the Middle East, and things like that."
Listen: Spotify | Apple Music
Calvin Harris x Dua Lipa x Young Thug - "Potion"
Calvin Harris enlists Dua Lipa and Young Thug for "Potion," his latest single set to appear on his new record Funk Wav Bounces Vol. 2. Speaking to Zane Lowe on Apple Music 1, he revealed that he was finally ready to create the album followup. "I wanted to just make this again and really go for it and know that I can get these amazing artists on this music that no one else is going to give them. And you know, just f***ing do it, man," he said. "Honestly it is a record that I still can't believe that it exists. I'm not just saying that. And it's the next single, there's something that I do not know how I pulled it off, or how we pulled it off. Not only has it got someone that, someone in a song where they shouldn't be in this song, but they sound perfect for it. And then it's got another person that's an absolute legend and then another person who's an absolute legend. And it's just like, 'Wow, this doesn't feel real.'"
Listen: Spotify | Apple Music
Alex G - "Blessing"
Alex G continues to treat fans with his newest single "Blessing," co-produced by longtime collaborator Jacob Portrait and the artist himself. The cut also arrives with an accompanying music video directed by Zev Magasis, and follows the release of Alex G's first ever film score for Jane Schoenbrun's We're All Going to the World's Fair. Fans can catch him on the road this summer, hitting up several North American cities from June to November.
Listen: Spotify | Apple Music
Kehlani - "Melt"
Fresh off the release of her latest project blue water road, Kehlani delivers a music video for the cut "Melt." Filmed in São Paulo, Brazil, the romantic and heartwarming visual stars the artist and her real-life partner, 070 Shake. "It's about the feeling of laying up with someone, cuddling, or even being sexually intimate, and you want to fall in their skin," Kehlani said of the track.
Watch: YouTube
Sky Ferreira - "Don't Forget"
Sky Ferreira makes her exciting return after three long years with "Don't Forget," her first single since 2019's "Downhill Lullaby." The latest track offers a teaser into her upcoming album Masochism, which serves as the followup to her debut studio album Night Time, My Time from 2013.
Listen: Spotify | Apple Music
Chance the Rapper - "A Bar About A Bar"
Chance The Rapper continues his steady stream of releases with "A Bar About A Bar." The accompanying music video, directed by Chano himself, features an appearance from previous collaborator Vic Mensa and is billed as an "interdisciplinary art piece," in which the artist "continues to explore the relationship between music, cinema, and contemporary art, redefining the concept of 'album art.'"
Listen: YouTube
Fireboy DML - "Playboy"
Fireboy DML shares a visual for the title track of his upcoming album, Playboy. The music video of the same arrives just after the Nigerian crossover artist received his first-ever BRIT Certified Platinum and RIAA certified Gold record for the "Peru" remix with Ed Sheeran, and sees him entering his "playboy" era with flair, style and confidence.
Watch: YouTube
Wallice - "Funeral"
Wallice releases a music video for her '90s American Superstar cut, "Funeral," which shows the young artist fantasizing about her own surrealist memorial with the direction of Phil Stillwell. "The video for "Funeral" was really important to me. It's my favorite song that I've made so far. I pictured a concert-like celebration instead of a traditional solemn funeral, sort of taking the heaviness of a funeral and treating it lightly. In my videos I like to incorporate my lyrics in a literal way, but I also try to capture the tone of them as well. This video walks the line between melodramatic and sarcastic in a way that really captures my sense of humor," she said. "The video is also more broadly a symbol for how I'm evolving as an artist– the "death" of cowgirl Wallice is meant to mark the end of that era and the beginning of the next."
Watch: YouTube
Rick Hyde - STIMA
Rising BSF star Rick Hyde delivers his brand new EP STIMA, which features appearances from Benny The Butcher and Rome Streetz plus production from The Alchemist, Daringer and the artist himself. "STIMA in Italian means, respect or to give high regard to. I named the project that because I feel like I'm about to enter the phase in my career where my talent, capabilities, and prowess won't be questioned any further," he explained. "I'm a producer naturally, but I'm beginning to get comfortable as a rapper, and that's gonna be scary for some folks. On this project, I display different cadences and metaphors to purposely show my growth and the direction we are headed with this music. After dropping two critically acclaimed albums, STIMA will show my fans and others alike that Rick Hyde accepts the responsibility of being the future of upstate NY music and hip hop as a whole."
Listen: Spotify | Apple Music
Click here to view full gallery at HYPEBEAST