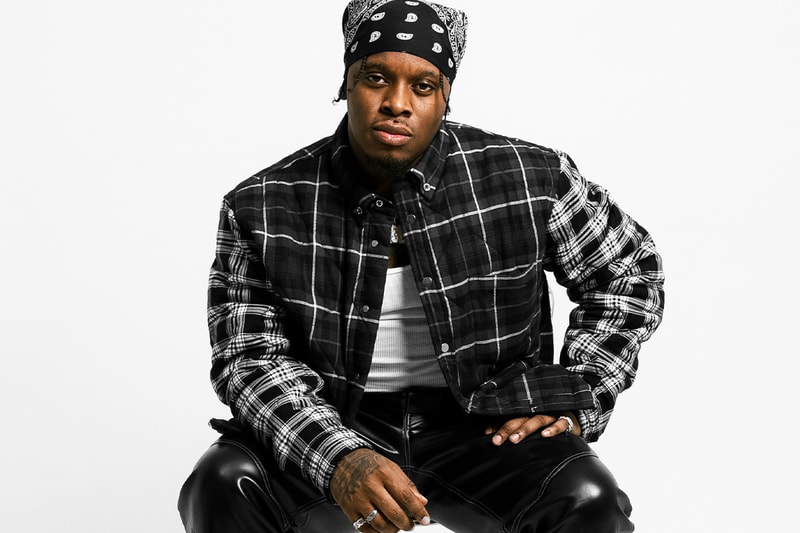 "I ain't heard one bad Blxst song" is more than just a lyric. For the South Central LA rapper's devoted fans, it's a proclamation of his unmatched craft. Known for his melodic take on hip-hop and R&B, Blxst initially became a household name with his debut project No Love Lost in 2020. Since then, a few more accolades under his belt include landing a spot on XXL's Freshman 2021 list, climbing the top of global viral charts, and bringing home gold-certified hits such as "Chosen" featuring Ty Dolla $ign and Tyga.
Wearing a certain West Coast pride on his sleeve, the rapper-crooner carried the torch by working closely with other LA vanguards like Snoop Dogg, YG, Mozzy, Dom Kennedy, Bino Rideaux, Zacari and many more. Just like staying true to his city, the multi-hyphenate has also remained steadfast and fastidious in both his artistry and as CEO of his Evgle imprint.
As his career continues to take off, Blxst shows no signs of slowing down. His influence burns brightly with his infectious rhythms, smooth flows, and artist integrity earning him significant milestones only halfway into the year. Shortly after he dropped his latest album Before You Go, he graced a feature on Kendrick Lamar's eagerly-anticipated Mr. Morale & The Big Steppers. Their joint track "Die Hard," also featuring Amanda Reifer, quickly made it to No. 1 on the Billboard Hot R&B songs chart not long after its release.
HYPEBEAST had the opportunity to catch up with Blxst and discuss his new record, what it was like working with Lamar, how he's reshaping a new era of West Coast hip-hop and R&B, and how he strikes a delicate balance between artist and CEO.
HYPEBEAST: You've been riding the waves of both your new album and feature on Kendrick Lamar's. How has it been?
I'm on a high right now. I feel like a lot of things have been coming full circle so these are exciting times to be in.
How did the collab with Kendrick come about?
I got a random text message from who I now know is Kendrick's manager Anthony Saleh and who wanted to connect us both. I thought it was a joke at first *laughs* but he ended up linking us up on FaceTime within five minutes. It was just surreal. Kendrick told me "I like what you got going. I got a couple of ideas I'm working on for my project that I want you to try out." And ["Die Hard"] was the song he sent through.
Did you know that you were going to specifically be a part of "Die Hard?" Or did he provide some sort of creative vision?
He sent me a couple of verses and open parts where he said "try a hook." There was a section I tried out that ended up being the hook I laid. He also sang this one part I recut which was crazy. Because I'm hearing Kendrick sending me voice memos of him singing and harmonizing. I had no idea it was going to be titled "Die Hard" though. I didn't even know I was officially going to be on the album until I saw the tracklist at midnight on the day it came out.
What were the biggest lessons from him and this process?
I just liked that he was hands-on, despite the fact that I wasn't in the studio with him. We were only on FaceTime throughout the recording process but every time I sang something back, he'd say "Yo, I like how you sang this part. You should do this part like this." I really appreciated how involved he was because I'm the same way. From top to bottom, I gotta have my creative integrity.
Diving right into your own release Before You Go, what sets it apart from No Love Lost?
The first thing that comes to mind is the conversations I'm having. I'm talking about transitioning into a CEO as I have my joint venture with Red Bull Records and my own label Evgle. I'm stepping into the responsibilities and successes of not only myself but also the people closest to me. I also have a more mature way of looking at love in Before You Go versus the last project.
You've maintained another solid ode to old-school R&B with instances like sampling LL Cool J's "Around the Way Girl" on "Every Good Girl" and lyric dropping Destiny Child's "Cater 2 U" in "Be Forreal." Could you share what makes a good sample for you?
Oh, that's a good question. I think sampling is kind of like a cheat code, especially if you reference a hit because people already recognize bits of the song. If you sprinkle some of your takes, then it's going to be fire. I think the nostalgia alone, for any sample that you use, is going to be a vibe if you carry the same integrity it was carrying.
Were there any samples you really wanted to work with?
Since the project is called Before You Go, I initially sampled "Before I Let You Go" by Blackstreet. We couldn't clear it, but that was going to be part of the intro. I'll probably release it later down the line on SoundCloud or something.
Going back to what you said about samples being like cheat codes. There isn't really another genre compared to R&B that distinctly harks back to old sounds either. What's your take on those who say R&B is dead?
Ultimately, it's evolving. A lot of artists nowadays blur the lines between being a rapper or a singer. If I had to label my genre, I'd call it "melodic rapping." Even though the topics I explore are still about love, there are certain cadences I use and inspirations I get from being a rapper as well. The bottom line is, I think music is evolving and no one is really boxing themselves as lines get more blurred.
Off the top of your head, who would your dream collaborations be with?
I'm going to always say Pharrell. Until I get that feature I'm going to manifest that one. Of course, Drake, Kendrick — oh damn, I already did that *laughs* that's crazy. Big dogs like Kanye West too. I want to continue to sharpen my tools and work with the greats.
With such a strong presence in the West Coast scene, how has being from LA been integral to your work?
Man, it's crazy. We have a certain pride out here that nobody can knock. I've done a lot of songs with LA artists and there are even more that aren't out yet that I don't want to spoil. But I definitely have my eyes set on the GOATs like DJ Quik and Dr. Dre for some off-the-wall type collaborations. To be championed by my own city, and for them to have my own back is everything. If I can conquer LA, I can conquer the world.
In line with your aspirations of being a CEO, what are your dreams beyond the creative obligations of an artist?
I want to be an executive producer for multiple albums. I want to put on other superstars from my city and all over the world. But outside of just music, I want to step into acting and see how far I can take it.
No way. What kind of movies are you hoping to act in?
I like action, I wanna be outside shooting somebody or something *laughs.* You know what's crazy? I just got a script so I have to turn in my audition tape soon. I want to take it slow. I respect the craft so I want to approach it the right way by getting a coach and all that.
When it comes to your Evgle imprint, which moguls and business models are you most inspired by?
Pioneers like Dr. Dre and Pharrell. I'm also about to shoot a music video with Rick Ross soon so hopefully, I can get a lot of gems on how he invested in his businesses. I also look up to Nipsey Hussle and those who essentially try to buy back our area and invest in our city.
Last but not least, what can Blxst fans expect this year?
We just signed a new artist from Long Beach called Jay Millian and we're working on his project right now. For the most part, we're just looking to expand the roster. A lot of the stuff is built off the success of Blxst right now so we're just looking to cash in that cultural currency while it's hot and spread that sound. Especially artists from my side of the coast. I'm also looking to sign those from the East Coast and maybe even overseas, too.
Click here to view full gallery at HYPEBEAST