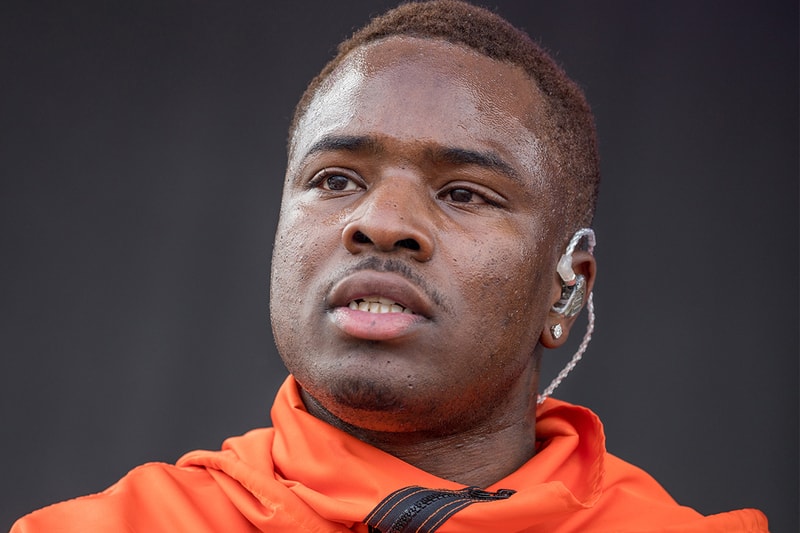 If there's one thing to know about IDK, it's that the rapper-producer wears many hats. Known for his lyrical prowess and adept versatility, the Maryland-bred artist strives to reach new heights for himself and his community — whether that's within his storytelling musicality or impressive business ventures.
Currently hot on the heels of his latest EP Simple., IDK — an acronym for "Ignorantly Delivering Knowledge" — worked closely with fan favorite KAYTRANADA for the eight-track record. He makes it clear that beneath the groovy production and infectious flows, the project is even more weighted in meaning. "There's a neighborhood in my city called "Simple City," he mentions in a statement, "it got its name because you can get killed for any simple reason."
Just like his stage name, Simple. is duality-driven. Its raw lens into drug addiction, crime, hustling, and vulnerability blend together with KAYTRANADA's trademark groove that brings depth and allows people to "dance to real sh*t," he shares.
As he finds his place at the forefront, IDK also never ceases to give back. Last year, the rapper debuted his No Label Academy initiative at Harvard University, where BIPOC students had the opportunity to attend an immersive music business crash course and were graced with the presence of trailblazers such as the late Virgil Abloh, Katonya Breaux, Mike Dean, Don Toliver, Charlie Heat, Terrence Louis "Punch" Henderson Jr. of TDE, Zane Lowe and Reggie Saunders. Equipping those who face industry barriers with the right tools speaks to how he actively levels the playing field.
HYPEBEAST caught up with IDK to learn more about Simple., what it was like joining forces with KAYTRANADA, this year's No Label Academy program and why he's a visionary with few equals.
"One of the things that inspired the album was letting people understand that a lot of what we'd like to change and create for a better environment isn't so simple as what they make it seem like it is."
First of all, congratulations on Simple.! How are you feeling about this release so far?
So far so good, I like the reception I'm getting. People have been showing a lot of love. It surprised many that KAYTRANADA and I did an album together but I think that's what I wanted.
Could you tell us more about the project? What about the story behind it may show that things are actually not so "simple?"
It's about people's outlook on disadvantaged neighborhoods. One of the things that inspired the album was letting people understand that a lot of what we'd like to change and create for a better environment isn't so simple as what they make it seem like it is. And we're making that very clear with how the album was put together and what it references.
You tweeted that "Breathe is the most ME song I've ever made, and for me it's proof that I'm still continuing to grow." What about this new record speaks to being vulnerable and growing in your music?
The production created more vulnerability for me. I wanted to explore different sounds and "Breathe" is an example of a song that's not really comparable to anything or any of my contemporaries. It's its own world. And for me, being me is separating myself as much as possible to create my own world. I'm getting there, more and more everyday, even in this newer album that I'm working on right now.
What was it like working with KAYTRANADA? Can you walk us through the creative vision you both had from the get-go?
The collab with him came about organically. Shortly after we first met, we both said to each other, "Hey, we should try to create a project and see what happens." This was actually a challenge to my creativity because I had to learn how to work with somebody equally. Normally I'm used to doing my own thing completely. So, shoutout to him for helping inspire this change.
In terms of a vision, I really just let the music speak to me. There was a lot of writing, freestyling, and simply coming up with melodies. At my listening party in LA, we actually gave out CDs that were essentially just "demos" and contained all the first recordings and ideas, including some which were just voice memos on my phone.
It's really exciting to hear that No Label Academy is doing something again this year. How are you hoping to build on its success from last year's?
We're going to do exactly the same which is to teach music business the way it should be taught. We'll cover everything from mental health to financial literacy, team building, and more. There are a few additions, but not too many so we can still get it down perfectly and be able to do this in our sleep.
How has the industry paved the way for initiatives like this?
Brands that put an emphasis on helping POCs, in general, have made it easier to secure funding. But I think programs like No Label Academy are actually what change people's outlook on these things.
It was hard to sell at first because this has never been done before. The issue was also getting people to understand what I was trying to do and that I'm a person who sees things through. But now that this exists, we'll start to see these initiatives more often too.
On that note, at what point in your life did you realize rap and your work were meant for you?
The day I met Kanye West. I got a call from him while I was with 88-Keys and he said "I wanna hear your album and if you're real." My record wasn't out yet at the time so the fact that he knew about it was kind of crazy to me. Next thing you know we were together, just talking and hanging out. That's when I was like, "Alright I'm really here. It's really happening."
Click here to view full gallery at HYPEBEAST