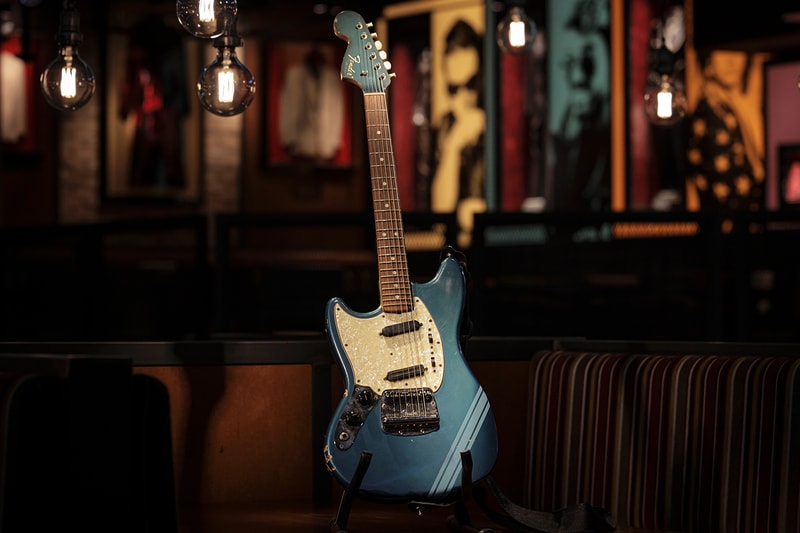 Kurt Cobain's 1969 Fender Mustang guitar seen in Nirvana's "Smells Like Teen Spirit" music video sold for approximately $4.5 million USD at Julien's Auctions earlier this week.
According to reports, the left-handed Competition Lake Placid blue-finished guitar was eventually auctioned off to the Jim Irsay Collection of Indianapolis after undergoing a bidding war with other collectors both online and over-the-phone. The iconic instrument was initially estimated to sell for around $600,000 USD and was auctioned alongside the only known surviving car that was owned and driven by Cobain — his 1965 Dodge Dart 170 4-door sedan, which sold for around $375,000 USD.
In addition to appearing in the "Smells Like Teen Spirit" music video, the Fender Mustang was also used during the recording sessions of Nevermind and In Utero, as well as during several live performances.
The Cobain family is donating a portion of the proceeds from both the guitar and other items to Kicking The Stigma, the Irsay-led initiative raising awareness about mental health disorders and its stigmas in support of Mental Health Awareness Month.
"To have this legendary guitar, one of the most culturally significant and historically important guitars of Kurt Cobain and in all of rock music history return to my home state of Indiana to be part of Jim Irsay's renowned memorabilia collection is a great honor and personal highlight of my life," Darren Julien, president and chief executive officer of Julien's Auctions, said in a statement. "This once-in-a-lifetime auction has been one of the greatest privileges in my professional career and I'm duly pleased that the proceeds will also bring much needed attention to mental health awareness."
Elsewhere in music, Logic claimed that Confessions of a Dangerous Mind was a "social experiment."
Click here to view full gallery at HYPEBEAST