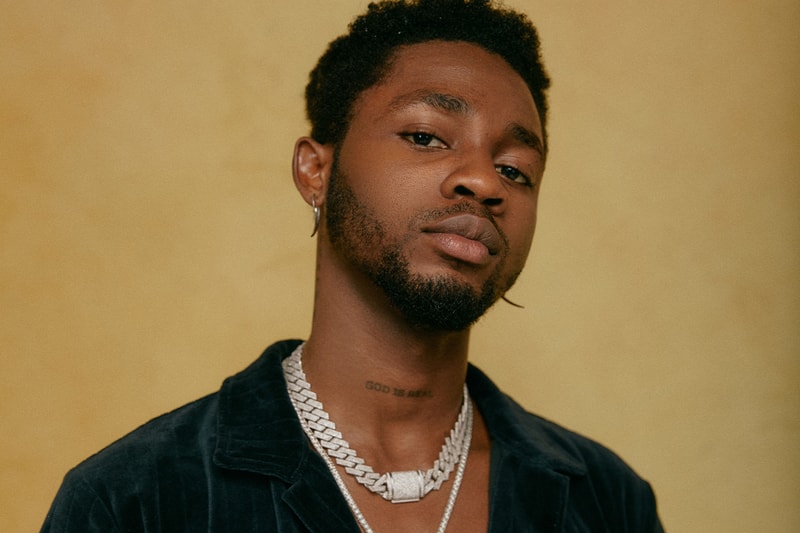 With all eyes and ears on the global meteoric rise of Afrobeats, many are tuning into the work of budding vanguard Omah Lay. The Nigerian artist recently followed up his 2020 EP What Have We Done with his official debut album Boy Alone, which saw his introspective storytelling, mesmerizing vocals, and infectious rhythms come to life even more.
Hailing from Port Harcourt, the Afrobeats phenom already had music coursing through his veins having witnessed his grandfather play percussion for the revered highlife artist Celestine Ukwu. Lay then dabbled in rap and hip-hop before firmly planting his feet in what he claims he knows best: Afrobeats. With his own take on the undertones of R&B, reggae, trap, and West African musical influences, the 25-year-old star is steadily becoming a household name for more Afrofusion and Afropop fans as well.
With Boy Alone serving as a new feat for his growing repertoire, Lay stays true to his own story and experiences through the help of Justin Bieber on the hit track "attention" and Tay Iwar on "tell everybody." Collaborations are intentionally minimal to convey Lay's most authentic self, with songs like "i'm a mess" and "purple song" serving as unfiltered and vocal approaches to his vulnerability.
As Lay gears up for an upcoming world tour spanning places like the US, Canada, and parts of Europe, HYPEBEAST had the opportunity to discuss his latest record, his creative journey thus far, and his biggest takeaways from it.
HYPEBEAST: First of all, congratulations on officially dropping Boy Alone. How are you feeling about this release so far?
Thank you very much. I'm excited because my fans love the album and the reviews have been so heartwarming. There's nothing more I want than that.
You've had prior releases that have pushed you to the forefront but with this being your official debut album, was there a specific story you were holding onto for this moment?
This album is a series of my own experiences. It's been two years since my last project and Boy Alone sees me capture every moment in my life since then. It's like a photograph but in words and melodies. You'll hear everything from my ups to downs but ultimately, the project is a piece of me and my truth.
A lot of songs on Boy Alone come from the heart. What was the most challenging part of creating the album?
I hit some serious writer's block every now and then. It felt like I was stuck doing one thing and it got to the point where nothing was starting to make sense to me. I also faced difficulty writing the track "bend you" because I wanted to be very intentional about it. But these setbacks were all part of the process and I'm really grateful the album came out the way it did.
There are a lot of references to Port Harcourt throughout the album. Could you share a little bit about your upbringing and how music became a big influence on you?
I grew up in Marine Base, Port Harcourt but I live in Lagos now. Port Harcourt is different from the rest of Nigeria in the way that we talk, eat – everything. It's really different. All of that definitely influenced my music so much because it was really tough growing up in Port Harcourt, but that experience made me who I am today. I'll never forget that or stop repping my city.
Was Afrobeats something you always wanted to pursue?
Yes, Afrobeats has always been the thing for me but I first started off in hip-hop as a rapper. Then I started trying out music production. But the fact is I'm Nigerian, I'm African. I felt it was best I give what I really own and can give better when it's actually mine. Afrobeats is in my blood.
With such exponential growth, how do you feel about Afrobeats' presence in today's music culture?
African music is the root. It's taking the world a while to realize this but I'm glad people are coming to terms with it now at this point. I'm really happy to see what Afrobeats is becoming and what it's turning out to be. I feel like in the next couple of years, it's gonna be super, super massive. And this is the kind of movement I want to show the world.
What's the local scene like?
In Nigeria, it's what everybody listens to. It's what everybody's dancing, crying, and laughing to. It's the sh*t. I'm really grateful to be here and it's a big blessing to be among the people who are doing it right now.
Are there any local artists you feel deserve more recognition?
A whole lot of them. My boy Bella Shmurda deserves so much. He deserves more than he's already getting. Others like Oxlade, BNXN fka Buju and Victony are super good and my fingers are crossed for them.
Who do you look up to the most? Any artists, dead or alive, you're inspired by?
One artist I listen to every day is Celestine Ukwu. As a matter of fact, I listened to an album of his from 1975 for about an hour the other day. It's old Nigerian music, it's highlife. He's the person my grandad used to play percussion for. If there was one person I could ever do a song with, especially a local artist, it's him.
Putting critics, reviews, social media, and all the external influences aside, what keeps you grounded?
I think I found my light and I realized that I've always had a clear picture of who I want to be. For a while, it became blurred but I learned to hold onto it. Everything that happens to me feels like it's on the side because I'm focused on who I am and who I want to be. What do they call it? Tunnel vision. There's also the saying that goes "trust the process" which is something that I live by.
Holding onto the bigger picture like you said, what's in store for Omah Lay fans?
I have my US tour coming up soon as well as a deluxe version of Boy Alone. Like I said earlier, the album is another piece of me and it's so good, but the next one is going to be super crazy. Trust me. It's more of Omah Lay, it's more of my stories and of a lot of other people's. Tunnel vision, bigger picture, holding onto the light. That's all I can do.
What are the biggest lessons you've learned on tour?
Hmm, one big lesson was not to fall in love all the time! *laughs* I used to fall in love in every single city I went to. It was a good time until it wasn't for my mental health. They say catch flights not feels and I think that's what I'll be doing from now on. Tunnel vision, you know? *laughs*
Click here to view full gallery at HYPEBEAST