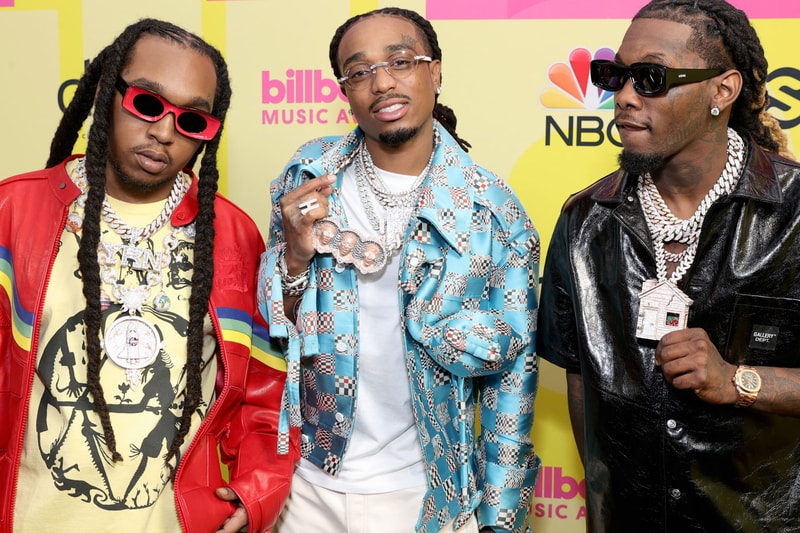 Quavo has finally revealed the reason behind Takeoff's absence on the Migos hit "Bad and Boujee."
A recent teaser for the newly-revived Rap Radar podcast shows Quavo and Takeoff sitting down with hosts Elliot Wilson and Brian 'B.Dot' Miller. Wilson asks Takeoff why he didn't appear on the No. 1 hit, and Quavo chimed in to explain that "it was just timing" as they had a lot to deal with it while getting music out fast. He shared, "We was just trying to get something out. We was actually pissed off because we ain't have no music out. I think like a couple months before that whole little wave and we was going through the litigation with 300 [Entertainment], so we ended up leaking 'Bad and Boujee' on SoundCloud first."
Quavo added that he wasn't even supposed to be on "Bad and Boujee" as well, but managed to quickly turn in a verse. "Shit, I wasn't even finna be on it," he revealed. "I had to do my verse on some quick, fast, in a rush shit. So it was just like everybody running to the song and trying to get it done."
Watch the teaser below.
Respectfully. @QuavoStuntin + @1YoungTakeoff #RapRadarPodcast ?? 8.18 pic.twitter.com/pLmbdoITcq

— Elliott Wilson (@ElliottWilson) August 16, 2022
Elsewhere in music, Kid Cudi says only a "miracle" will mend his friendship with Kanye West.
Click here to view full gallery at HYPEBEAST