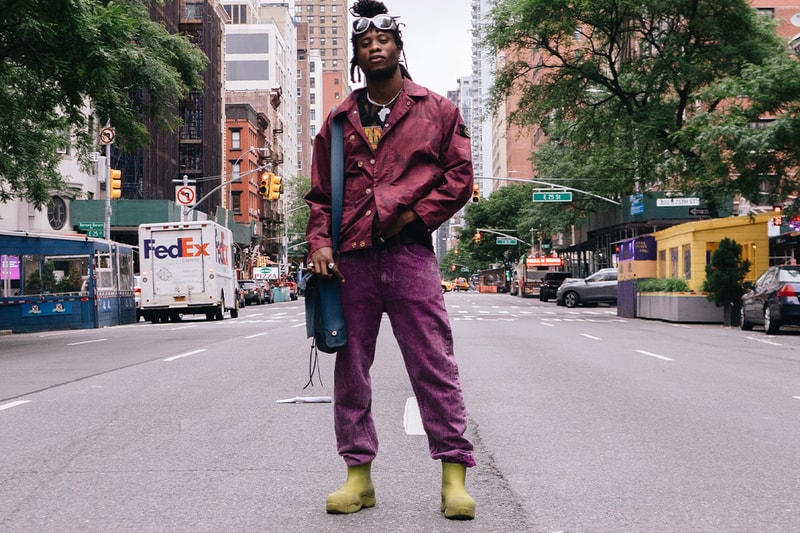 Obongjayar wants you to know that he'll never stop changing. The Nigerian-British artist exudes a type of confidence that translates into all he does. "I do whatever I want, what makes me comfortable, and what excites me," he proudly states.
Dressed in a Supreme x Stone Island camo jacket, Jurassic Park merch tee, and Cav Empt pants, Obongjayar champions being comfortable in your own skin. "Being able to move freely and not think about what you're wearing after you put the fit on" is a daily motto he lives by, with his Balenciaga sunglasses and Bottega Veneta Puddle Boots rounding out his look for the day.
Such conviction also radiates in his music. Fresh off the release of his debut album Some Nights I Dream of Doors, Obongjayar describes the record as a cathartic but quintessential experience. The 12-track effort is an honest and raw lens into who he is: the pain he endured, the joys he gained, and the love he treasured. Creating the project allowed him to fully come to terms with who he is and once he recognized that, "the writing became a lot more different" he mentions.
His roots bear witness to his success and self-recognition. As he shows up with an Africa-shaped necklace, Obongjayar wears his Nigerian pride on his sleeve and close to his heart. "Your environment, whether you recognize it or not, has an effect on who you are, how you perceive things, and what your sensibilities are. By default, the morals and teachings are still there with you," he affirms.
Tracks like "Message in a Hammer" serve as his call out against the police brutality wrought by SARS in Nigeria, while his name references his Efik heritage and upbringing in Calabar. He explains that "'Obong' means king or god, whereas 'jayar' is a spin-off of junior. A king serves his people and the contrast between the two words made sense to me because I'm not an overlord. That's not my character."
Embracing this air of self-assurance has allowed Obongjayar to tinker with and weave through everything from spoken word to Afropop, hip-hop, psychedelic-soul, West African influences, funk, jazz, electronic, and much more. While some may call him genre-defiant, he simply iterates that his music "doesn't follow a particular path." In fact, the hardest challenge about Some Nights I Dream of Doors was "finding the sound I wanted to encompass and package," he reveals, "but figuring that out was also the most exciting part."
As he swiftly moves on to his next project, Obongjayar has both eyes and ears set on making sure he doesn't anchor himself to one specific thing. Growth as an artist is integral to him as he pays close attention to how the world evolves and how he transforms alongside it. "I'm constantly creating and reimagining new perspectives based on what's changing around me," he shares. Only time will tell as he prepares for his next biggest feat.
Click here to view full gallery at HYPEBEAST