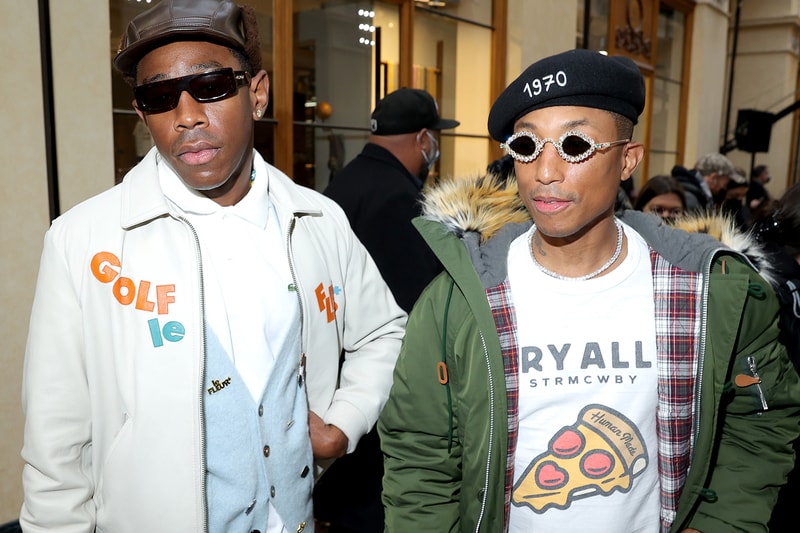 Tyler, the Creator gave Pharrell his flowers at Something in the Water as they performed "Cash In Cash Out" with 21 Savage.
With the trio on stage, Tyler shared that Skateboard P has the skill and the critical and commercial acclaim to be considered the greatest of all time. "Trying to be all, 'Ooooh, down to earth.' Like n***a, stop," he said. "You are the greatest — of all time. The innovation, the execution, but if ni****s want to talk numbers, the numbers speak for itself too."
He added, "I love you, I'm forever indebted to you, forever in debt to you, thank you for your existence." Tyler then turned to the crowd, "And please give it up to this man for putting this whole thing together. We appreciate you."
Tyler has always been very open about his admiration for Pharrell. During the 15th anniversary of Pharrell's In My Mind, he took to social media to sing nothing but praises for the record. "'in my mind' turns 15 today. came out around the time of this photo," he wrote on Twitter with an accompanying picture of him as a young boy. "was at hawthorne high summer school and man i cant articulate what it means/ did for me. i made odd future that summer and set out to be where i am now before 10th grade begun. very important piece of art to me."
Elsewhere in music, watch Clipse reunite at Something in the Water.
Click here to view full gallery at HYPEBEAST