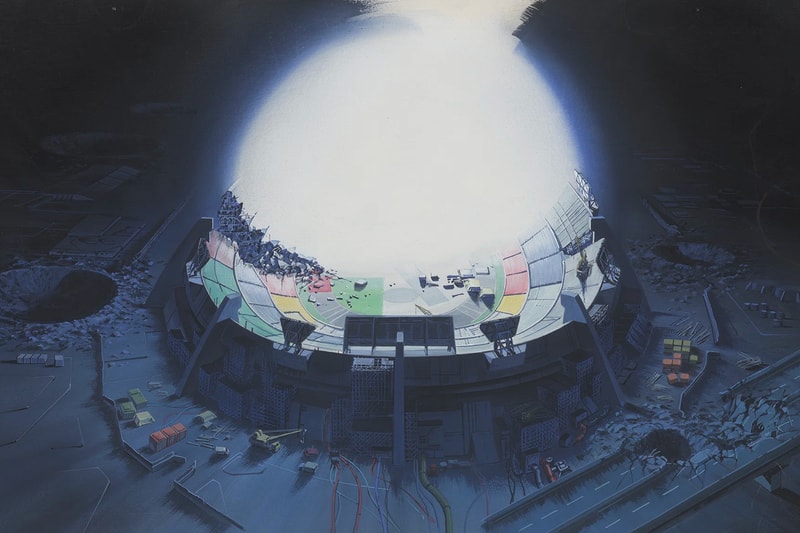 It's difficult to think of a more influential anime than Katsuhiro Otomo's AKIRA. Released in 1988, the film continues to have a resounding impact on generations of art and movie lovers for its complex narrative structure and beautifully rendered character designs and backdrops.
AKIRA - The Architecture of Neo Tokyo is a new exhibition at Berlin's Tchoban Foundation, featuring 59 original production backdrops, layout drawings, concept art and image boards used to create the dystopian film. Curated by Stefan Riekeles and Eizo Workshop in conjunction with the museum's director, Nadejda Bartels, the show brings together the work of Toshiharu Mizutani — who served as the film's art director — along with his colleagues Katsufumi Hariu, Norihiro Hiraki, Shinji Kimura, Satoshi Kuroda, Hiromasa Ogura, Hiroshi Ōno, Hajime Soga, Tsutomu Uchida and Takashi Watabe.
For those unfamiliar, the Tchoban Foundation is dedicated to spotlighting the impact of architectural drawings to the wider audience that surrounds the field. AKIRA - The Architecture of Neo Tokyo will be on view at the Tchoban Foundation until September 4, 2022.
On the topic of exhibitions, Alic Brock presents Screen Shot at Simchowitz Gallery.
Tchoban Foundation - Museum of Architectural Drawing
Christinenstraße 18a,
10119 Berlin, Germany
Click here to view full gallery at HYPEBEAST