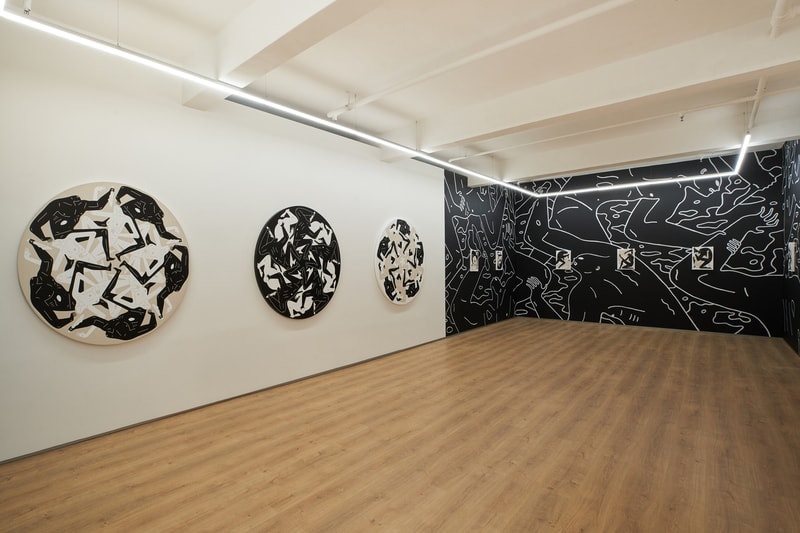 AISHONANZUKA unveiled a new group exhibition presenting the work of Cleon Peterson, Javier Calleja and Christian Rex van Minnen. The pairing seems odd on first glance, but begins to show a parallel through the ways in which each artist creates a universe of characters that both comment on and provide an escape from the times.
In Sublime Bodies, Peterson, Calleja and van Minnen showcase their latest series of work. In the first, Peterson installed a brand new mural that accompanies seven smaller based studies in his bold and monochromatic style. Just adjacent to the wall are three circular canvas paintings featuring his aggressive humanoid clashes — a constant study of his which aims to underpin the corruption that has plagued society since antiquity.
Further on into the gallery, Calleja offers a respite from the tension in the proceeding rooms. Having recently concluded a solo exhibition at Almine Rech Paris, the Spanish artist reveals his creative process through a largely sketch-based series on the walls. Prominently in the middle of the room lies a vibrant totemic sculpture featuring the artist's big-eyed characters.
Topping out the exhibition is the work of van Minnen — perhaps the most hyper-surreal output of the three. The Santa Cruz-based artist creates work that is constantly in dialogue with art history. By combining traditional techniques with contemporary and wildly disparate tropes, such as gelatin, pornography and death metal, van Minnen creates beautifully grotesque paintings that investigate the nature of the human spirit.
Sublime Bodies opened this past weekend and will be on view at AISHONANZUKA in Hong Kong until September 3.
Elsewhere, KAWS to re-release CHUM figures.
AISHONANZUKA
1/F, Chinachem Hollywood Centre,
1 Hollywood Rd, Central, Hong Kong
Click here to view full gallery at HYPEBEAST