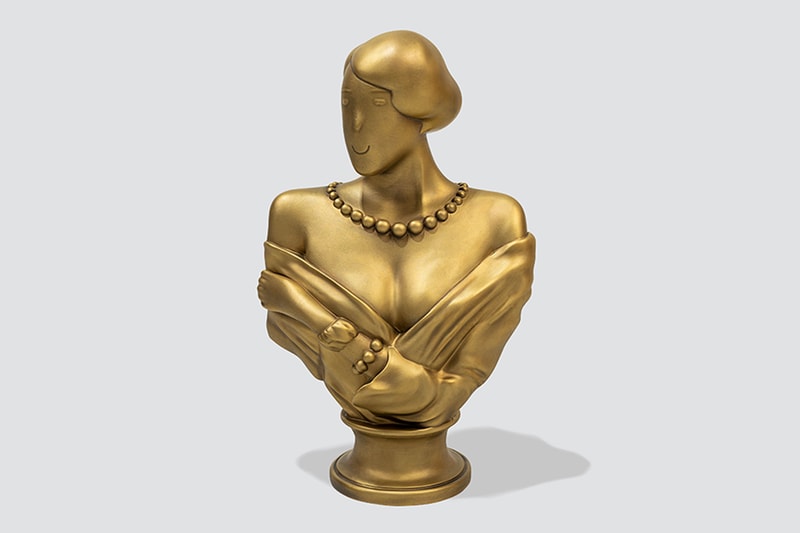 Evgen Čopi Gorišek and AllRightsReserved connect for the first time to showcase the Slovenian artist's Sweet Jane as a bronze sculpture. Originally a peach-toned glamour lady portraiture, the collaboration piece mimics a similar aesthetic but gives the figure a new aura and sensation with the use of the alloy medium.
Gorišek is known as a contemporary faux naïf artist who relishes in creating works of art in graffiti and child-like patterns. Infusing everyday references and pop culture, his figures' smiles may teeter from humor to mystery as it sits over a blurred-out facial canvas.
"People are always smiling but deep down they are upset, disappointed and angry, they just used to hide it," said Gorišek.
Stemming from the urge to combine ancient and contemporary elements of both Greek and Roman sculptures, Sweet Jane is propped up at H300 x W189 x D116 mm with only 23 editions made. Each piece is signed, numbered and housed in a wooden box embellished with inky sketches of the artwork's angles.
"Smile is complicated," Gorišek continued. "It always spreads happiness and expresses oneself but sometimes it can be a mask to hide your innermost being. Most of us even me sometimes is hard to speak from the heart, that's the reason I always put on a smiley face when I create."
The online draw for the limited-edition Sweet Jane is now open on the DDT Store from now until June 27, 12 PM HKT/ 12 AM EST.
Elsewhere in art, Vincent Tsang partnered with Letter Bet on a new screenprint.
Click here to view full gallery at HYPEBEAST