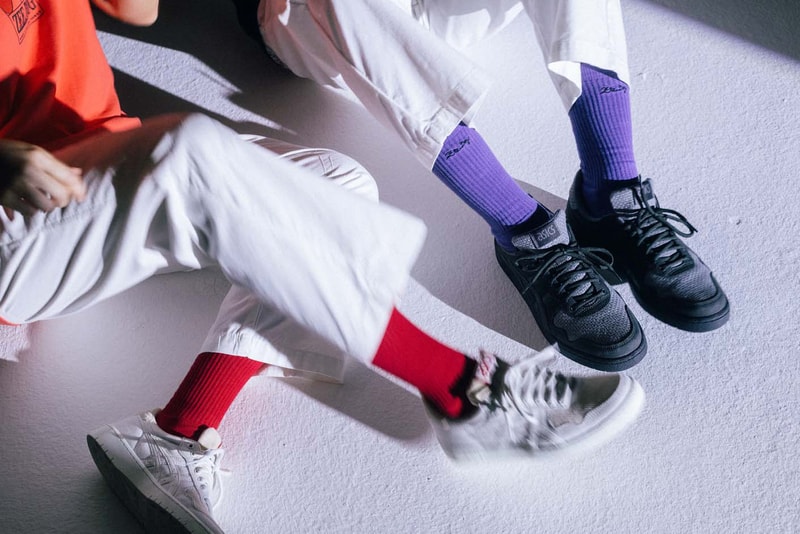 ASICS and Zee.Dog Human has come together to launch a special Japan S sneaker model.
The collaborative Japan S kicks feature two colorways -- off white and black. Minimalist and versatile, the kicks boast tonal textured panels and was inspired by Brazilian Jiu Jitsu uniforms, namely the relaxed trousers that make up the gi. Other elements such its worn out feel and purple tones, reflect one of the belts in the sport's promotion system. Zee.Dog Human's accessories also inform the models' material construction. Additionally, graphic T-shirts, pants, socks and a cap also make up the whole range, which all collectively highlight the sport of Jiu Jitsu.
The Zee.Dog Human and ASICS collab coincides with the Zee.Dog Temple flagship store opening in São Paulo. The shop is a conceptual space carrying some of today's biggest brands including Zee.Dog and Zee.Dog Human products. The Japan S collaboration came to fruition because of how much the design became a favorite amongst Zee.Dog Temple employees.
The philosophy of "Anima Sana In Corpore Sano" also informs the entire collection which basically translates to a happier and healthier life, mentally and physically. The range puts comfort first as ASICS' Sportstyle range is all about embracing cozy, casual products and looks inspired by Japan's innovative culture and relaxed style. "Japanese design is usually our main reference when creating something," says Sérgio José Barbosa, Zee.Dog Human director and partner. "From concept to functionality, everything we do is somehow touched by this notion of adding significance and meaning to our visuals."
Zee.Dog is also renowned mostly as a dog accessories company but also ties in lifestyle products to its DNA such as streetwear and sneakers. Zee.Dog Human is the extending arm that purveys these consumer products to consumers. "Zee.Dog Human's DNA as a streetwear brand has a lot in common with what ASICS does with Sportstyle, which led us to a really smooth, natural creative process," says Daniel Costa, ASICS product director. "Working with different materials and textures really made us put a lot of craftsmanship into it. The small details and high quality materials are even more evident when you see the products up close."
The ASICS x Zee.Dog Human collection is available now at the Zee.Dog Temple store in São Paulo. You can also purchase the range on the ASICS website.
Click here to view full gallery at Hypebeast