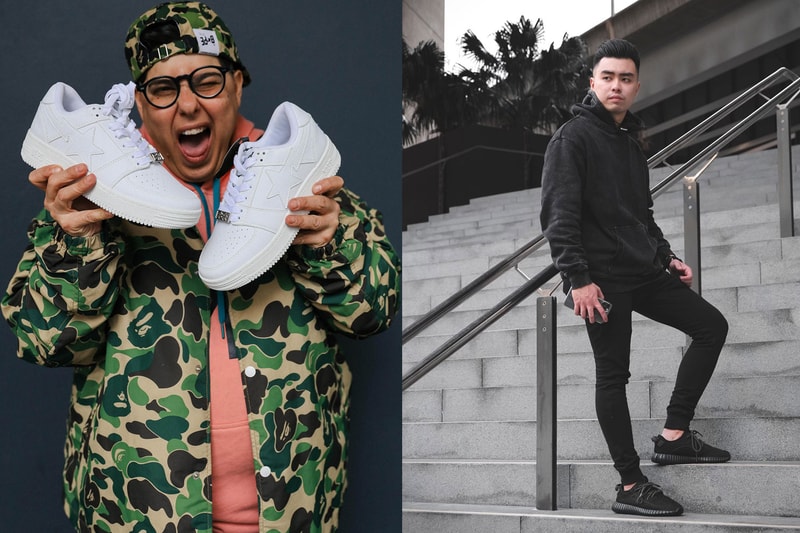 In Collaboration with eBay, we take a look at eBay's Authenticity Guarantee which helps cement trust between the buyers and sellers of the sneaker community. On a global scale, but also locally, in a country obsessed with having the latest and greatest in their wardrobe. In Australia, the sneaker market is simply put, huge. We are a big fan of comfort, with athleisure and casual wear brands dominating the streets. And this transcends clothing, emphasised when you look at the feet of the fashionable walking in any part of the country.
Two such people - Andersont Giovanni and YO! Mafia - are redefining what a micro sartorial landscape can look like, taking influence from a world stage and bringing it back to the local culture at large.
YO! MAFIA is both a DJ and veteran sneakerhead with over 30 years of collecting in her arsenal. Andersont on the other hand, is a streetwear mogul, known for his aesthete depiction of both clothing and footwear.
According to them, Australia is slowly becoming a greater player in the global sneaker market. "We are getting there," says Andersont, "but it can't be denied that the number one player is still the United States. The culture is the biggest there, with sneakers being a daily essential staple piece of every top celebrities' outfit."
In contrast, Mafia insists that "every country has their own strengths and weaknesses when it comes to sneakers" and "Australia has made such huge waves becoming part of the worldwide scene. It definitely gives us integrity in the market."
Thanks to factors like globalisation, immediacy capitalism and ease of access, the market has been forced to move from a monopolised model. Satiating demand is more integral than ever, and resale platforms have had to pick up the slack in countries that were previously overlooked by the big players. In Australia alone, the last three years has seen the resale market grow 21 times faster than the retail market.
eBay, Australia's number one shopping site, sees a pair of sneakers sold every two minutes. Their Authenticity Guarantee helps cement trust between the buyers and sellers of the sneaker community, which has allowed the local market to grow in ways that were previously unattainable.
"I was an early adopter of eBay's technology, scouring for kicks in the mid 90s," says Mafia. "I spent every lunch break looking for vintage Jordans, Pegasus, adidas Forums and whatever else I had only dreamed of owning before the internet existed. It was the holy grail haven for addicts like myself, who had no other way of obtaining neck breaking joints you thought you'd never own. Plus with the feedback history on deck it made it a lot easier to buy with confidence."
Put simply, "authenticated resell platforms give the buyer and seller complete confidence in the process of making sure the sneaker market maintains integrity," she says.
In the absence of authentic resale platforms, you're left with a culture of fake and counterfeit models that disrupts the industry's progress, and leaves a negative effect on local and global economies. While Andersont holds no malice towards people who wear fakes, he does acknowledge the intellectual property infringements that this practice impacts.
"Each silhouette of sneakers has their own story and history," he begins. "It may trace down to the background of the designer, or represent the legacy of an icon. Replicating a sneaker disrespects this history, along with the craftsmanship efforts of its creators."
Continuing, he laments that "sneakers are not just footwear. On top of being an aesthetically pleasing piece to complete an outfit, the roots of each sneaker is history, which also connects people of different cultures and backgrounds. In our modern era, sneakers are the language of fashion."
While the future of Australia's local market remains unclear, the overarching message remains: when buying resale sneakers, put your trust in programs that have authenticity measures as a priority.
To find out more information on eBay's Authenticity Guarantee program, be sure to visit eBay AU.
Click here to view full gallery at HYPEBEAST