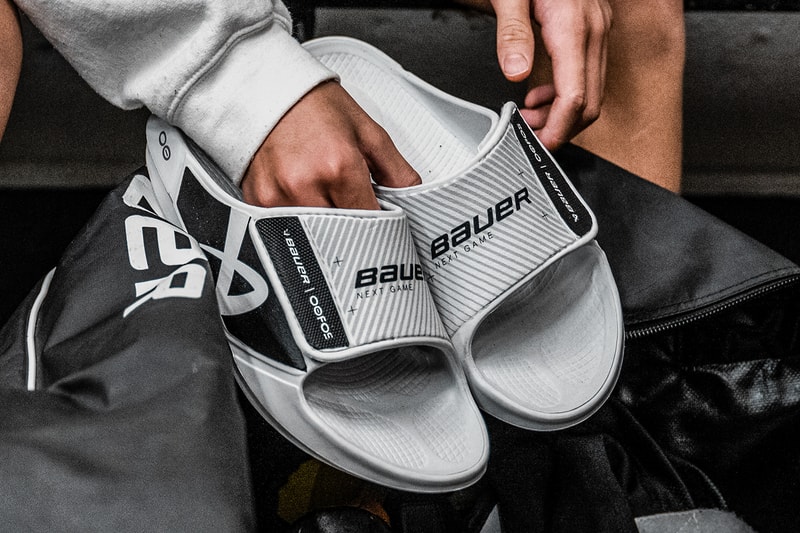 Following the launch of its "Bauer X" streetwear line, Bauer Hockey has turned its focus back on performance through collaboration with active recovery footwear brand OOFOS. Coming together, the duo created the "NEXT GAME" collection centered around enhancing hockey athlete recovery using advanced footwear technologies.
Highlighting the pressure on ankles and joints brought on by skating, the collection features a set of slides that allow athletes to start the recovery process the minute they step off the ice. "Sport Slide - 'The Bartlett'" and "Sport Flex" slides feature OOFOS' OOfoam™ technology and patented arch support to absorb impact, reduce stress on the body and enable more natural movement. Receiving the APMA (American Podiatric Medical Association) Seal of Acceptance, OOfoam™ technology is proven to absorb 37% more impact than traditional foam materials.
The Sport Slide - "The Bartlett" and Sport Flex slides are marked with co-branding and dynamic decoration associated with Bauer Hockey athletic equipment. The Sport Flex serve as a contemporary take on the classic slide, with an adjustable upper strap for a secure all-around fit. Both slide styles come in junior and senior sizes.
"As the leader in Active Recovery footwear, OOFOS is dedicated to maximizing athlete performance," said Steve Gallo, President of OOFOS. "There is no better feeling than pulling off skates after a tough game or training session and stepping into a pair of OOFOS. We share Bauer's commitment to player performance and are thrilled to work together to help boost recovery between skating sessions and make it easier for hockey players to perform at their best, day after day."
"Bauer and OOFOS are both hyper-focused on the performance of the athlete. Recovery is integral to performance, and it's a growing focus for athletes at all levels of the game," said Brad James, Senior Director of Strategy at Bauer. "Hockey players wear skates nearly all year, and when summer hits, athletes often switch to footwear that offers little to no support. Our NEXT GAME slides provide the opportunity for Active Recovery and support so that athletes maintain their strength between seasons and optimize performance between training and games during the season."
The Bauer Hockey x OOFOS "NEXT GAME" collection of slides will be available starting July 22 via Bauer, OOFOS and at select hocket specialty retailers.
For more footwear news, images of the Stüssy x Nike Air Max 2015 "Black" and "Pink" surface.
Click here to view full gallery at HYPEBEAST