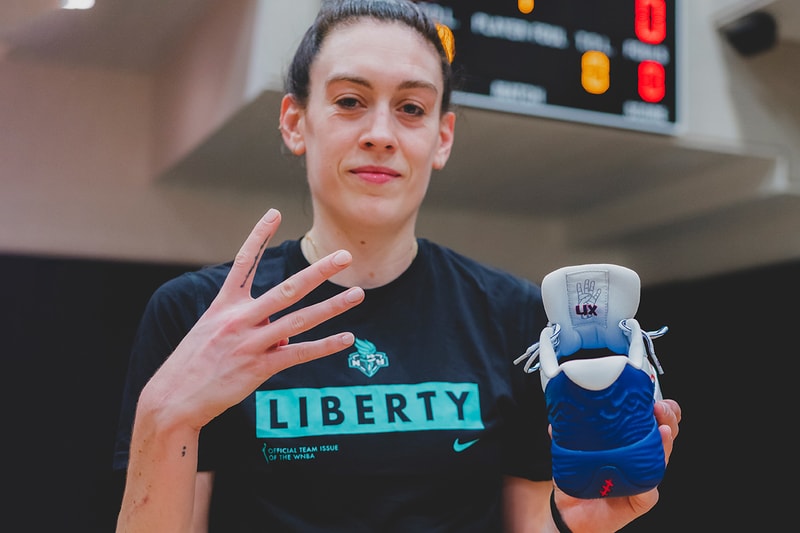 With all the accolades that she's earned throughout her basketball career, WNBA superstar Breanna Stewart might as well make DJ Khaled's "All I Do Is Win" her unofficial theme song. She's one of the most accomplished hoopers in the last decade, with four NCAA titles, two WNBA championships, WNBA MVP and Rookie of the Year honors, plus two Olympic gold medals for Team USA under her belt. And this off-season, she shifted the balance of power in the WNBA by signing with the New York Liberty, linking up with Sabrina Ionescu and Jonquel Jones to form a Big Apple "Big 3."
Stewart is a star, plain and simple, and stars need equally recognizable sneakers. Growing up, Stewart often gravitated towards LeBron James' signature sneakers, but nowadays she's only rocking with one PUMA model: Stewie 1, her first signature sneaker. She's the first female hoops athlete in over a decade to receive her own signature model, and she hopes to pave the way for future women to one day follow in her footsteps.
Hypebeast had a chance to catch up with the WNBA baller ahead of her Stewie 1 "Four Time" launch, she discussed how she incorporates elements of basketball journey into her designs, dreaming about signature shoes growing up and more.
Who or what got you into sneakers?
I got into sneakers as I became more involved with basketball. The more I played, the more I was exposed to different colorways, styles and signature silhouettes. I remember that I'd always be camping out on the Foot Locker site and apps just waiting to pick up a new pair of LeBrons on Saturday mornings.
Can you recall what sneaker culture was like growing up in North Syracuse, New York?
It was a mixture of me naturally being around the game and watching the game along with my peers who were also into sneakers. I still remember back in my junior high and high school days we were rocking a lot of K-Swiss and Phat Farms. However, I would say that my sneaker collection mainly evolved through playing basketball, and over time I found certain styles that I loved both on and off the floor.
"[PUMA wants] to be on the right side of history, and together we want to raise the bar for female athletes in this space."
Talk about what it means to you to have a signature shoe with PUMA and to be the first female signature athlete in over a decade.
Since PUMA and I joined forces, it's been an amazing journey. They want to be on the right side of history, and together, we want to raise the bar for female athletes in this space. The best part is that while I feel like we've done an amazing job so far, we're still just barely scratching the surface. Being the first female athlete in over a decade and tenth female basketball player in total to have a signature shoe is crazy and bittersweet at the same time. I feel like I'm in such amazing company but if you look at all of the amazing WNBA athletes that came before me, there were so many that deserved their own signature shoe. And so I hope that PUMA and I have opened the door again for more signatures to come down the road in any league that you watch, whether it's men or women.
Is having a signature shoe something that you dreamt about growing up?
Definitely. When I was younger, I had always dreamt about playing for Team USA in the Olympics, playing at UConn and making it to the WNBA. And within that I aspired to one day have young women and young kids be able to walk into stores to pick up the Stewie 1s, and now that it's happened it still feels very surreal.
Let's talk about your Stewie 1 "Four Time" colorway. What does this colorway represent to you and is there a reason that you saved this one for last?
The "Four Time" colorway is devoted to UConn and the incredible run that I had there, and it's only right for it to be coming out during March Madness. There are so many details in the shoe that I can talk about, but I'll share my two favorites. Underneath the tongue, there's an image of the four fingers and the other side spells out "13, '14, '15, '16" to represent my four national titles. The insoles have the outline of a husky to call out the UConn Huskies.
What are your favorite design features of the Stewie 1?
I love that it's a lightweight low-top model. It's built for all types of players and is a silhouette that can be rocked on and off the floor. The NITRO foam cushioning is also really comfortable and helps me play at my best.
"I want to make sure that I'm continuing to show love to everybody that has helped me on this journey."
What's something about the Stewie 1 that we may not know?
The "Quiet Fire" was the first colorway that we released and it was originally going to be white. However, after thinking it over I realized that because it was the first iteration I wanted to make a statement and create something that popped at you which is why we landed on the neon green theme.
All of your Stewie 1 colorways have represented you, whether it be an element of your game or a piece of your basketball legacy. Why is this important for you to incorporate?
I want people to be able to understand my journey. If you look at the back of the shoe, you'll see the two "scar" lines which nod to my achilles injury, a North Star on the rear which salutes my high school mascot and a shout out to Seattle with the "storm" icon since that was my former team., I want to make sure that I'm continuing to show love to everybody that has helped me on this journey.
What was your reaction when you finally held a pair in-hand for the first time?
All I could say was, "Wow!" There's a lot of work that goes into creating a shoe, so to go through that process was an honor. I'm hands-on to a certain extent, but I'm not the person that's actually building the sneaker. Designing through the pandemic also presented its own list of obstacles that we had to endure because of the supply chain issues and going through hundreds of 3D image samples. I was so excited to just hold that pair in-hand and see the year and some change that we put in to help bring it to life.
What other WNBA players right now do you think deserve their own signature?
That's a tough question because there's so many! Off the top of my head I'd say Sue Bird, Jonquel Jones, A'ja Wilson, Arike Ogunbowale and Sabrina Ionescu. They are players that are going to help propel the league forward, have huge followings and have their own stories to tell.
Why are sneakers and their stories important to you?
You can tell a lot about a person just by the shoes that they're wearing. I try not to, but sometimes when I first meet someone, I'll look at their shoes before I look at them just because it shows part of their personality, which brands they like and their style. And in terms of signatures, there are little gems that you can find that you might not have known otherwise about the player or the person.
The PUMA Stewie 1 "Four Time" is slated to launch on March 17 for $120 USD.
Click here to view full gallery at Hypebeast