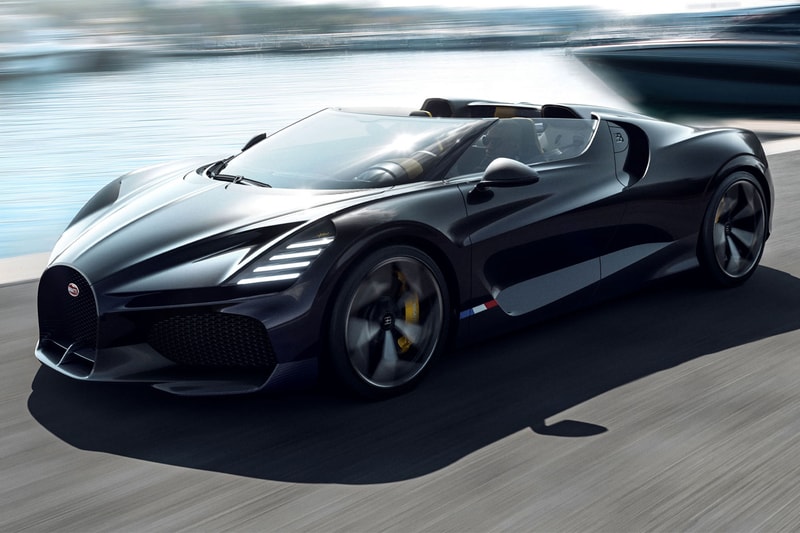 To close off the final chapter of its internal combustion engine era with a bang, Bugatti unveils an all-new W16 MISTRAL, the last car to ever run its definitive W16 powertrain and the first new roadster from the automaker in a decade. The open-top supercar takes inspiration from the classic 1934 Bugatti Type 57 Grand Raid – a sporty roadster made for long rallies featuring a v-shaped windscreen and aerodynamic contours inspired by aircraft features.
According to Bugatti, the name, Mistral, is associated with freedom and draws from a powerful wind that blows from the Rhône River valley through the towns of Côte d'Azur in southern France into the Mediterranean. Bugatti Rimac CEO, Mate Rimac goes deeper into the story behind the project, "For the final roadgoing appearance of Bugatti's legendary W16 engine, we knew we had to create a roadster. Well over 40% of all Bugatti vehicles ever created have been open-top in design, establishing a long lineage of performance icons that – to this day – are reveto datered the world over. In the Chiron era there had, to-date, been no roadster, so the introduction of W16 Mistral2 continues this legacy, driven by enormous demand from our clients for an all-new way to experience the mighty performance of our iconic engine. The W16 Mistral opens the next chapter in the Bugatti roadster story, inspired by over a century of open top legends."
The Mistral is said to deliver 1,600 PS (1578 BHP) and will be limited to 99 production models, all of which have been accounted for. Head over to the Bugatti website for the full breakdown.
In case you missed it, take a first look at the Dodge Charger Daytona SRT "Banshee" concept.
Click here to view full gallery at HYPEBEAST