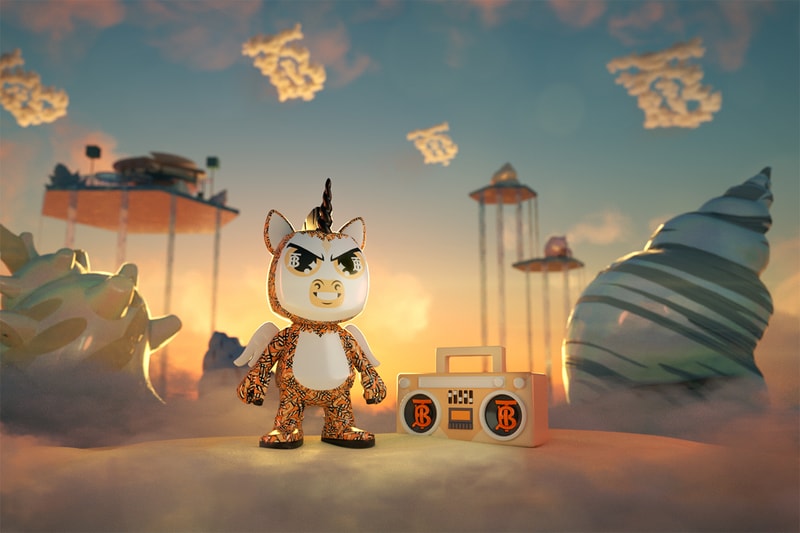 Having teased the second installment of its Mythical Games Blankos Block Party collaboration last week, Burberry has announced the release of this year's collaborative NFT character, Minny B, ahead of NFT.NYC.
Inspired by the fashion house's Animal Kingdom code, the mystical unicorn has been unveiled in the brand's latest TB Summer Monogram print. In addition to dropping the playable NFT character, the collection arrives with an array of digital accessories made exclusively to elevate Minny B's look. These include branded boomboxes, TB sliders, lucky horseshoe necklaces, and a seashell-inspired mobile phone aptly named the "Shellphone."
With Minny B equipped with a spiraled horn and white wings, players are able to explore the Blankos world by flight. Burberry has also created a bespoke social space within the game titled "The Oasis" for players to connect. The virtual experience itself is inspired by the brand's latest TB Summer Monogram physical destination takeovers in Saint-Tropez, Korea, Singapore and Ibiza.
Speaking on the collaboration, Burberry's VP of Channel Innovation Rachel Waller says, "The metaverse provides limitless opportunities for us to flex our imagination and connect with our customers." She continues, "Luxury is an industry built on fantasy and expression, so in many ways, gaming is a canvas perfectly suited to bringing these dreams to life."
The limited-edition Burberry x Blankos Block Party NFT collection is set to drop on June 22 at 9am PST / 12pm EST / 5pm BST as part of the brand's B Series, sign up now via the brand's website. For the HYPEBEAST and Hypemoon community, the Burberry "Shellphone" will be made available exclusively five hours before public launch. To find out more information on how to gain exclusive access, check out the Hypemoon Twitter and HYPEBEAST Discord.
Click here to view full gallery at HYPEBEAST