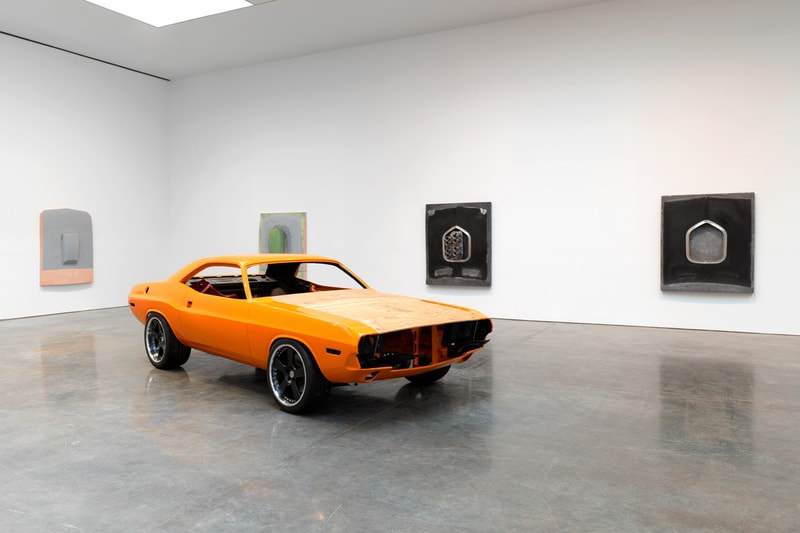 Blasting mats, cowboys, Instagram portraits — Richard Prince has built a career through mining imagery from a wide range of disparate sources. As one of the pioneers of the Pictures Generation, the New York-based artist appropriates widely circulated images from mass media, advertisements and entertainment to question notions of identity, authenticity and ownership.
During the second half of the 20th Century, American car culture was defined by aggressive designs that symbolically represented the idea of power, speed and freedom. Over the past 25 years, Prince has collected a vast number of car hoods from 1960s and '70s muscle cars, which he is now showcasing in a new exhibition at Gagosian, aptly titled Hoods.
Housed at the gallery's West 21st Street location in New York, the exhibition features more than 30 car hoods that Prince has characteristically reimagined. "I wanted to paint something that was already painted," said the artist. Initially, he would have body shops apply standard slick finishes to the pre-made hoods. However, as the study progressed, Prince opted to sand and hand-paint the work himself with Bondo filler. The resulting objects carry layered textures that transforms the car hoods from simple (and flamboyant) car parts to the realm of sculpture.
To complement the exhibition, Gagosian worked with Prince's secret gallery, Fulton Ryder on a monograph documenting his fascination with muscle cars. Richard Prince: Hoods, 1988–2013 features over 150 images documenting both the works in progress and the final artworks, installation photographs, studio shots, and more. The book is available to purchase via Gagosian's webshop and physical storefronts for $75 USD. Meanwhile, the exhibition is nearing its final weeks on view and will conclude in New York on June 25.
Also in NYC, The Met takes a deep dive into the origins of the kimono.
Gagosian
522 W 21st St,
New York, NY 10011
Click here to view full gallery at HYPEBEAST