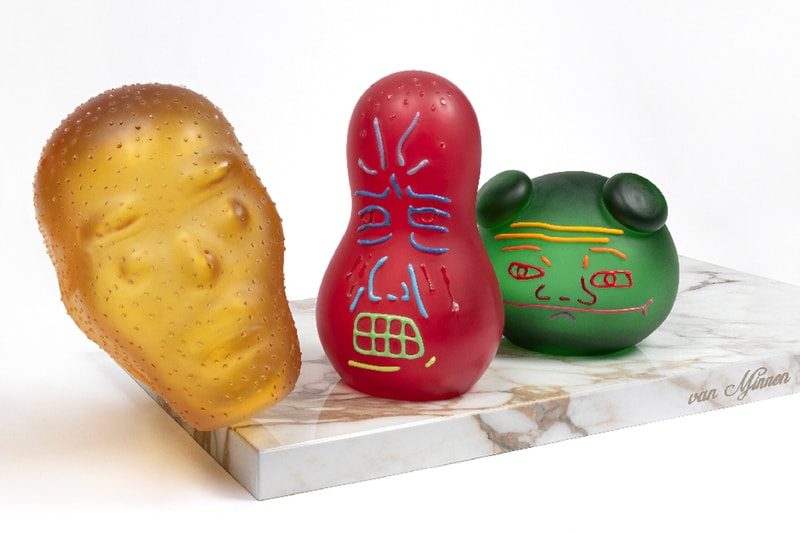 Symbolism is always a plenty when viewing the work of Christian Rex van Minnen. Based in Santa Cruz, California, the artist references a range of disparate sources to create his dark and alluring compositions — from meme culture and new age mysticism, death metal and pornography, to floating jelly objects that are overlaid to contrast the somewhat brooding motifs he explores.
In a new collaboration with Case Studyo, van Minnen's gelatin objects are recreated as hand-blown sculptures, dubbed Google Antibodies and the Golden Antigen. Inspired by the colors of the popular search engine, the artwork makes reference to the concept of beheading — particularly in relation to dreams and how beheading can symbolize separating the thinking head from the feeling body.
The trio of characters are meant to represent digital archetypes, and the roles that we all play out online. "Where the green sarcastic troll and the raging red bowling pin are antibodies of the digital biome, the golden antigen remains a mystery," said Case Studyo in a statement, adding that the "golden rule seems to be that a resilient and durable positivity cannot yet exist online and any attempt to sincerity leads to digital suicide and exile within the current space. The interaction/interplay and connection between these archetypes is playing out in real time in digital space and within us all."
Google Antibodies and the Golden Antigen are hand-blown glass sculptures available in red, green and yellow. Each color is an edition of 12 (plus four artist proofs) and comes signed and numbered by the artist in a screen-printed wooden box. Inquiry is now open via Case Studyo.
On the topic of editions, Cleon Peterson and Avant Arte partner on The Return.
Click here to view full gallery at HYPEBEAST