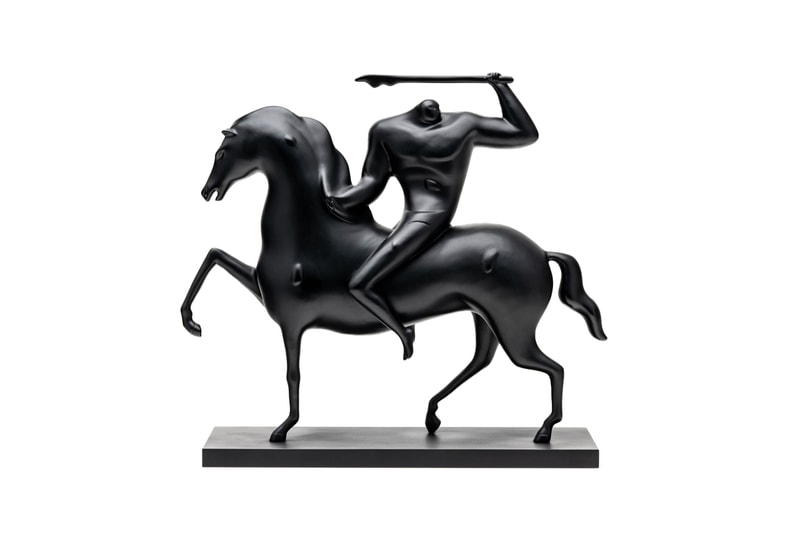 In the world of artist editions, Avant Arte has cemented itself as a go-to destination for must-have releases. The collective has built a steady list of prominent and emerging artists across a wide variety of creative disciplines. The most recent editions include a mythic dragon sculpture by Takahiro Komuro, along with Christian Rex van Minnen's first print in over ten years.
Cleon Peterson is the latest figure to join the list. In The Return, the acclaimed American artist depicts a primal horseback rider in sleek, blackened bronze. Similar to past studies, Peterson comments on humankind's troublesome history with power and corruption. "Images and ideas like this act as a romantic fantasy promising to return people to an idealized past. In my work I highlight these connections – showing how destructive they can be," said the artist in a statement.
The Return comes in two sizes; the first is an edition of 25 which sizes in at 11.8x13.8x4.3-inches and will retail for roughly $6,554 USD; while, the larger sculpture is an edition of ten, sizes in at 20.9x25.6x8.3-inches and will cost $16,384 USD. Both editions will release via Avant Arte on June 20 at 9am ET.
Elsewhere in art, Tyrrell Winston worked with Louis Buhl & Co. on a new basketball-inspired sculpture.
Click here to view full gallery at HYPEBEAST