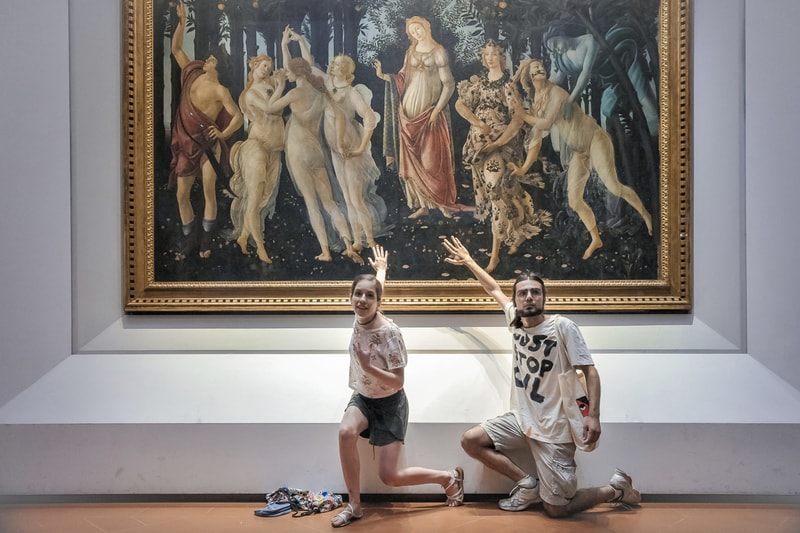 The climate crisis has gotten to a point where activists are taking it into their own hands to usher in a sense of urgency. Most notably in the past, a man dressed as an elderly woman revealed himself and proceeded in smearing a cake at the glass window protecting the Mona Lisa at the Louvre.
Similarly, several members of the Italian climate activist group, Ultima Generazione (Last Generation), glued their hands on to Sandro Botticelli's seminal 15th Century painting, Primavera at the Uffizi Gallery in Florence this past Friday. Comprised of a man and two women, the activists unfurled a sign that exclaimed: "Ultima Generazione No Gas No Carbone (Last Generation, No Gas, No Coal)," before being arrested by local police.
According to a report by The Guardian, the activists had consulted art restoration experts to make sure no damage was done to the 540-year-old painting. "Fires, food crises and drought make it increasingly difficult. We decided to use art to sound an alarm call: we are heading towards social and eco-climate collapse," said the group in a statement.
Ultima Generazione has been enacting similar protests in Italy since December. "Why museums?," wrote the group on its website, "Italy is internationally recognized as the cradle of the artistic and museum heritage. We turn to the world of art to launch a heartfelt appeal for our requests to be brought to the government by all social partners. The ongoing eco-climatic and social collapse will also tragically impact the preservation of the places of conservation of cultural heritage. In the same way that we defend our artistic heritage, we should be dedicated to the care and protection of the planet that we share with the rest of the world. Art has always had an important value in transmitting beauty, in uniting cultures and in preserving the best expressions of humanity. Now it should still be like that."
The event is the latest in a number of similar happenings seen across the UK, Europe and the United States.
Click here to view full gallery at HYPEBEAST