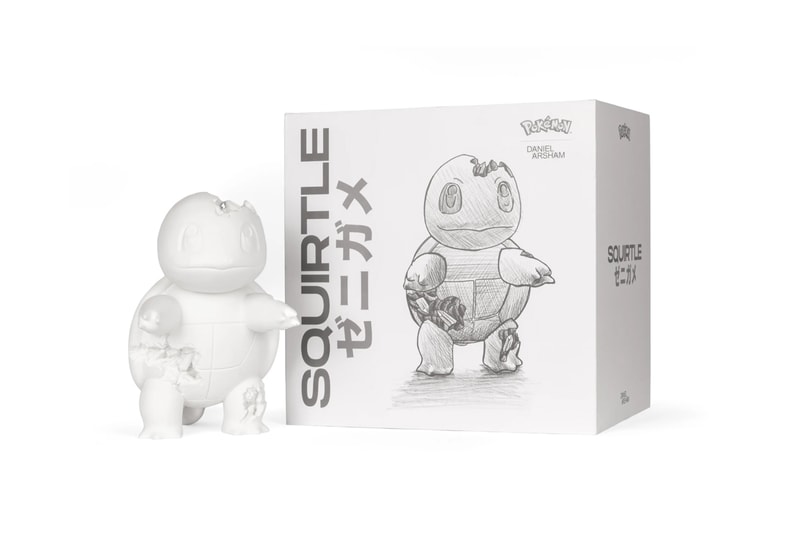 Amongst his various explorations, the CRYSTALIZED series of sculptures has shown to be one of Daniel Arsham's most revered works. From Greco-Roman statues to a bust of Gunna, each piece aims to depict a time in the distant future where a civilization unearths the signs and symbols that makeup the modern world.
Having recently concluded an exhibition centered around his love for Pokémon, the acclaimed artist returns to the Kanto region in a new sculpture that pays homage to Squirtle, one of the game's founding three characters. "Squirtle was one of my favorite Pokémon from the original series and was one of my first works when I received the invitation from Pokémon to work with them," said Arsham via Instagram.
Similar to the CRYSTALIZED CHARMANDER released in 2021, CRYSTALIZED SQUIRTLE is an edition of 500 that is made in resin and cast from a hand sculpted Squirtle Arsham created for the aforementioned exhibition at NANZUKA in Tokyo.
Sizing in at nearly a foot tall, the sculpture weighs just under 16 pounds and also includes a holographic label verifying its edition number and authenticity. CRYSTALIZED SQUIRTLE will release this Friday, July 29 at 12pm ET at danielarsham.com/shop.
Elsewhere, Objects of Desire explores the interplay between fine art and commercial photography.
Click here to view full gallery at HYPEBEAST