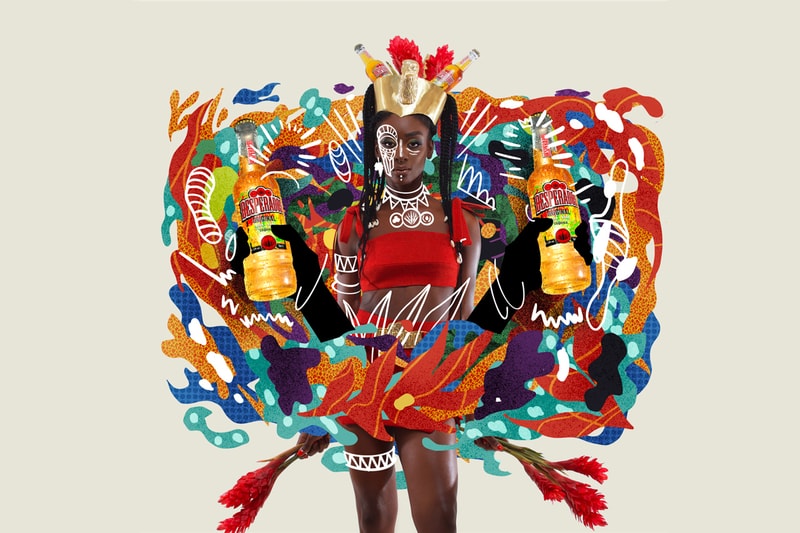 Last month, Desperados announced the return of its global artists co-collaboration campaign, the "Desperados Collective". Inviting rising artists from across the world to collaborate and bring a fresh take on Desperados' latest advertising campaign, the project intends to amplify the power in experimenting with new ideas, experiences and mindsets.
For the second edition, the brand calls on an array of digital to mix media creatives – including fashion designer Loza Maléombho and visual artist ShutaBug – to merge their mediums and create a combined piece of art. Loza's garment-making practice sees her unpick cultural references and symbols from Africa and retell forgotten stories through a range of avant-garde accessories, clothing and shoes. The process has become more than a creative outlet for Maléombho, but a way of reclaiming her heritage too. Similarly, ShutaBug's artwork was initially inspired by the transport and streets of Lagos from living in the city and although his art has evolved since, these African influences are still prevalent.
Collaborating for the "Desperados Collective", the pair discover how others interpret creative visions through their respective crafts. Speaking on the project ShutaBug explains, "I have always wanted to explore fashion with my art. Having an amazing model like Loza to help bring one of my creations to life is really the push I needed to explore this path fully." They have both created an individual piece of Desperados-focused artwork, and together, they present a collaborative piece that sees African influences beating heavily throughout.
HYPEBEAST sat down with Loza Maléombho to discuss her journey with fashion, the future of Ivory Coast's creative scene and what inspired her Desperados design. Check out the full interview below.
HYPEBEAST: What inspires your work?
Loza Maléombho: I am inspired by the history behind different African cultures but also triggered by anything visual in a cultural aesthetic such as shapes, colors, contrasts, textures and symbols.
Tell us a bit about your artistic background?
I have a Bachelor of fine art in animation from the University of Arts Philadelphia. During my years of college, I was also interested in fashion which led me to intern with designers Jill Stuart, Yigal Azrouel and Cynthia Rowley in New York City before deciding to start my own brand. I launched my first pre-collection in 2009 in NYC and moved back to Cote d'Ivoire in 2012 where the production and conception of my brand now takes place.
Why is exploring culture through art important to you?
Art is a way for me to reconnect with my heritage. It is also a deep desire to imagine Africa as it would be in the future. I use my imagination in conjunction with references from the past to create, and within that process I do a lot of research on history and heritage. I always come out having learned a little bit more about the culture. I would say that exploring culture through art is as much of an expression of fantasy as it is an education for me.
Talk us through the creative process for this piece?
In the collaborative piece I am wearing an outfit I made that was inspired by Desperados' beer bottle top. The pleats on the outfit mimic the pleats on the bottle top and were a small detail I wanted to focus on. The green represents one of the colors of the brand. I also use the baule mask detail on the top and bottom, which is a signature of my brand and symbolizes union of two separate ideas, persons and or concepts. In this case it would symbolize the union of the two brands collaborating. The headpiece is representative of a crown, with the eagle being the symbol of freedom.
Why did you choose to work with clothing for the artwork?
It was evident for me as I'm at a stage where I'm looking to reconcile my passions: fashion, photography and animation. For a long time I wanted to keep my artwork and fashion line separate. But it makes sense for me to merge the two in my work now.
Tell us a little about the collaboration with ShutaBug and creation of the remixed artwork.
I love what came up from the collaboration with ShutaBug for Desperados because we have very different styles that you wouldn't expect to see merged together. And I think that's the point of art precisely, to find the convergence between different domains. The collaboration was very smooth mainly because we were both confident in our respective pieces and communication of the vision was easy, so I'm really happy with the outcome.
Why is collaboration important to you?
This was the first creative collaboration I've done and it was totally interesting to take something I'm used to doing in a new direction. Collaboration is important because it forces me to come out of my comfort zone. It opens up the perspective of my creative approach and is beneficial in a sense that it allows me to learn from someone else.
Other than collaboration, what does the creative industry need more of?
If I can speak from a local perspective (in Côte d'Ivoire) I think the creative industry needs more schools and more platforms for exposure such as museums, galleries and art monuments.
Why do you think mentorship is important in the art industry?
I think mentorship is important to instill the sense of community in the industry. There's always so much to learn, especially from artists in different specialisms to your own. I've found the mentorship with ShutaBug so interesting as it was mutually beneficial and I actually learned a lot, too!
Aside from the collaborative project, the "Desperados Collective" gives its artists ongoing support through its mentorship scheme. It's part of the brand's motto to inspire new concepts and ideas with "a blend of the unexpected". To find out more about "Desperados Collective" and the other contributors in this year's line-up, check out the brand's website now.
DISCLAIMER: We discourage irresponsible and/or underage drinking. Please drink responsibly and legally.