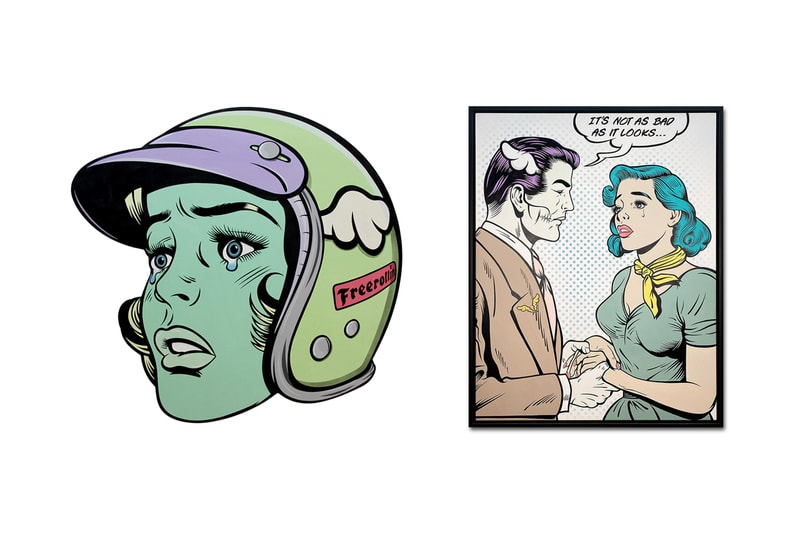 Multimedia artist D*Face revisits the stateside with a highly-anticipated solo exhibition entitled "Painting Over the Cracks." Together with Corey Helford Gallery, the world-renowned London-based creative looks to unearth our society's common reflex of choosing to ignore or hide issues.
"Yes, yes, I'm aware the actual expression is to 'paper over the cracks' but for obvious reasons, painting felt more appropriate to me and to this show ─ with nearly one hundred murals under my belt, I've spent my fair share of time painting over real cracks in real walls," D*Face explains on his current showcase. "If you haven't heard the expression before, it essentially refers to the act of ignoring or hiding an issue in both the literal and metaphorical sense ─ it's putting on a brave face and pretending that 'the issue' doesn't really exist."
D*Face usually describes his pieces as "aPOPcalyptic," with his urge of extending American Pop from the 1980s. The UK contemporary artist encourages the viewer to see beyond the visual and dig deeper into the meaning the work looks to enhance. In a world dominated by consumerism, D*Face utilizes aspects of media advertising, comic books and on-screen romance and reshapes it with his own individualistic style of clean lines and vibrant colorways.
"Painting Over the Cracks" will be on view from August 6 at night to September 10 and found within the Main Gallery and Gallery 2 of Corey Helford Gallery.
In case you missed it, André Butzer revisited his 'Wanderer' alter ego in a new exhibition.
COREY HELFORD GALLERY
571 S. Anderson St.,
Los Angeles,
CA 90033
Click here to view full gallery at HYPEBEAST