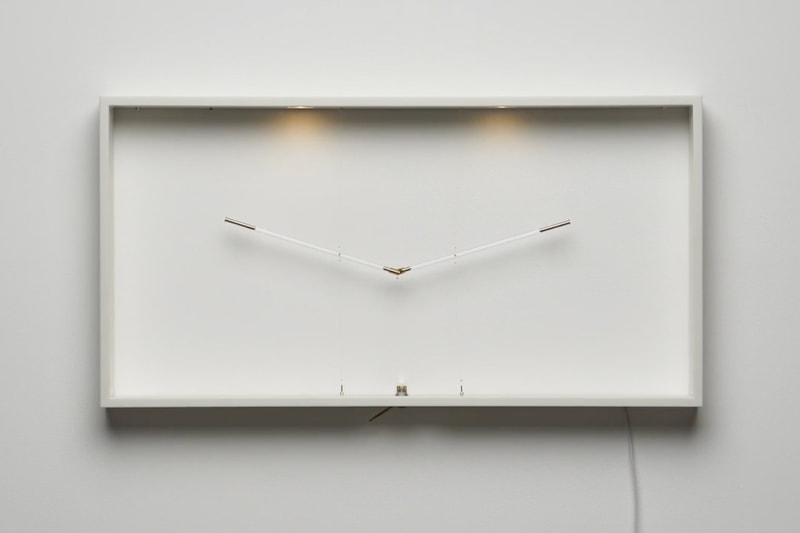 It's easy to forget that time is perceived differently from culture to culture. In Western societies, such as the United States and Switzerland, there is a linear model that a 2014 INSIDER report equated to being tied to efficiency and maximizing profits. Whereas in some Eastern civilizations, there is a cyclic-oriented perception of time, where scarcity isn't as much a factor because there is an understanding that the events of life unfold in an infinite model of renewal.
Whatever construct of time you adhere to, the clock is a universal object that we can all relate to and the thematic base of a new sculptural edition by DRIFT. Instead of winding in a clockwise motion, the two brass-tipped hands rotate in a circular fashion through a delicate nylon thread tied to a smaller gearbox packaged in a white Corian frame.
Emblematic of their past work, Sine draws reference to the relationship between humans and nature. In a statement on the release, members Gordijn and Ralph Nauta, spoke of how they aim to unite onlookers in a cyclical motion to live in sync with others. "The infinity of energy that we see in nature inspires a sense of connectedness and unity. It makes us feel part of a bigger whole," said the collective.
Sine is an edition of 50 and will be available to purchase via Avant Arte on August 1 at 9am ET. Ahead of the launch, however, 10 artworks will be on public display at Fosbury & Sons in Amsterdam between July 29-31.
In related news, Phaidon will release the first ever monograph on DRIFT.
Fosbury & Sons
Prinsengracht 769,
1017 JZ Amsterdam, Netherlands
Click here to view full gallery at HYPEBEAST