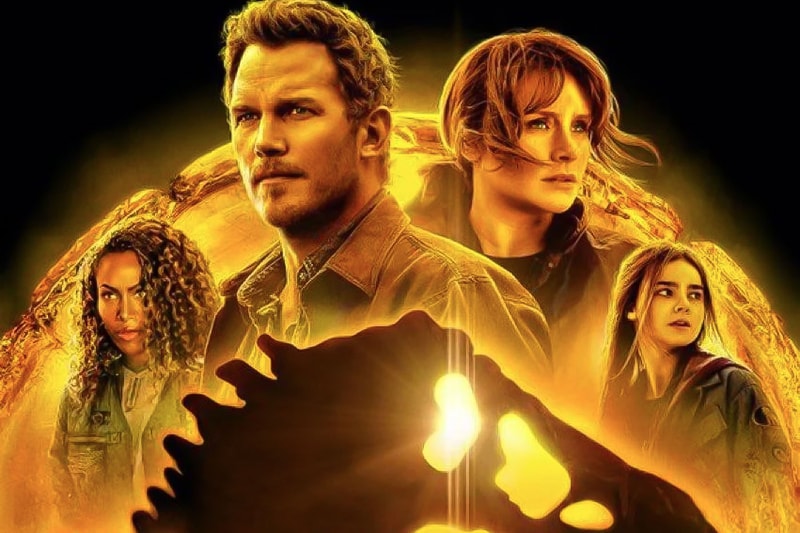 Early reactions are officially in for the final film of the Jurassic Park trilogy. Chris Pratt, Bryce Dallas Howard, Sam Neill, Laura Dern and Jeff Goldblum return to the big screens for Jurassic Park: Dominion to give fans a final dose of nostalgia and fantasy.
Jurassic Park: Dominion recently earned the franchise's worst Rotten Tomatoes score, achieving only a 38% with 141 reviews. Critics who have seen the film are left divided, with the majority feeling negatively towards the final film. Amongst the critics, Scott Menzel from We Live Entertainment was vocal about his let down on Twitter, sharing with audiences, "It brings me no joy to report that Jurassic World Dominion is a MASSIVE disappointment. While the film does feature some incredible dinosaur sequences and it is great to see the original cast back on the big screen, the film fails to deliver on what the previous films promise." Fellow film critic Courtney Howards also expressed her dissapointment, going as far as claiming that this was the "worst of the franchise."
While there was a major focus on the negative aspects of the film, Erik Davis from Fandango provided some saving grace, calling the film his "favourite" of the Jurassic trilogy. He complemented Goldblum on his return and the "inventive scenarios" that kept audiences on their toes. Take a look below at some of the earliest reactions of Jurassic Park: Dominion.
Jurassic Park: Dominion releases in theaters worldwide on June 10.
The Jurassic World franchise felt like it was leading up to an epic conclusion where dinosaurs and humans would FINALLY co-exist. Unfortunately, that is NOT the focus of this film. Instead, the film does the same thing that we seen before only with bad plotting, writing & acting.

— Scott Menzel (@ScottDMenzel) June 7, 2022
As the film progresses, almost everything about the two previous entries is glanced over as the writers tell the exact same story that we all seen before. Seriously, what is the point of spending two films setting up a story arc if you're not explore it? Why mislead the viewer?

— Scott Menzel (@ScottDMenzel) June 7, 2022
Also, the fact that the film is more about locusts than dinosaurs is a major problem. And don't even get me started on the whole cloning subplot which just comes across as completely nonsensical and convoluted. That said, the occasional dinosaur fight sequences are a lot of fun.

— Scott Menzel (@ScottDMenzel) June 7, 2022
Jurassic Park is a masterpiece. I remember seeing it on the big screen when I was eleven and it was nothing short of awe-inspiring. The film, not only had amazing visual effects, but it told an interesting story with great characters that along with the dinosaurs, you rooted for.

— Scott Menzel (@ScottDMenzel) June 7, 2022
Jurassic Park is timeless because it combined spectacle with substance. Dominion, on the other hand, is all spectacle that doesn't offer anything new. Nothing gets resolved. Questions go unanswered. Scenes that are just there to fill up the runtime. Worst film in the franchise.

— Scott Menzel (@ScottDMenzel) June 7, 2022
#JurassicWorldDominion = BAD. It ignores the premise it should've had from the start, instead synthetically engineering 2 entirely different, uninteresting & hollow stories that it struggles to connect. Some effects look polished, some ropey. Worst of the franchise. pic.twitter.com/0xbyUR6O9d

— Courtney Howard (@Lulamaybelle) June 7, 2022
#JurassicWorldDominion is awful. We got one of the best legacy sequels with #TopGunMaverick last week and one of the worst with Jurassic World. Poor FX, repetitive plot, and dreadful character arcs. The bulk of the narrative is barely even about dinosaurs. pic.twitter.com/0TmN5Bs5Sm

— Jeff Nelson (@SirJeffNelson) June 7, 2022
It pains me to say this, but I did NOT like #JurassicWorldDominion — the story was convoluted & all over the place, and it didn't feel special. There's no magic or heart to it, and it doesn't capture the awe-inspiring feeling of the original at all. Not sure who it's even for. pic.twitter.com/WjhVJaY9Nv

— Scott Mantz (@MovieMantz) June 7, 2022
GOOD NEWS: #JurassicWorldDominion is my favorite film of the new Jurassic trilogy. It's stuffed w/ thrilling dinosaur encounters & lots more Jeff Goldblum, but it's also got a great balance of creepy & inventive scenarios w/ some choice nods to what came before. A solid finale. pic.twitter.com/G6bMCDUecL

— Erik Davis (@ErikDavis) June 7, 2022
#JurassicWorldDominion rocks an excellent mix of practical & digital effects. Dinos look GREAT. Dimetrodon scene is ... right up my alley. Bryce Dallas Howard runs away with the movie -- & new trilogy for that matter. Claire experiences one heck of an arc & Howard soars with it. pic.twitter.com/5qWYkddi9e

— Perri Nemiroff (@PNemiroff) June 7, 2022
#JurassicWorldDominion takes so many big swings it's astounding. Unlike other legacy sequels, this film is focused on the future telling new stories with our favorite characters, and introducing us to new favorite characters too. It's an ambitious, fun finale, and new beginning. pic.twitter.com/6ZDbI9IKvk

— Steven Ray Morris (@StevenRayMorris) June 8, 2022
In other entertainment news, the new Thor: Love and Thunder trailer gives a sneak peek of Gorr the God Butcher fight sequence.
Click here to view full gallery at HYPEBEAST