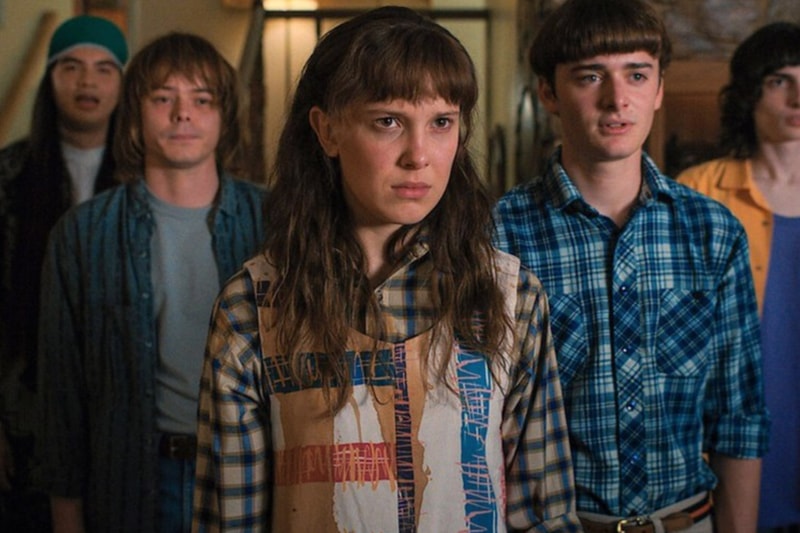 Since the series first debuted on Netflix back in 2016, Stranger Things has remained a top-performing title on the streamer, complete with sci-fi storytelling, '80s nostalgia, charming characters and just the right amount of thrill. The mystery drama series, helmed by The Duffer Brothers, has aired three seasons to date, and the upcoming fourth season is undoubtedly one of the most hotly-anticipated releases on this year's television calendar.
"With nine scripts, over 800 pages, almost two years of filming, thousands of visual effects shots, and a runtime nearly twice the length of any previous season, Stranger Things 4 was the most challenging season yet, but also the most rewarding one," series creators Matt and Ross Duffer said in a statement to fans. "Everyone involved is incredibly proud of the results, and we can't wait to share it with you."
Here's everything we know about the upcoming fourth installment.
When Does Season Four Premiere?
Stranger Things 4 is broken up into two volumes, and the first installment is scheduled to premiere this Friday, May 27, with the first seven episodes. Volume two will then premiere on July 1, with the remaining two episodes.
Notably, this season's episodes are much longer than past iterations, with most clocking in at 75 minutes. Episode 7 will run for 98 minutes, Episode 8 will run for 85 minutes and Episode 9 will reach two and a half hours long, according to Netflix's fan website Tudum.
Who Is in the Cast?
The full ensemble cast from season three will return for the fourth installment, including Millie Bobby Brown, Finn Wolfhard, Gaten Matarazzo, Noah Schnapp, Caleb McLaughlin, Sadie Sink, Winona Ryder, David Harbour, Natalia Dyer, Charlie Heaton, Joe Keery and Maya Hawke. Additionally, Priah Ferguson, Cara Buono and Brett Gelman will become series regulars in the fourth season while Matthew Modine will return in his role as Martin Brenner.
On top of the series staples, Stranger Things 4 welcomes several additions to the cast, including Jamie Campbell Bower, Eduardo Franco, Joseph Quinn, Robert Englund, Tom Wlaschiha, Nikola Duričko, Joel Stoffer, Sherman Augustus, Mason Dye, Tyner Rushing, Joe Chrest, Amybeth McNulty, Myles Truitt, Regina Ting Chen and Grace Van Dien.
Among them, Bower will player Peter Ballard, a caring employee at a psychiatric ward, Franco will depict Jonathan's friend Argyle, who is described as a carefree delivery man for Surfer Boy Pizza, and Quinn will play Eddie Munson, the leader of Hawkins High School's Dungeons and Dragons club who supposedly resides at the center of this season's mystery.
Additionally, Wlaschiha will play a Russian guard named Dmitri; Augustus performs the part of the intelligent Lt. Colonel Sullivan; Dye will depict a rich kid named Jason Carver; Duričko will play a sketchy Russian smuggler named Yuri; McNulty will take on a band nerd named Vickie; Truitt will assume the role of a basketball star named Patrick and Englund will play a disturbing psychiatric hospital patient named Victor Creel.
What Do We Know About the Plot?
While the majority of the season four plot remains unknown, Netflix did release a short description of the new installment alongside a brief teaser that confirmed the return of David Harbour's Hopper. If you need a quick refresher, his character sacrificed himself in the Russians' massive wormhole that emerged under Hawkins, Indiana, at the end of season three, and the post-credits scene saw prison guards referencing the "American" behind their bars, though it was unclear whether or not he had survived.
According to a statement from the streamer, Hopper will "face dangers both human…and other" in the upcoming season." Meanwhile, Netflix confirms that in the U.S., "a new horror is beginning to surface, something long buried, something that connects everything…"
The statement concluded, "Season 4 is shaping up to be the biggest and most frightening season yet, and we cannot wait for everyone to see more. In the meantime -- pray for the American."
The second teaser for Stranger Things 4, which emerged on May 6 of last year, provided fans with an eerie, one-minute glimpse at Hawkins Laboratory, confirming that the season will see flashbacks to Eleven's time as a child in Martin Brenner-run facility. The visual sees a myriad of children playing with toy cars and chess, before Dr. Brenner approaches a door with the number 11 written on the front and asks, "Eleven, are you listening?"
Fans then received a first look at an all-new haunted destination: the Creel House. The preview begins with a flashback of a family moving into a home in the '50s before showing a series of disturbing events that ultimately led to the now-imprisoned Victor Greel's gruesome murder of his family. Moving forward to the '80s, the teaser then sees Dustin, Steve, Lucas and the remainder of the squad breaking into the creepy establishment, which Matt Duffer has confirmed is a "super-important location" for season four.
The final teaser for the fourth season, which debuted in November of last year, revealed that Eleven and the Byers family have decided to move to Lenora Hills, California.
After being apart for 185 days, the trailer sees Eleven writing to Mike, filling him in on how she's adapting to her hew home, though she is clearly having a difficult time adjusting. Eleven goes on to say "we're going to have the best spring break ever." But scenes of the Byers' house being attacked, military shootouts and a creepy Russian doll that arrives in the mail suggest otherwise.
Notably, the teaser confirmed the return of former investigative journalist Murray Bauman, who will reportedly play a major role in season four.
Last month, Netflix dropped off the first official trailer for the upcoming season, which tied together several of the clues that had previously been revealed. The trailer begins by detailing how the gang is adjusting to high school, with Will and Eleven in California. Naturally, the ensemble cast is sucked back into the Upside Down's torment, and there's even a clip of Hopper fending off a Demogorgon from the Russian prison.
"A war is coming. Your friends in Hawkins are very much in the eye of a storm," a man says to Eleven. "I don't know how to say this other than just to say it — without you, we can't win this war."
The three-minute visual concludes with the reveal of Vecna, a human-Demogorgon hybrid that proves to be this season's central villain.
Last week, Netflix was generous enough to release the first eight minutes of the fourth season. The preview revealed a flashback to Eleven's time in Hawkins Laboratory, showing Dr. Martin Brenner attempting to conduct routine testing on another superhuman child, Ten. During their session, a sudden panic breaks outside the room, with haunting screams and sounding alarms. "They're screaming," Ten says, "Six and Dr. Ellis are dead. They're both dead."
Brenner discovers that everyone – besides Ten, Eleven and himself — has died.
Interestingly, Netflix has since made the clip private on YouTube.
On Tuesday, Netflix shared the explosive final trailer for the season, which introduces the kids' Dungeons & Dragons team Hellfire Club, led by Dustin, who rolls a 20-sided die to decide their future. In a series of fast cuts, the gang is seen venturing in an unknown location of the Upside Down filled with massive spikes and ominous red clouds, and Hopper seemingly attempts to break out of prison in Russia.
Fans will need to piece the rest together ahead of the premiere, though Brown did provide one more hint at what to expect.
Earlier this month, the actress said that fans will see Eleven at her lowest after the happenings of season three left her feeling powerless. In an interview with Entertainment Weekly, she explained, "You get to see Eleven in the darkest state she's ever been. This has definitely been the hardest season I've ever filmed. And there have been some of the scariest, scariest things that I've ever seen as a human, which you guys will get to see, for sure."
What Are the Episode Titles?
Stranger Things unveiled the title of each season four episode in a teaser that was released on November 6 of last year. See the official names below.
"The Hellfire Club"
"Vecna's Curse"
"The Monster and the Superhero"
"Dear Billy"
"The Nina Project"
"The Dive"
"The Massacre at Hawkins Lab"
"Papa"
"The Piggyback"
Stranger Things 4 premieres on Friday, May 27.
Elsewhere in entertainment, watch Chris Evans and Ryan Gosling in the new trailer for The Gray Man.
Click here to view full gallery at HYPEBEAST