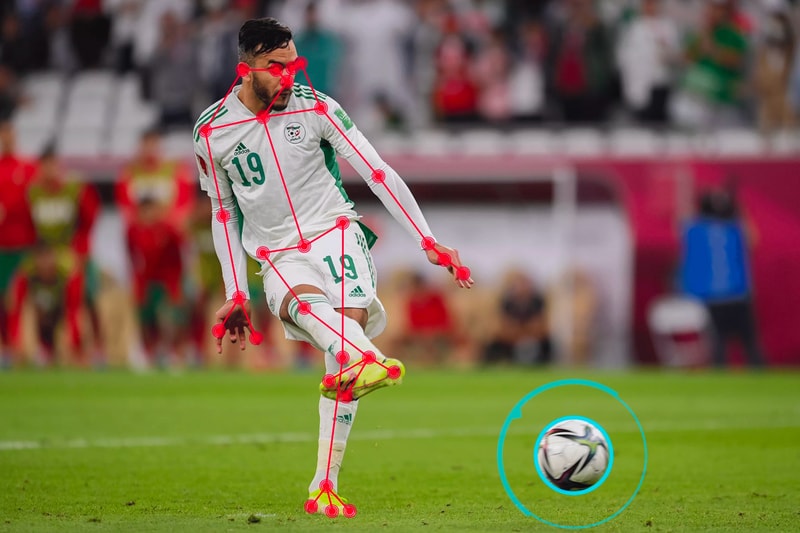 FIFA announced a subtle but big change to its upcoming World Cup in Qatar this November. As an evolution to the highly debated VAR (video assistant referee) technology first introduced at the 2018 FIFA World Cup in Russia, the world governing body will implement a semi-automated offside system dubbed SAOT.
The new technology utilizes 12 cameras mounted underneath the roof of the stadium that are used to track 29 data points on each player at a rate of 50 times per second – resulting in a near exact position in relation to the pitch. FIFA worked with a variety of partners, including adidas, whose "Al Rihla" matchball will be equipped with an inertial measurement unit (IMU) sensor that will send back data back to the operation room 500 times per second.
According to a statement by FIFA, "the new technology provides an automated offside alert to the video match officials inside the video operation room whenever the ball is received by an attacker who was in an offside position at the moment the ball was played by a team-mate. Before informing the on-field referee, the video match officials validate the proposed decision by manually checking the automatically selected kick point and the automatically created offside line, which is based on the calculated positions of the players' limbs. This process happens within a few seconds and means that offside decisions can be made faster and more accurately."
FIFA
After the decision has been confirmed by the official, a replay animation of the previous play will be shown throughout the stadium and TV. SAOT has already undergone several trial runs, most recently at the FIFA Club World Cup, along with last year's FIFA Arab Cup.
Pierluigi Collina, chairman of the FIFA Referees Committee, reiterated that FIFA is "aware that sometimes the process to check a possible offside takes too long, especially when the offside incident is very tight. This is where semi-automated offside technology comes in – to offer faster and more accurate decisions."
"The testing has been a major success and we are very confident that, in Qatar, we will have a very valuable support tool to help referees and assistant referees make the best and most correct decision on the field of play. I know that someone called it 'robot offside'; it's not. The referees and the assistant referees are still responsible for the decision on the field of play."
The 2022 FIFA World Cup in Qatar will run from November 21 to December 18.
Elsewhere, Sadio Mane has joined Bayern Munich.
Click here to view full gallery at HYPEBEAST