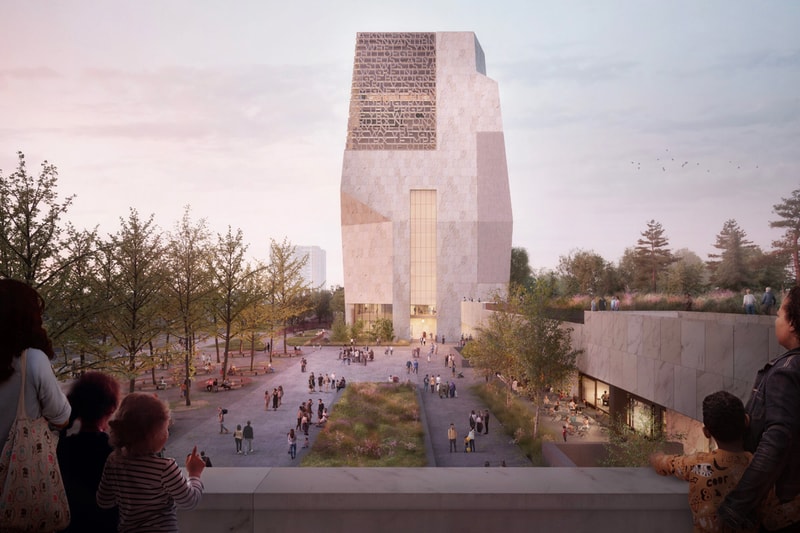 Barack and Michelle Obama forever changed the course of American history when they were sworn into office as the first African American President and First Lady of the United States on November 4, 2008. Roughly 14 years since that groundbreaking achievement, a new cultural institution is coming to Chicago's South Side which aims to inspire the future leaders of the world.
Designed by Tod Williams Billie Tsien Architects and Interactive Design Architects (IDEA), the Obama Presidential Center will feature a world class museum dedicated to the former president's administration, along with a host of public art offerings and a new branch of the Chicago Public Library.
Located at the historic Jackson Park in the South Side, the 19-acre site has been in the works since 2016 and encourages visitors from around the world a space to "reflect and grow, connect and create; to tap into your own sense of purpose and discover the change you want to make in the world."
The tall vertical Museum building is designed to invoke the feeling of ascension, as visitors gain an understanding of the core tenets of American democracy. Subsequent levels recount Obama's two terms and his impact on domestic and global affairs, along with a recreated oval office and a section titled, "We The People," detailing his administration's work in the fields of science, innovation and climate change. Perched at the top of the building is the Sky Room — a space offering visitors a moment of reflection as they witness a panoramic view of the Chicago area.
The Obama Presidential Center is in development and is scheduled to open to the public in fall of 2025. Please visit the institution's website to learn more.
Elsewhere, Joshua Kissi created a new film that captures Questlove's far-reaching imagination.
Obama Presidential Center
Jackson Park,
Chicago, IL.
Click here to view full gallery at HYPEBEAST